After the Storm
| September 4th, 2018
Owners of Holly Lawn open their restored home to Richmond Symphony Orchestra League
---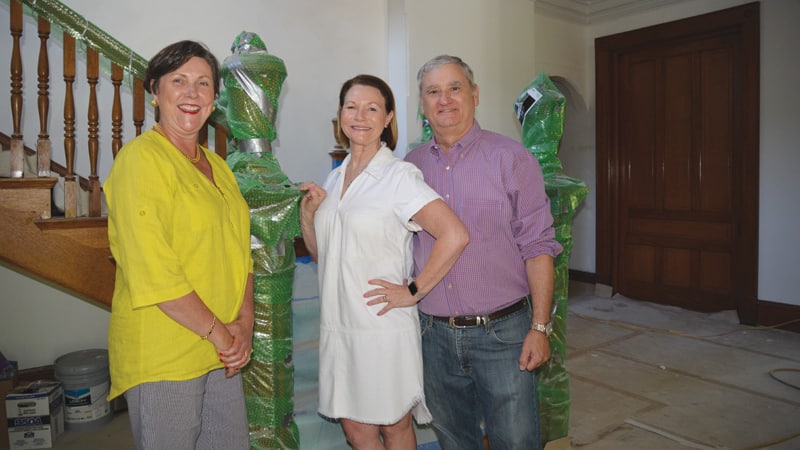 ---
You might recall the storms that ripped through Richmond in 2016. You might also know about Holly Lawn, the stately Queen Anne-style house on Hermitage Road in Northside: a massive oak tree smashed into the front of the house during one of those storms. Two years later, the repairs have finally been completed, and the owners have granted access to the Richmond Symphony Orchestra League (RSOL) to use the house for its biannual benefit.
SHOWCASING STELLAR HOUSES AND TALENTED DESIGNERS
For each Designer House benefit, the RSOL chooses a historic home and professional designers to decorate individual rooms. Each designer has license to treat the assigned space as a clean slate, from painting walls to adding furniture, light fixtures and accessories (with occasional restrictions, like hand-painted walls that can't be covered or a chandelier that shouldn't be moved). The owners vacate the house for three months, while designers work their magic and while the house is open for public tours and events. And proceeds benefit the Richmond Symphony Orchestra.
"The timing is perfect," says Leslie Stack, who owns Holly Lawn with her husband, Frank Rizzo. "We're very happy that the 'great reveal' will be through the eyes of these wonderful designers and [will benefit] the Symphony."
The timing is perfect because the couple and their furniture have been offsite while workers made the extensive repairs to the storm-damaged structure.
THE NIGHT OF JUNE 16, 2016
Stack and Rizzo had left the house for dinner when the storm hit. Knowing the winds had ripped through the area, the couple stopped first at her parents' home nearby to check on them. They passed their own house but noticed nothing amiss "in the pitch of night" with power out in the neighborhood.
When they arrived home, after weaving through streets closed by downed trees, they saw that the grand old oak had smashed directly into their house, including their bedroom and the front porch where they frequently relaxed on summer evenings.
Much of the neighborhood had been sorely damaged, but neighbors came together. "It was truly a beautiful thing," Stack recalls.
Holly Lawn is located in the Hermitage Road Historic District and is listed on the National Register of Historic Places, so repairs were especially delicate. With several turrets and dormers, multiple slate shapes and flared eaves, all intersecting the roof at myriad angles, repairs were especially complex. The goal was to restore the house to its original appearance while improving structural integrity and protecting existing elements. Stack was not surprised that completion took two years. By July 2018, repairs were completed.
"This house has a lot to talk about," says Susan S. Williams, chair of the 2018 Designer House.
"We wanted to end this project with a celebration," says Stack. "This will be a wonderful kickoff to Holly Lawn being back alive again. Everyone who wants to see how Holly Lawn looks now can come do that – and it benefits the Symphony."
---
RSOL 2018 Designer House
Sept. 17 to Oct. 14