New Starr Hill Satellite Brewery & Concert Venue
| January 31st, 2017
Charlottesville's Starr Hill Brewery has announced its first satellite taproom with a small concert venue in Roanoke, Virginia.
---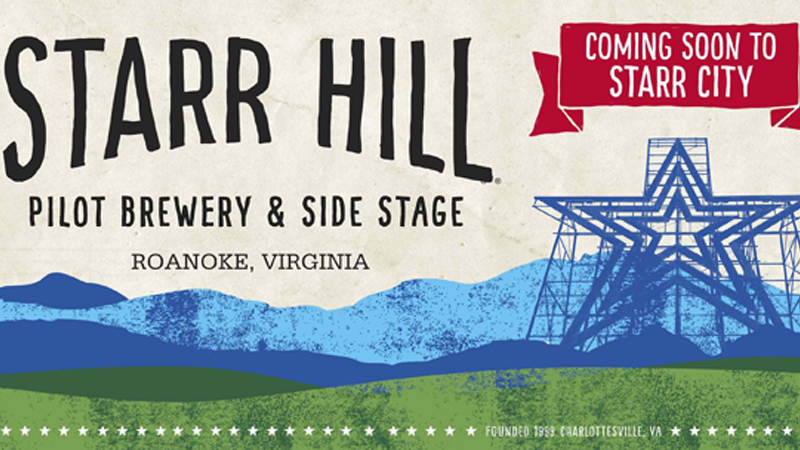 True to its roots, Starr Hill Brewery's first satellite taproom will include a small concert venue. The Charlottesville-based brewery announced that it will open the Starr Hill Pilot Brewery and Side Stage in Roanoke, Virginia – the Star City – scheduled for fall 2017.
The new taproom will showcase new beers from a custom 5-barrel brewing system. A press release announcing the new location says that the pilot system will enable brewing more than 50 limited-release batches of ales, lagers and wild beers each year, led by brewmaster Robbie O'Cain.
"With flagship brands taking precedence at our production facility in Crozet, this pilot system presents us with the opportunity to really show off our brewing talents and new ideas to fans in Roanoke and beyond," said O'Cain in the release. "Both facilities supporting each other allows us to create a variety of unique styles with virtually infinite access to the best hops and malts in the industry."
Starr Hill Brewery was born in 1999 as a brewpub and music hall in downtown Charlottesville. The Side Stage portion of the Roanoke taproom will follow in that tradition, featuring live performances several nights a week from up-and-coming artists in the rich tradition of Southwest Virginia music. Starr Hill also plans to host a quarterly showcase concert paired with new beer releases. Additional programming and events will be cultivated through partnerships with local artisans, record shops, music venues, and a variety of food trucks.
"Starr Hill's identity, from the Charlottesville Music Hall to pouring beer at the first FloydFest, is deeply rooted in live music," said Jack Goodall, Starr Hill marketing manager.
The Starr Hill Pilot Brewery & Side Stage will open in a historic building on 6 Old Whitmore Ave. in The Bridges, a redeveloped industrial neighborhood in Roanoke's Riverside District. Nearby attractions include the Roanoke River Greenway, a kayak/canoe launch site and an outdoor event venue. The taproom and music venue will create a welcome new business for Roanoke-area residents and another excuse for tourists to visit Virginia's Blue Ridge.
Fans can follow the progress at Facebook.com/StarrHillRoanoke, Twitter.com/SH_Roanoke and Instagram.com/StarrHillRoanoke or visit the brewery's website at StarrHill.com.