One of Britain's Finest: Stephanie Cole
| October 3rd, 2016
---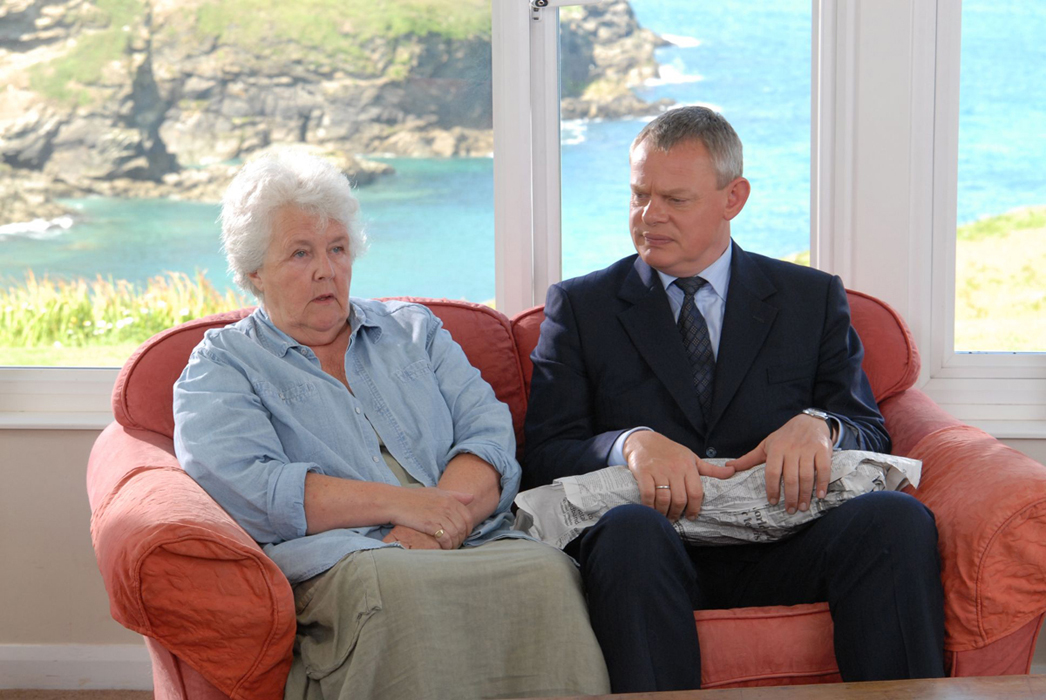 American audiences were introduced to British actress Stephanie Cole when she portrayed grumpy, sharp-witted Diana Trent, a resident of the Bayview Retirement Village in the 90s sitcom "Waiting for God." A decade later, Cole was back on U.S. Public Television playing a more congenial matriarchal character in another popular British comedy import, "Doc Martin."
Turning 75 last month, Ms. Cole's current work schedule might be the envy of many actors.
"I'm in two popular series ('Man Down' and 'Still Open all Hours') and do one in the spring and the other in autumn," said Ms. Cole from her home near Bath, west of London. "That gives me time to fit a play in between."
This year, that summer theatrical diversion was a production of "King Lear" at the Bristol Old Vic Theatre.
"It's their 250th anniversary making it the oldest continually working theatre in the British Isles," explained Cole. "For this year's King Lear production they used third-year students in all the roles except for Lear, Gloucester, and the Fool – I played the Fool! But it was very special for me."
Cole began her career at the Bristol Old Vic Theatre School in the 50s and rubbed shoulders with theater greats such as Laurence Olivier. An encounter at a small comedy theater early in her career was especially memorable.
"A gentleman came backstage and wanted to visit someone in the dressing room. I recognized him immediately as John Gielgud. I led him to the room and as I raised my hand to knock on the door preparing to announce him, I turned and asked 'Who shall I say it is?' He said 'It…it's John Gielgud.' I said 'Yes, yes, of course, I'm sorry' and felt an utter twit, but was so thrilled to be face to face with such a great actor."
In the early 80s, Cole's big TV break came in "Tenko," a sobering BBC drama that followed the hardships of woman prisoners held in internment camps after the Japanese invasion of Singapore in 1942.
"When you're seen every week in a very popular series it changes your career," she said.
While "Tenko" is less known in the U.S., it was "Waiting for God" that made Cole a household name to Public Television viewers across the country.
"I laughed when I first read the script and knew I wanted the part," said Cole. "I thought it was wonderful to have two elderly characters in the starring roles. Parts for older actors and actresses are often not interesting or their characters are just there to be made fun of."
Cole became a patron of British Age Concern, an organization that offers support and services to seniors. She also worked with the British Schizophrenia Fellowship, and for all her work was awarded an O.B.E.
"I'm not sure if I made an impact," she said modestly, "but it would be nice if I did."
Beginning in 2004, Cole appeared in the first four seasons of "Doc Martin" playing aunt to star Martin Clunes. The show was filmed on the beautiful Cornwall coast, but Cole's involvement was bittersweet.
"My husband was ill when we filmed the first series and I signed on with the proviso that if he got worse they would immediately release me," she explained. "Unfortunately he did and I had to rush back home, but sadly he died. So although I worked with wonderful people in a beautiful setting, the show is not something I look back on with particular joy as it was such a sad and difficult personal time for me."
But there was no hint of trepidation surrounding her October birthday, an anniversary she says means less and less.
"After a certain age you don't feel old in your head, although your body might occasionally remind you!" she laughed. "The passage of time, to coin a phrase, is a matter of complete embuggerance as far as I'm concerned."
Nick Thomas teaches at Auburn University at Montgomery, Ala., and has written features, columns, and interviews for over 600 magazines and newspapers.