Summer and Smoke - A Richmond Tale
| April 29th, 2016
The Virginia Repertory Theatre hosts a Richmond-based play based on history and the founding of Richmond's first modern era professional performing arts organization.
---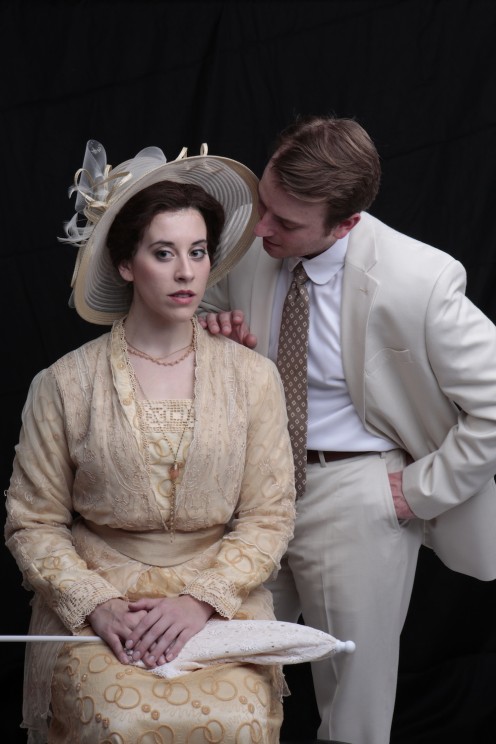 The play opens with a Virginia tale, the founding of the Barksdale Theatre in Hanover County. Tennessee Williams' Summer and Smoke, presented by Virginia Rep through May 15 at the November Theatre, is part of the lore of the theatre company that began at historic Hanover Tavern.
This Virginia tale is based on fact – that Stu Falconer, one of six actors to form Barksdale Theatre (which is now part of Virginia Rep), left his job as stage manager of the Circle in the Square production of Summer and Smoke to start a small community theater in Virginia.
As Bruce Miller explains it in the play's director's notes, "Six New York theatre artists decided to risk everything to move to Hanover to start metro Richmond's first professional performing arts organization of the modern era."
That tale of why Summer and Smoke had not previously been presented by our local theatre group isn't integral to the play itself but is briefly used to introduce the play, pulling the audience in to its Southern setting.
From there, the action transitions to Williams' story, centering on two very different characters, Alma and John (played by Carolyn Demanelis and Alexander Sapp, respectively). The story begins with their first meeting at the town fountain as kids. The audience sees each individual's development through the lens of their relationship – tense with desire, conflicting values and affection.
Personally, I find many of Tennessee Williams' characters and plays off-putting – too full of dysfunction without redeeming qualities to rouse my sympathy. In Summer and Smoke, however, the main characters are significantly flawed but highly likeable. Though some minor characters gained my disdain, Alma and John gained my affection. Each one's metamorphosis was natural and believable: Alma from the naïve, kind-hearted preacher's daughter trying to maintain the moral qualities that are expected of her and John, the happy-go-lucky youth whose tender heart peeked through even during his playboy phase.
The actors in this Virginia Rep play ranged from experienced players who are members of the Actors' Equity Guild to those still in early stages of their career, yet even the youngest (eighth grader Keely Seward) pulled off their characters with energy and light. The set was simple and effective, the costuming appropriate, and the November Theatre an elegant setting for the Southern play. Overall, the production was mesmerizing, pulling the audience in with every act and scene, with each nuanced expression, delivery and movement.
When it first ran on Broadway in 1948, Summer and Smoke did not receive positive reviews. Perhaps after The Glass Menagerie (1944) and A Streetcar Named Desire (1947), audiences were expecting something similarly dark. As I was. But a second run of the show in 1952 received positive reviews and even received credit for beginning the Off-Broadway movement. It was from the 1952 production that Falconer left the Big Apple for Hanover County, Virginia.
Miller adds to his notes, "For Stu to leave his secure job in that production to start a brand new theatre in a rundown tavern in rural Virginia was a huge and astounding gamble, to say the least."
Over 60 years later, the audience can enjoy the fruits of that gamble at Virginia Rep's production of Summer and Smoke, as at other Virginia Rep productions. Taking chances can pay off. I only wish Alma had taken – but wait, no, that could be a spoiler. Go see for yourself the lessons, both from real life and from fiction.