"Tenacity" Exhibit in Jamestown
| December 5th, 2018
A new exhibit focuses on women in early Virginia
---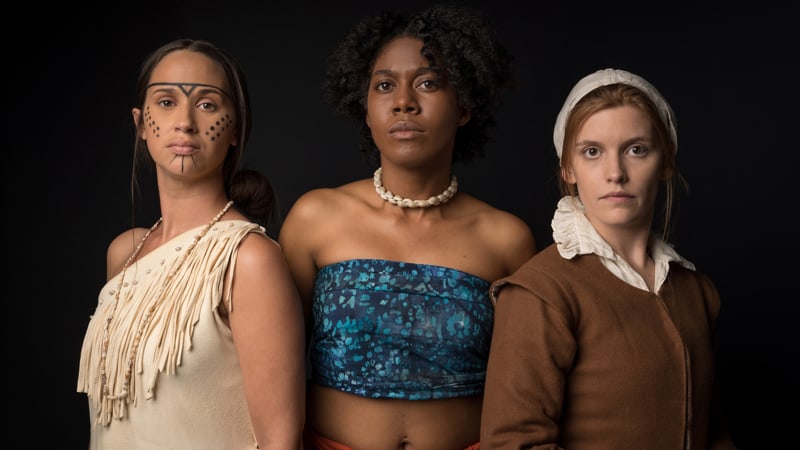 ---
The stories of the women in the early Jamestown settlement inspire and enlighten. The women faced challenges, overcame obstacles and added their mark to American history. Throughout 2019, Jamestown Settlement will present a special exhibition honoring these women: "Tenacity: Women in Jamestown and Early Virginia."
Stories include Ann Jackson, one among 56 skilled and "respectable" young women who sailed from England to Jamestown to improve their chances of marriage – but Jackson was captured by Powhatan Indians before she was paired with a husband.
There's the story of Anne Burras Laydon. Only 14 when she arrived in the New World, she and her mistress were the only two women in Jamestown. Her mistress died soon thereafter, and Burras was married two months later.
One exhibit tells of Cockacoeske, Queen of the Pamunkey, who successfully negotiated with the settlers to gain peace for her people, a peace lasting for many years.
And there's young Angelo. One of the first African slaves introduced to the colony, she was brought here against her will, after being abducted in Ndongo, what is now Angola.
All new settlers – and the native people they displaced – faced incredible difficulties. Women faced additional challenges because of the social mores and legalities of the time. Although visitors may come away inspired by these women's tenacity, they may likewise be sobered by their treatment.
Anne Burras Laydon, for example, was so severely whipped as punishment for a minor disagreement over her forced seamstress work that she miscarried and lost her unborn child. Other women were forced into a "Ducking Chair" (on display in the exhibition). In this cruel and humiliating punishment, women were strapped and dunked underwater for offenses including arguing and back talk.
Though history is typically told from the perspective of the strongest, the curators of this exhibition have gathered evidence of the overlooked players. Exhibits include 17th-century objects from the Jamestown-Yorktown Foundation along with 60 rare and notable artifacts on loan from international and national institutions.
Informative and entertaining touch-screen interactives support the topics. The Ferrar Papers interactive showcases the original documents listing the 56 women who sailed to Jamestown for marriage, along with modern translations of the women's descriptions and "qualifications." Another interactive, a sort of TripAdvisor review listing, turns historic descriptions of 17th-century Virginia into modern vernacular, coupled with creative usernames based on the original "reviewers" (think "Hangry Jeb" and "VAisForPlanters").
To tie these tales to the present, the exhibition ends with an interactive Legacy Wall, displaying those who demonstrate the progress women have made since 1607 and inviting users to add new women.
"Tenacity" is part of "2019 Commemoration, American Evolution," which highlights significant events that occurred in Virginia four centuries ago that continue to influence America today.
In addition to indoor exhibits, theater and support services, Jamestown Settlement includes an outdoor living-history program with historic interpreters.