The Family Story Workbook
| November 9th, 2020
105 Prompts & Pointers for Collecting Your History
---
The Family Story Workbook: 105 Prompts & Pointers for Collecting Your History
By Kris Spisak. Reviewed by Annie Tobey
---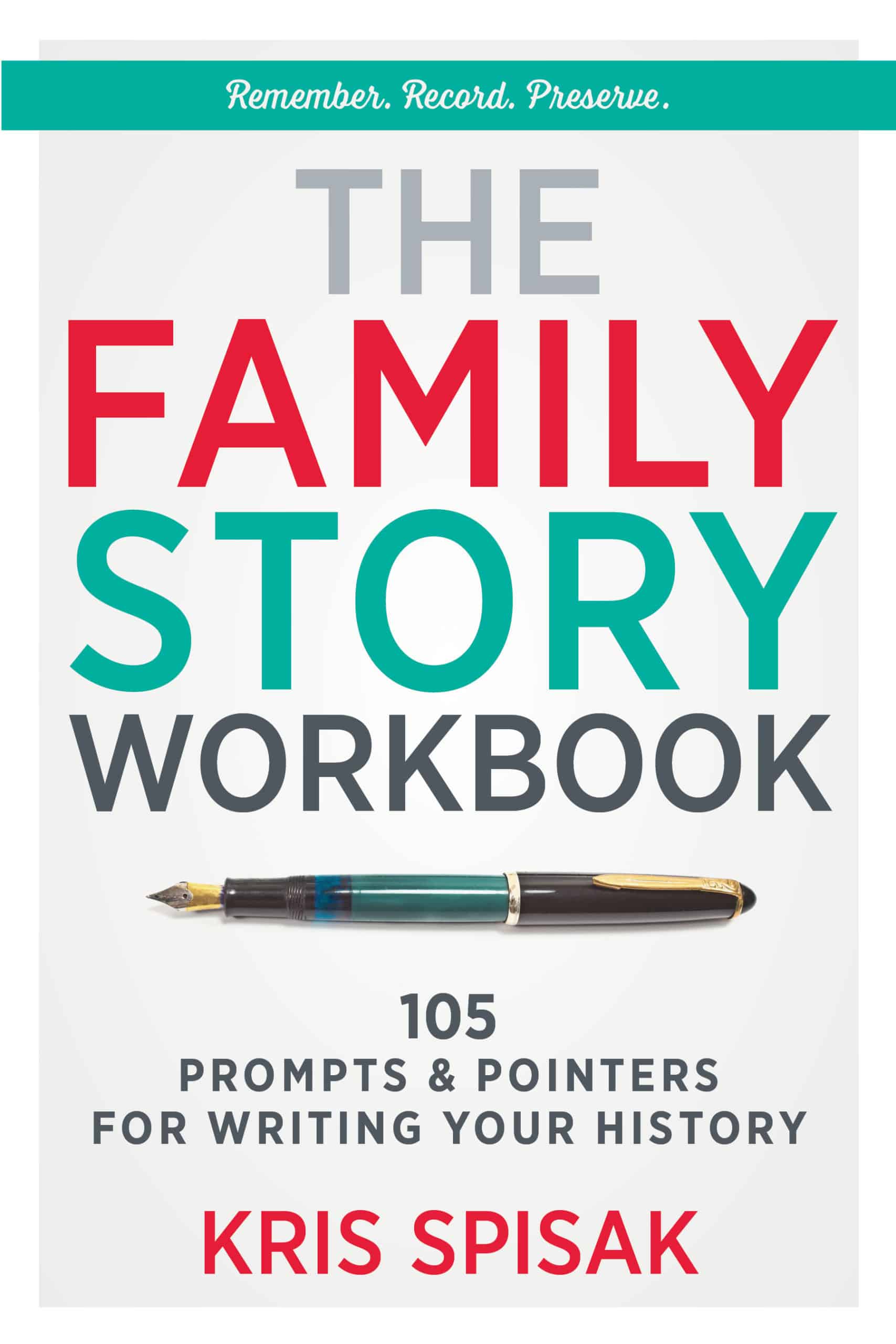 Storytelling once was common. Families had no televisions, computers, or radios. Homes had insufficient light to read and often few if any books. Lack of modern diversions allowed more time for sitting, mulling, and conversing. And for telling stories – made-up stories, but also family stories. Today, those tales are less frequently told, and easily forgotten. Families need to be more conscious of capturing that lore. They can accomplish this through The Family Story Workbook: 105 Prompts & Pointers for Collecting Your History.
"No matter your story or your family history, there are memories to hold onto and lives to celebrate and remember," says writer Kris Spisak in her introduction to this workbook. "Write it down because who else is going to? Write it down for you. And write it down for your family."
The Family Story Workbook Layout
The 228-page book is divided into five sections: "Generations Past," "All About You," "Remembering History," "Complex Conversations," and "Language & Writing Reminders." Each of the first four sections contains multiple "prompts," with questions to spur further thoughts plus two lined pages for answers.
The pages can be filled in on one's own, and/or completed at family gatherings – in person or over phone calls and videoconferencing like Zoom. You can use a recorder to refer to if needed later. You can also give the book as a gift to a parent, grandparent, aunt, or uncle.
The questions don't build on each other, so the pages don't need to be completed in order. You wouldn't want a difficult or uninteresting question to keep you from filling in the ones that most pique your interest. As Spisak suggests, "Write wherever your desire takes you, and if you need help, what a wonderful excuse for reaching out to family members for assistance in building the story you know is there."
---
Like books? Sign up for our monthly Boomer Books, Nostalgia, or other e-newsletters tailored for our generation!
Or check out more Boomer-targeted book reviews
---
If you complete this on your own, you might even choose not to share it but use it as your own therapeutic workbook. And that's fine, too. No rules!
Excerpts from just a few of the many prompts
In "Generations Past"
When you think about where your family comes from, where … are those places?
• How important are these places …?
• What do you know about an old home where your family once lived …?
• Do you know of any specifics of that place (e.g., the weight of an iron key, the apple tree in the backyard …, the front stoop where neighbors gathered, etc.)? Why do you think these details linger in family memory?
In "All About You"
What was the most meaningful thing about your family for you as a kid?
• What did you know was special?
• And what did you appreciate?
What is something that happened to you that you never told your parents?
• Where were you?
• Who were you with?
• How did you get into this circumstance?
• How were you feeling in this moment?
• Why did you never tell?
In "Remembering History"
This section looks back at memorable national and world events such as Martin Luther King's assassination, the moon landing, the Challenger explosion, and 9/11 as well as changes throughout our generations' lifetimes, such as television, communications, the internet, and social media.
In "Complex Conversations"
These deep questions explore issues such as the meaning of family, faith, success, equality, fairness, respect, and happiness.
In "Language and Writing Reminders"
Spisak draws on her knowledge and experience as reflected in her first book, Get a Grip on Your Grammar: 250 Writing and Editing Reminders for the Curious or Confused. The section contains helpful information, applicable to family histories: eldest vs. oldest, for example.
For me, this is the only part worth skipping – content and substance matter more than grammar, spelling, or form in these pages. You may find these pointers interesting, but don't let them stifle your recording.
The author also suggests taking notes elsewhere and transferring them to the notebook later in a more cohesive form. Having abandoned projects like this before, I would personally record directly in the workbook. If a project becomes too intimidating, setting it aside becomes a temptation. Later, if I become committed to the project, I'll transfer the more cohesive thoughts into a more permanent home. Then, the workbook can itself become an interesting look at random thoughts, a companion to the permanent collection.
Regardless of how you choose to use The Family Story Workbook, it can act as a relationship-building tool for now and for later. The opportunities to ponder, remember, and communicate are priceless. Having these tales and memories to store for the future is the icing on the cake.
The Family Story Workbook: 105 Prompts & Pointers for Collecting Your History
By Kris Spisak
Paperback, 228 pages
Davro Press (Nov. 12, 2020)
---
As an Amazon Associate, Boomer Magazine earns from qualifying purchases of linked books.