'The Girl Explorers' by Jayne Zanglein: Book Review
| March 1st, 2021
The Untold Story of the Globetrotting Women Who Trekked, Flew, and Fought Their Way Around the World
---
I shouldn't have been surprised by this book, really. I should realize by now that history holds many untold stories, especially of exceptional women and minorities. But when I settled in to read The Girl Explorers by Jayne Zanglein, I was thrilled to learn of many women of the late-19th and early-20th centuries whose names I'd never heard.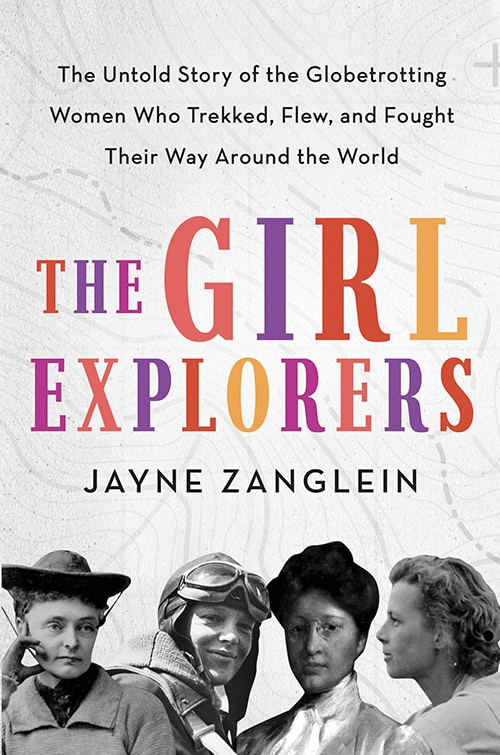 The book tells The Untold Story of the Globetrotting Women Who Trekked, Flew, and Fought Their Way Around the World. It tells of women like Blair Niles, born on a plantation on Virginia's Eastern Shore in 1880, who became a world traveler and writer of innovative books on travel and compassionate books on the oppressed. The Girl Explorers tells of women like Annie Peck, born in 1850, who became a mountaineer and adventurer. Like Marguerite Harrison, a reporter, spy, and filmmaker; Gloria Hollister, zoologist and conservationist; and artist Malvina Hoffman, who sculptures for the Races of Mankind exhibit were in turn thoughtful, empathetic, and – to today's sensibilities, controversial. Yes, familiar names like Amelia Earhart, female aviator, and Margaret Mead, anthropologist. And about a dozen other women who lived life out of the boundaries.
Rather than simply offering an anthology of biographies, Zanglein weaves the women's stories around a common thread: the Society of Women Geographers. This approach provides more than just an interesting literary device. The founding of the female-focused society sheds light on the prevailing attitudes of men. The all-male Explorers Club banned women from membership, so the women started their own organization.
"Women are not adapted to exploration," Roy Chapman Andrews, the Explorers Club president, told a gathering of female students at Barnard College in 1932. This, among Andrews' other disparaging comments, motivated the women in their work and in founding the Society of Women Geographers. Zanglein writes,
It would not take long for members of the Society to prove him wrong. Members would set records as they climbed higher, flew faster, and dove deeper than men. But these women were not motivated by a desire to beat men's records, for they knew that they were capable explorers. Nor did they find a need to confine their travels to expeditions approved by men or to seek male approval. As deep-sea diver Sylvia Earle, one of the more famous members of the Society alive today, explained, "Sometimes people find it hard to take us seriously. But most of the problems are in the minds of the men." Several members of the Society would struggle to reorient the focus of history to include women by establishing archives so that women would not be ignored, for as Society member Mary Ritter Beard cautioned, "Without documents; no history. Without history; no memory."
Zanglein tells of the women's achievements as explorers, despite lack of support and despite attempts to squelch their ambitions and ignore their contributions. She shows how the women thumbed their noses at society's expectations. She examines the women through their goals, pursuits, adventures, and accomplishments; through common threads such as efforts toward women's suffrage and racial justice; through their attention to networking and supporting each other; and through how their efforts have affected women today.
Aspire, admire, inspire
Readers will experience The Girl Explorers through a variety of lenses. We can all be inspired by people who strive for their goals, despite the obstacles. Even readers who won't take the physical risks that the explorers took can admire their emotional fortitude.
Many readers – especially young women – can aspire to greater achievements, led by the perseverance of these role models. Their achievements reached higher than scaling mountains, visiting remote villages, and flying across oceans. Among the group were scientists, writers, filmmakers, photographers, geographers, artists, and activists. Some were involved in human rights, bringing to light the exploitation of marginalized people, including people of color, gays, and indigenous people.

And some readers can simply thrill to the adventures that these women faced head on. Although the book bogs down for a chapter when delving into the organization's leadership squabbles, other chapters are spellbinding looks into the womens' lives, challenges, strengths, and victories.
The girl explorers' achievements are remarkable – not because they are female, which we've only been led to believe makes achievement more astonishing. However, adding to the strength of their accomplishments is the fact that they reached these heights despite the extra hurdles they were, as females, forced to jump.
As a world traveler and lawyer with a heart for celebrating women, Jayne Zanglein brings strength and empathy to the lives of her subjects. As the tagline of her book and her website states, "Never tell a woman where she doesn't belong." The book is well-written and engaging, easy to to consume.
A final chapter in The Girl Explorers explains the "Matilda Effect," a "cognitive bias that blots out the achievements of women in science," in essence erasing their accomplishments from history (a view on history that parallels the erasure of Black achievements). Zanglein's book takes a step toward overcoming that harmful phenomenon. We would all, men and women, be well-advised to read, learn, and do our part to recognize accomplished individuals equally. "The story of this group of women gives us hope in an era when Americans have become more divisive and less tolerant," Zanglein writes. "It reminds us that if we are to soar to great heights as a nation, we must find the strength in our differences."
The Girl Explorers, by Jayne Zanglein
Sourcebooks, March 2, 2021
416 pages
---
Browse more reviews to find your next bedside table book
Or sign up for our monthly Book Reviews newsletter or other newsletters tailored for baby boomers!
---