The High School Grad Reunion
| May 1st, 2023
50 years of change, in personalities and attitudes
---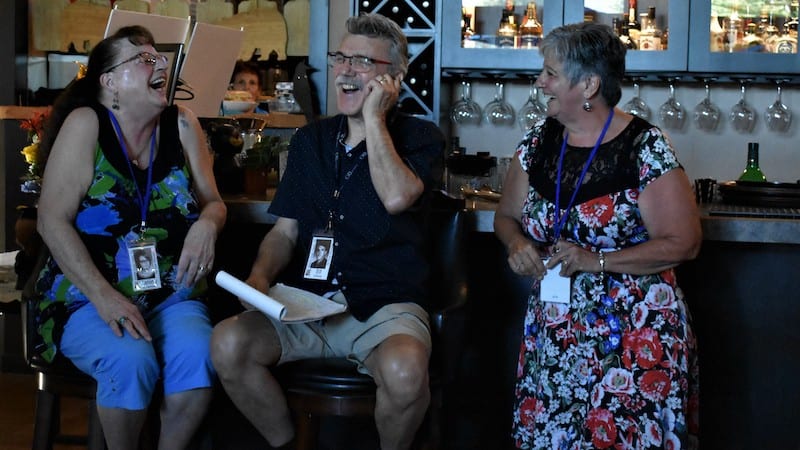 Does a high school reunion lose its appeal 50 years after graduation? Ed Grifone thought so, but he pitched in to help organize one anyway.
---
My first reaction to the suggestion about a high school reunion for our graduating class of 1972, 50 years after running out the front door of our high school, was, "No way, we're too old! Who really wants it? How many of us would attend, and how would we even find the 180 grads?"
The trepidation was exacerbated by the fact that COVID-19 was still in everyone's rearview mirror. The threat of the pandemic in early summer of 2021 was still looming large. Our earliest thoughts were to hold some kind of celebration no later than fall 2022. Our window to make a decision was closing quickly. By November 2021, we started spreading notification of a formal reunion for August 2022.
The organizing committee started with four of us. Two months into the planning, family illnesses affected two members, leaving just two of us. I questioned my own ability to hang in, as my health had also declined, with medical appointments taking my focus away from the task at hand. Fortunately, our chair, Rosa, soldiered on, and I didn't want to let her down. I gritted my teeth and jumped in with both feet. Rosa's tenacity was contagious, and her positive comments lifted my spirits throughout the months of planning.
In 50 years, accounting for approximately 75% of our lifespan by 2022, all the attendees would have lived through the significant portion of the meaningful stages of our lives. Partners were loved (perhaps even more than one), children raised, homes purchased, careers established, wealth created, the world traveled, recreation pursued, families moved, tragedies and personal loss had been suffered. Everyone would have fodder for stories to be told.
One of my responsibilities was the preparation of the "Honor Roll" commemorating our fellow grads that had passed away since we had walked across the stage in 1972. Although we had only learned of 21 deaths, at least seven more came to our attention. Through contacts with family members, I assembled a montage of images of our departed friends. As heart-wrenching as it was to learn of their shortened lives, the photos clearly told the stories of lives and personalities that joined us in spirit. The transformation into adulthood from when we last saw them as "sprinters on the racetrack, band members playing trumpet next to me, our valedictorian at the podium making us all feel proud on the evening of grad ceremonies, or a classmate we may have had a crush on since elementary school" struck an emotional cord. All of them were close to us.
I was asked to extend an invitation to our former principal (ultimately superintendent of the school district). Mr. Farrell had retired to Vancouver Island, but I was informed that he "was still in good health, only in his 80s and an avid golfer." He accepted the invitation immediately, pointing out that in his decades of senior school administration he had been to numerous reunions, but never to a 50-year grad celebration.
I expressed my concerns about possible low attendance and that the event could still be cancelled. Mr. Farrell suggested that regardless of registration, we should not be afraid to hold the event. He clearly stated that the grads that wanted to attend, that really wanted to be there, would help create a memorable event. That bolstered our spirits to continue preparing.
By late 2020, we had put out feelers to some fellow grads that were spread around the province. Some voiced reservations about COVID in larger social settings, but that concern decreased considerably as the chosen date drew near. What prevailed in many conversations were personal attitudes. Some of their comments were in jest, but others responded with a clear "I have no interest to attend." I realized very early that such mindsets could not be easily persuaded.
Some of the more surprising reasons that caught my attention, included:
I don't really have many lasting attachments to that community or friendships from the school days.
Not all of my memories of going to high school were good.
I don't really want to go to a party where the main topic of conversation will likely be our illnesses and death of our classmates.
We're too old, almost 70, how do we expect to have fun now?
I have changed/things have changed for me; I'm not the person I was in high school.
I have some fear of being judged by my classmates.
It broke my heart to hear these types of comments from friends, many of whom I admired during our high school years. But these were legitimate points of view. The committee agreed that we could not easily alter these deep-seated reservations. Instead, we focused on the details of the three-day event to make it as memorable as possible.
High school reunion weekend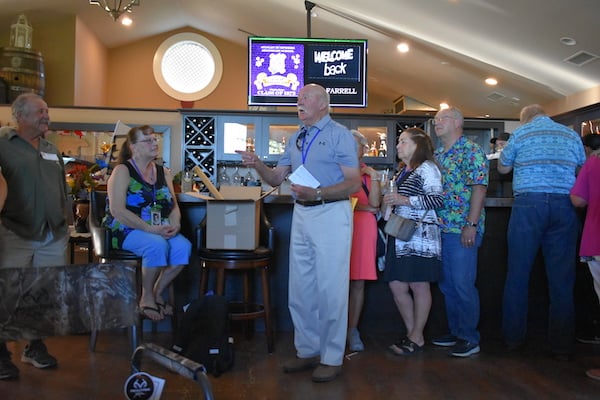 My earliest expectation for attendance was approximately 30 grads plus a handful of partners. The Friday evening was scheduled as an opportunity for the early arrivals to grab dinner and a pint at a local pub on the Columbia River. We had informed staff to expect 15 for service on the patio. Over 40 people attended. The chatter amongst the standing-room-only guests was indicative of the enjoyment experienced by all, as we processed how much our old friends had changed in 50 years. The quiet, skinny carrot-top boy now an over-six-foot man with a bit of a paunch recounting stories of his five wonderful kids; the very unassuming black-haired guy had transformed into a handsome silver-fox singer-songwriter; the brunette with the once shiny dark hair now wore her very long white hair so proudly; and many smiling faces just never seemed to lose their youth, regardless of hair styles, hair loss, or physique.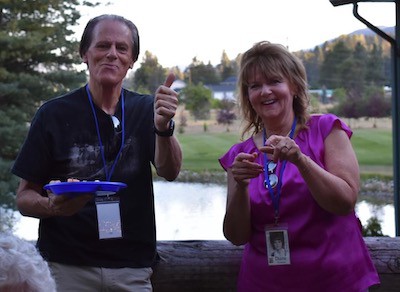 The Saturday social at the golf club far exceeded our expectations. Almost 90 participants shared food and drinks. Along with presentations honoring our departed classmates and a well-run silent auction to raise funds for children in the Ukraine, the emotional energy reverberated throughout the clubhouse as old comrades reunited. The accolades given to the grad committee were heartwarming.
Complementing the event was another spirited gathering the next day, Sunday morning coffees near the picturesque confluence of the Columbia and Kootenay Rivers. Those that we thought might have left early to return home continued to engage with friends about every topic under the sun. The stories were still being told! And yes, some of the buddies that had been hesitant at the outset showed up for all three days of fun.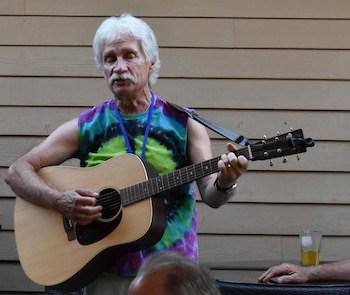 The late 1960s and early 1970s was an interesting and often challenging time to be in high school or university. That generation of baby boomers lived through a cold war, turbulent times, the drug counterculture, cults, and rebellions. We sought solace in peace, love and rock 'n' roll. If you want to reminisce, dig through your vinyl from that era and don't be afraid to turn up the volume. More importantly, listen to the philosophy of the lyrics that we likely missed in our teen years. To borrow from the Rolling Stones, for example, Mick and Keith recognized that "You Can't Always Get What You Want," suggesting that our aspirations of youth are not always what we achieve, but that life has a way of slowly and inexorably leading us toward new and unexpected paths and encounters that lead us to what we are meant to become.(1)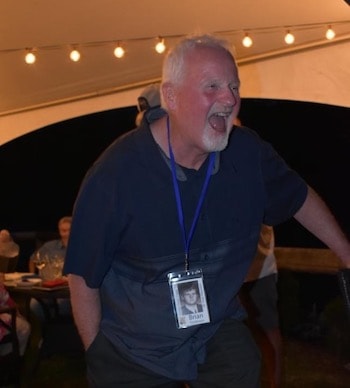 If you are invited to a high school reunion when you are older, make the effort to attend. Not only can old friendships be rekindled but new ones made with fellow grads, regardless of the clique you belonged to in school. If I had any personal regrets of our recent reunion, it was that I did not have enough time to engage with everyone and hear their story. But, I realized that the passage of time proved to be a great equalizer amongst all of us.
---
(1) "You Can't Always Get What You Want," on the "Let It Bleed" album, 1969. Mick Jagger and Keith Richards
In honor of our departed classmates, Class of 1972 – Stanley Humphries Secondary School, Castlegar, BC.
---
Ask Amy: Should I apologize for a transgression at my 45th high school reunion?