Local Breweries and Cideries Help Habitat for Humanity
July 26th, 2019
'The House That Beer Built' campaign lends support to a local family
---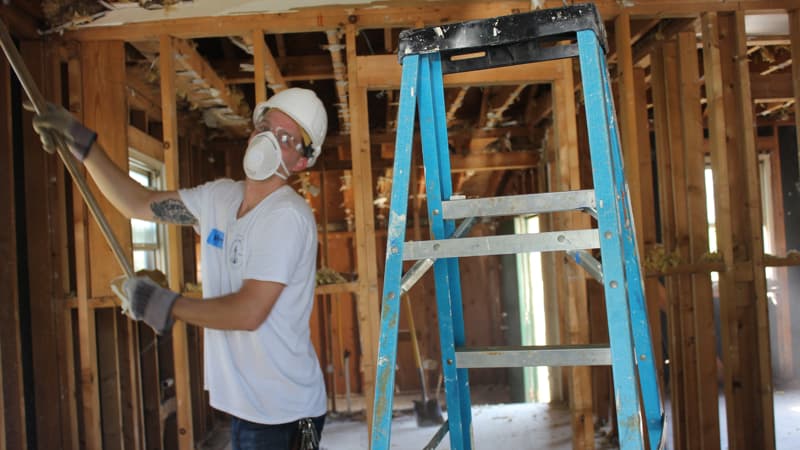 On Friday morning, July 26, a couple dozen representatives of the local brewery / cidery community gathered to gut a Habitat for Humanity house. No strangers to hard physical labor, the volunteers, practically incognito in safety masks and goggles, were pulling down ceilings and insulation. But their T-shirts told of their provenance: Steam Bell Beer Works, Garden Grove Brewing, Blue Bee Cider, Hardywood Park Craft Brewery, Tabol Brewing, Starr Hill Richmond and Rock Bottom Brewery.
"We just want to give back to the community," said Tanner Chamberlain, head brewer at Rock Bottom Restaurant and Brewery in Short Pump. "We enjoy drinking beer, we enjoy selling beer, we also enjoy helping people out."
"Unfortunately, no one brought beer," quipped Nic Caudle, co-owner and head brewer at Tabol Brewing.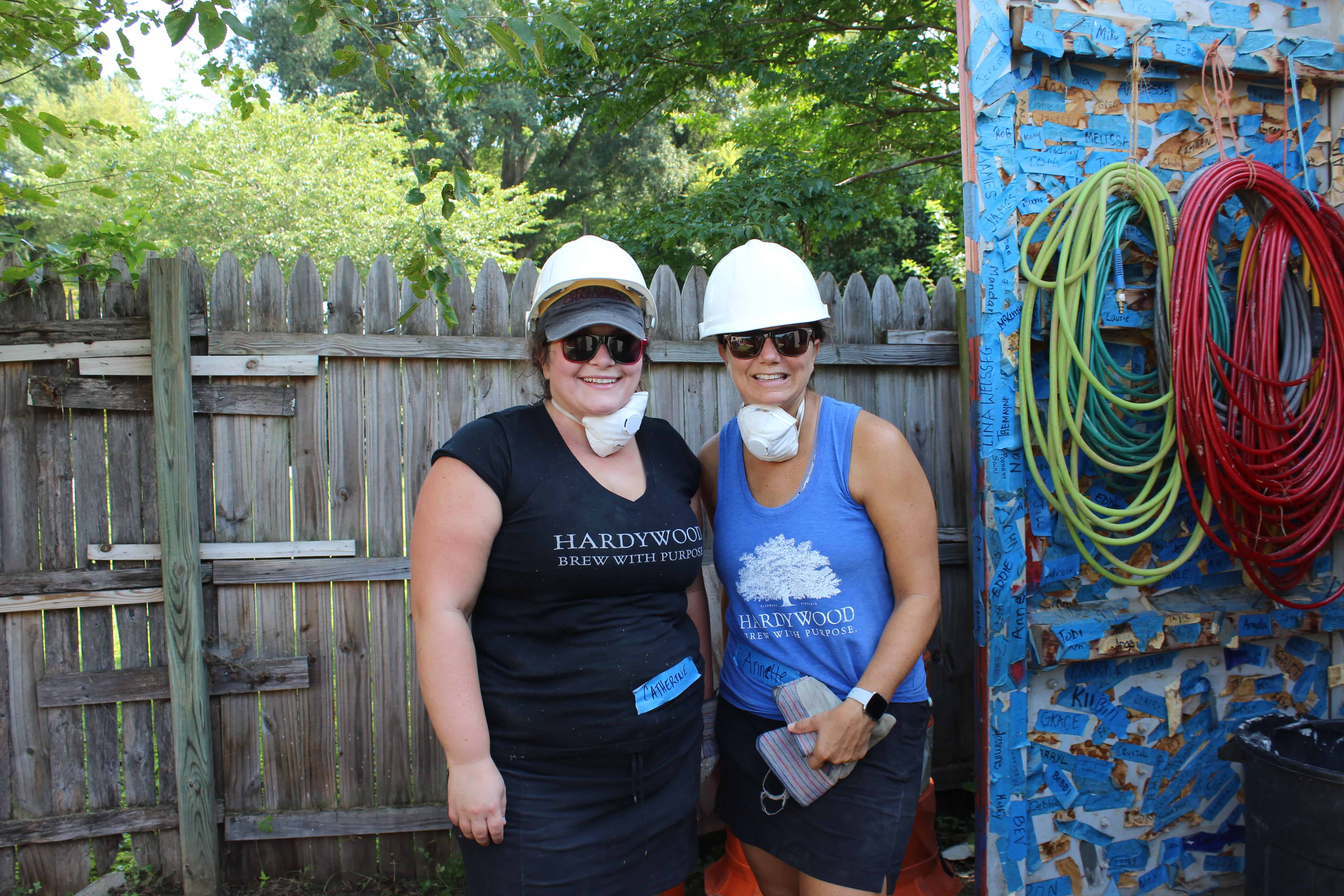 Throughout the summer of 2019 and extending into November, these and other Richmond-area breweries and cideries will be working with Richmond Metropolitan Habitat for Humanity to help rehab a home for a family in Richmond's Randolph neighborhood. As part of the partnership, dubbed "The House That Beer Built," a baker's dozen of local beverage makers are contributing to support Habitat's mission: to build strength, stability and self-reliance through affordable home ownership.
Participating partners include Bingo Beer Company, Blue Bee Cider, Canon & Draw, Champion, Garden Grove, Hardywood, Rock Bottom Brewery, Starr Hill, Steam Bell, Stone Brewing, Strangeways, Tabol Brewing, Three Notch'd and Väsen.
Fans of the breweries/cideries and of the work of Habitat for Humanity are invited to participate in the build, in three ways.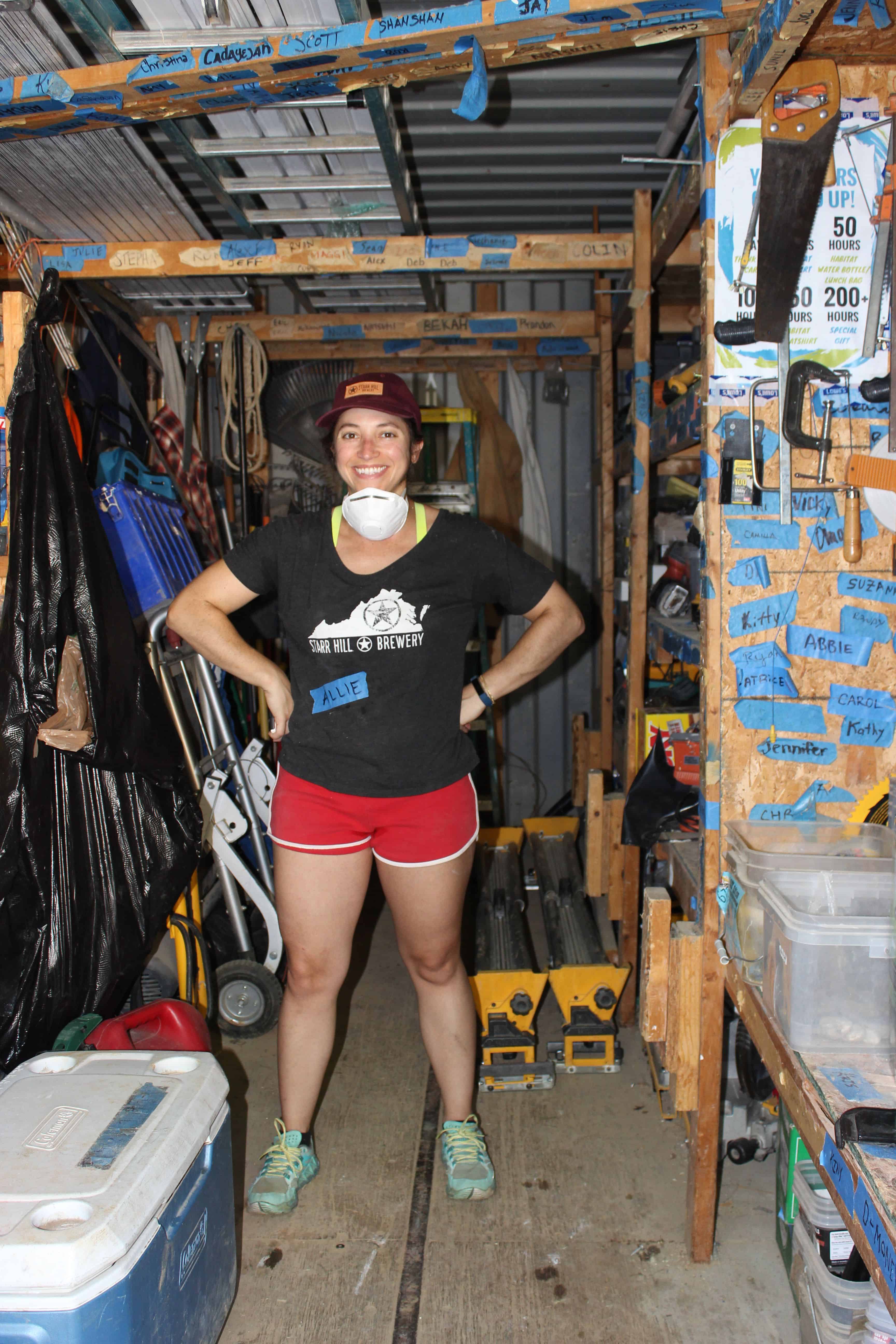 1) Buy "The House That Beer Built" brewery book. The $12 book contains specials from participating businesses, and proceeds from sales of the book go to the Richmond Metropolitan Habitat for Humanity.
2) Volunteer to work on the build site. Many of the participating breweries/cideries will be bringing out a team to volunteer on at least one day. To add your elbow grease to the action, email Whitney Guthrie or sign up through the Habitat volunteer system. The build is expected to continue through early November.
3) Drink! Go to a give-back event at participating brewery during the build, July through October. Events on the calendar include:
July 28, noon-5 p.m., Garden Grove Brewing and Urban Winery contributes $1 from every beer sale
August, every Wednesday, Hardywood West Creek donates 5 percent of sales
Aug. 10, Canon & Draw hosts a daytime fundraiser
Aug. 17, 2-8 p.m., Champion offers $3 pints of True Love and Shower beers, with $2 from each beer donated
Aug. 21, 5-7 p.m., Strangeways on Dabney donates 10 percent of beer sales
Sept. 13, Steam Bell, details TBD
Sept. 18, 6-8 p.m., Väsen donates 10 percent of proceeds
Sept. 19, Rock Bottom donates a percentage of sales
Oct. 3, 7-9 p.m., Blue Bee Cider hosts a trivia night fundraiser
For more details on these events, refer to "The House That Beer Built" brewery book, contact each business directly or follow the business and Richmond Metropolitan Habitat for Humanity on social media.
Other partners and sponsors include Fire, Flour & Fork, West Rock, Virginia Credit Union, and Essex Bank.