The Remaking of Jackson Ward
| June 5th, 2014
BOOMER visits historic Jackson Ward, once branded "Harlem of the South" and "black Wall Street"
---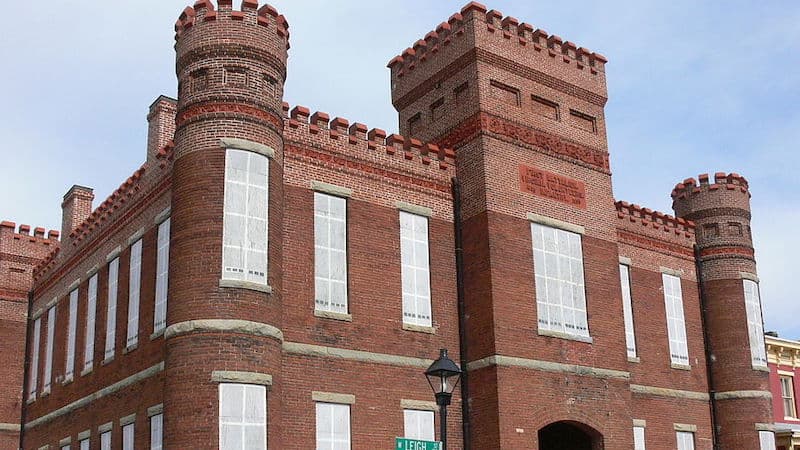 On balmy evenings a century ago, entrepreneurial legend Maggie Walker perched on the two-story front porch of her Italianate home in Jackson Ward, socializing as she took in the fresh air. For Walker, lounging on the porch likely served an unstated purpose, too. In a community of free blacks and former slaves, Walker – a bank president, newspaper editor and civil rights activist – was the embodiment of the American dream, who inspired just by being seen.
"She added those porches onto the front of the building and she would sort of hold court," says Selden Richardson, historian and author of Built by Blacks: African American Architecture & Neighborhoods in Richmond, Va. Walker's visibility was not rooted in being ostentatious about her wealth or position as an elite leader whose houseguests included such luminaries as Langston Hughes.
"She did that consciously as an effort to demonstrate what could be done through enterprise and hard work. My feeling is she was self-advertising the lifestyle by hanging out on her front porch, which is an interesting intersection of architecture and society," Richardson says.
A CRUCIBLE OF TALENT
Fast forward to 2014. Walker's preserved house is a National Historic Site and the hub of a series of events, including a bus tour, to celebrate the 150th commemoration of her birth on July 12.
And while Walker's home remains in all its original glory, the flourishing African-American institutions that birthed Jackson Ward, once branded the "Harlem of the South" and the "black Wall Street," are no more.
In the 1950s, the community was cleaved by Interstate 95, displacing families and eroding its economy. Desegregation led to more changes to a community that, confined by Jim Crow laws, functioned more like a pressure cooker, Richardson says. "The idea that all of this money and talent and enterprise was hemmed in by segregation, it was like rolls of iron in this little geographic area. There is that distillation under pressure, which made it an amazing place back then. Once those bonds were removed … everything sort of dispersed and became less vivid."
Historic tax credits have saved some of the community's architecture, preserving its original appearance, but gentrification and the rising tax base has driven out some African-American residents. In recent years the historically black neighborhood has transitioned to a diverse community with VCU students, a Thai restaurant and taco stands as well as soul food restaurants. Maggie Walker's bank is now white-owned and her historic St. Luke's building is vacant, deteriorating and isolated from the heart of Jackson Ward by Interstate 95. Jackson Ward is struggling to cling to its old identity, even amid the revitalization of the Hippodrome, where James Brown, Ella Fitzgerald, Ray Charles and other black entertainers performed, and the Taylor Mansion, once the largest home owned by a black person in America.
A REMARKABLE HISTORY
Home to a burgeoning arts district, Jackson Ward is increasingly identified by such entities as its fire station-turned art museum, the iconic "milk bottle building" that once housed the Richmond Dairy Co. and other rehabbed buildings. New residents, many millennials, have gravitated toward the artsy vibe and brought a renewed energy to the community, made up of people who are moving to the area by choice.
Efforts are underway to acknowledge and preserve the rich heritage of Jackson Ward with its current reincarnation as an integrated community and a hub for hipsters and artists. The Historic Jackson Ward Association is working to ensure the balance, says Stacy Burrs, CEO of the Black History Museum and Cultural Center of Virginia.
"The Black History Museum and the Historic Richmond Foundation, among others, must work in an organized way to commemorate the remarkable history of Jackson Ward," he said.
"Local developers must be sensitive to the need for balance and we should conduct a thorough community archaeological analysis in Jackson Ward, Monroe Ward and Carver, not just in  Shockoe Bottom. Every  historic building should be identified and marked as part of the Black History Museum's Freedom Trail, and the region should work to produce a community west of the Convention Center that can benefit from the billions of dollars a year in heritage tourism economy that are spent in Virginia."
The Rev. Tyrone Nelsen, pastor of historic Sixth Mount Zion Baptist Church, one of the signature black institutions remaining in Jackson Ward, said preservation must be the responsibility of the community's stakeholders. "I don't think the church is going anywhere. There is a lot going on, you look around our church and two apartment buildings have gone up over the last five years."
FREEDOM AND IDENTITY
Among the new business owners, there is a sense of the historic roots. Amanda Lucy, co-owner of Lucy's Restaurant which recently opened on Second Street, used to live in the community while attending VCU in the 1990s. She knew about the community's history and potential. "When we decided to look for a building … two things that were most appealing was its relationship to downtown and VCU. We knew we could do a good lunch business."
Lucy, 36, also believes in 10 years the area will be completely different. She and her husband and co-owner, Jason Lucy, 34, wanted to be part of Jackson Ward's renaissance. "I knew about the history and 2nd Street and I've read articles," she said. "I always thought it was a beautiful part of town and it was sad to see it not be taken care of, kind of left behind."
For Burrs, Jackson Ward will never lose its historic identity.
"It's in the sidewalks. And the buildings. It hovers in the air like a cool morning mist! You can feel the ancestors' presence. The people roaming the community from day to day may look different, but they are looking for the same thing Maggie and [newspaper editor John] Mitchell sought: freedom and identity. I'm a boomer that is very high on the potential of the millennials to change the world in a positive way."
Robin Farmer is a Richmond-based freelance writer.
Email her at Robin@RobinFarmerWrites.com.