'I Never Got to Meet Her'
| July 5th, 2023
A family tragedy that resonates a century later
---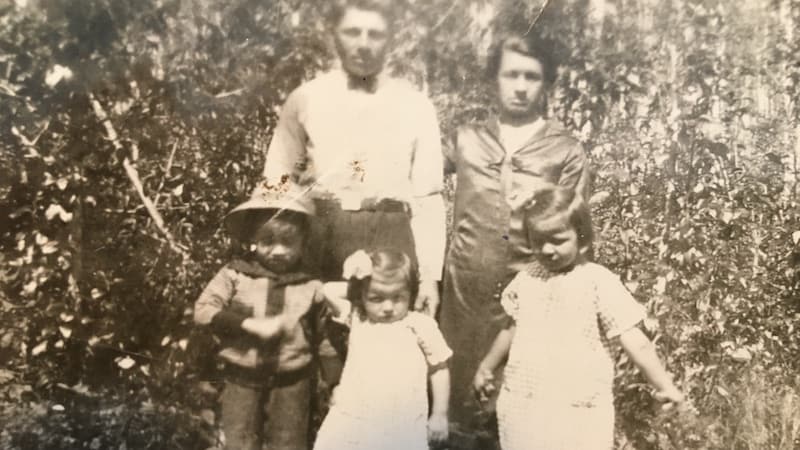 Tragedies can impact families across generations. Wesley Shennan tells of the aunt he never got to meet and of the residential school system that took her from her family.
(Originally published in Canada's History Magazine, May, 2023, used with author's permission.)
---
This is a photograph of my grandparents, Solomon and Lottie Callihoo, and their children, Charlie, Christina, and Camilla. It was taken in the 1920s on the Michel Indian Reserve northwest of Edmonton. My mom is Christina, the little one in the middle, swatting mosquitos on her back.
I enjoy looking at my family in this photograph, as they look calm and content. It was taken shortly after my grampa left his job working for the railroad in northern Alberta and returned to life on the reserve with his family.
About this time, an Oblate priest visited the reserve and said the school-aged children must attend the St. Albert Youville residential school nearer to Edmonton. My grandparents complied and sent Camilla, their oldest daughter, off to school, while my mom and her brother were too young to attend.
One cold and snowy day when Camilla was 12 and my grandparents decided to visit, they were met at the door by nuns, one of whom said: "Oh, we're so sorry, your daughter has died." My poor gramma never fully recovered. Her son had only recently died of rheumatic fever, and now, so suddenly, her eldest daughter was taken, too. My grandparents were told that Camilla was sleigh riding, caught a chill, and, after a few evenings in the cold dormitory, died. No further explanations were given.
After this experience, my mom was kept at home. She told me that she became ill, and that it lasted for years. Looking back, she felt it was the vast loneliness that had affected her health. My gramma told me she thought my mom wanted to die, but that she wasn't going to allow that to happen.
I never got to meet my aunt Camilla, and I feel compelled to do more research regarding her death. I didn't locate her name in the list of students who attended the school, but I often wonder: What was she like? What were her interests? What were her goals in life? Was she like my mom?
---
Residential school system background
The author writes, "This is the St. Albert Youville website: https://nctr.ca/residential-schools/alberta/st-albert-youville/ Not very informative and my auntie isn't on their list."
The residential school system was established by the Canadian government with the stated objectives of educating Indigenous children and "indoctrinating them into Euro-Canadian and Christian ways of living and assimilating them into mainstream white Canadian society," reported Erin Hanson in "The Residential School System" (Indigenous Foundations. First Nations and Indigenous Studies UBC, 2020).
Between 1883 and 1997, more than 150,000 children were taken from their homes, often forcibly, wrote Ian Mosby and Erin Millions in "Canada's Residential Schools Were a Horror" (Scientific American, 2021). Poor conditions and medical care at the schools resulted in the deaths of thousands of children, many buried in unmarked graves. More than 1,300 such graves have been discovered at four former residential schools in western Canada – likely only a small fraction of the actual total.
Besides receiving inadequate education at these residential schools, said Hanson, "Many students grew up without experiencing a nurturing family life and without the knowledge and skills to raise their own families. The devastating effects of the residential schools are far-reaching and continue to have a significant impact on Indigenous communities."
---
Also from Wesley Shennan: Coral Reefs and Environmental Resilience
---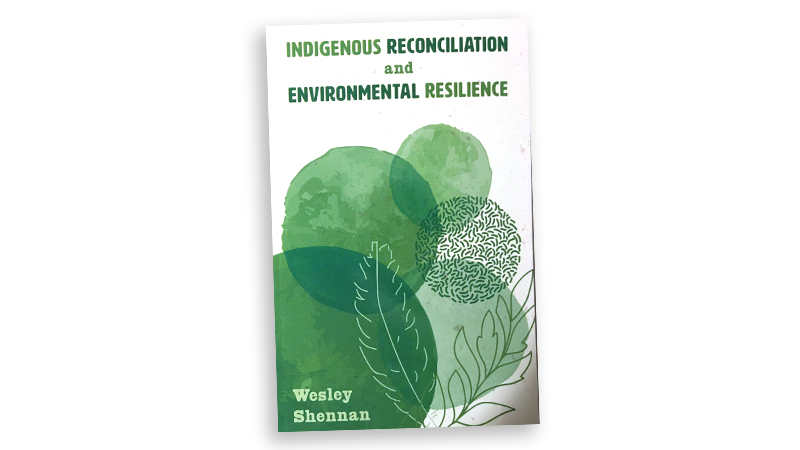 Wesley Shennan, a member of the Michel First Nation, Treaty 6, in the area currently known as Alberta, Canada, is a community planner and has been working with First Nations in British Columbia for the past 22 years. His education in both the physical and social sciences, and work experience, has led him to share his understandings and encourage others to take action. He lives with his wife, Elena, in the now smoky and scorching hot Okanagan valley in southern British Columbia – the traditional unceded territory of the Syilx Nations. He is the author of "Indigenous Reconciliation and Environmental Resilience" (FriesenPress, July 24, 2022).
"I'm now living in Kelowna and respectfully acknowledge the unceded Traditional Territory of the Syilx (Okanagan) Nations," Shennan says.