Three-Continent Cruise
| April 14th, 2020
Adventures at every port
---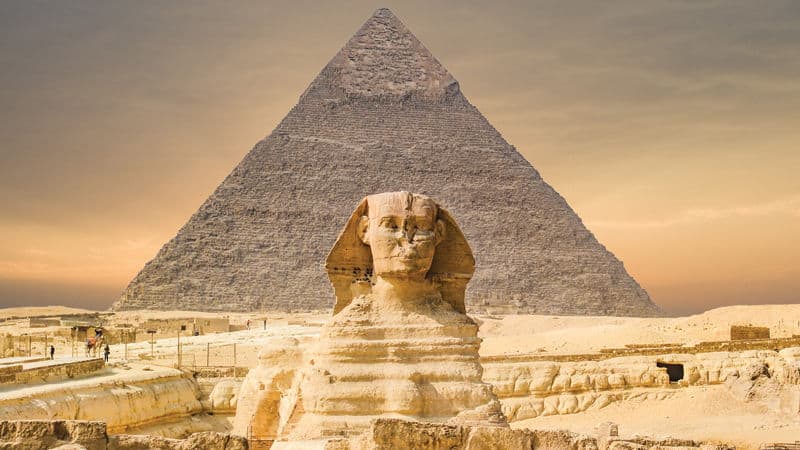 Who knew Greek disco was a thing? Not me. But here I am on the dancefloor of M/V Celestyal Crystal, sashaying under a strobe light to strumming bouzoukis and a disco beat. We're floating somewhere on the Mediterranean Sea en route to Athens, where our amazing seven-day, three-continent cruise will end.
I knew this would be an unforgettable cruise. Its ports of call are on everyone's bucket list: Egypt, Israel, Turkey, Rhodes and Cyprus – not to mention Athens, a city that deserves a few extra days to explore. In each place my husband, Peter, and I have seen history and culture up close, touched it, even smelled it. Add in a steady diet of healthy Mediterranean food, carefree excursions, onboard ship activities and Greek disco, and all I can say is this has been The. Best. Cruise. Ever.
Embark with us on our Eastern Mediterranean adventure, as we sail in Odysseus' wake and encounter adventures at every port.
ANCIENT ENERGY
Let's start with the ship. M/V Crystal accommodates 1,000 passengers in comfortable staterooms and offers many amenities large ships offer, along with stellar service. Restaurants range from fully loaded buffets to elegant dining venues. Our favorite, Amalthia, serves an array of continental cuisine with a Mediterranean flair. A standout dish we try one evening is moussaka ("a secret recipe," our server said). Oh, so good.
One morning the ship's executive chef gives a cooking demo: shrimp saganaki, another crazy-good dish that comes together in a jif. Shrimp sautéed in garlic and olive oil with a splash of ouzo are bathed in a rich tomato sauce and sprinkled with feta cheese and an extra swirl of olive oil. Served with fresh herbs and crispy crostini, this recipe is a keeper.
PORTS OF CALL ON THE CRUISE
But the cruise isn't just about food. It's all about the ports of call – and the first is a doozy! After a two-hour early morning bus ride to Cairo, we spot the pyramids rising up like apparitions against a pale, gray sky. While Lawrence of Arabia doesn't appear on one of the nearby sand dunes, camels and horses and men wearing head scarves mill about – plus busloads of tourists. We scramble up stone stairs into the Great Pyramid, passing through a cave-like passageway, and ascend deep into the heart of history.
---
Got the travel bug? Sign up for our monthly Boomers Travel e-newsletter or other e-newsletters tailored for our active generation!
---
Constructed as a tomb for Khufu, a pharaoh who ruled in around 2500 B.C., the Great Pyramid contains 2.3 million limestone blocks, according to Egyptologists, some weighing as much as 80 tons. Inside Peter and I climb a very steep ­– and claustrophobic – stairway to the King's Chamber, a small room with stale air. It's empty, of course, having been plundered centuries ago.
We share the space with about a dozen people, who take selfies in the dim light. One Asian woman hugs a wall with her whole body as if she's absorbing ancient energy. While it's thrilling to be inside such an icon, I am happier later on the back of a camel riding through the desert as the sun drops low in the sky.
WINDSWEPT RUINS
Day three we enter the port of Ashdod in Israel and board a bus to explore holy Christian sites: the Church of the Nativity in Bethlehem and the Church of the Holy Sepulchre in Jerusalem. Our December visit coincides with the Christmas pilgrim rush, so crowds are everywhere.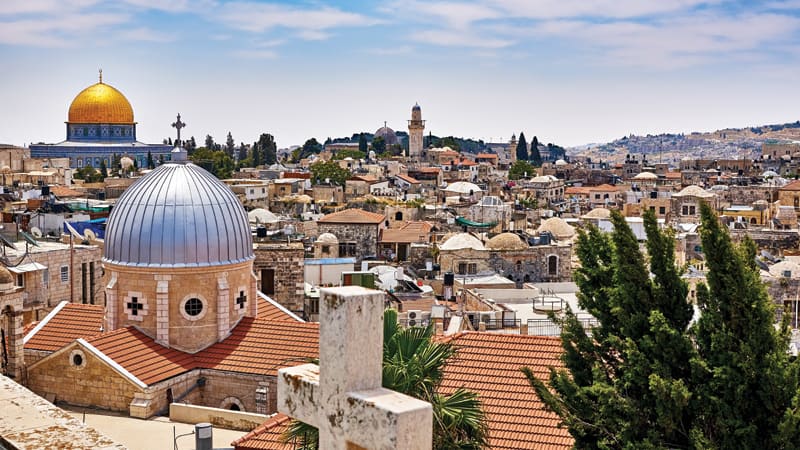 Which, it turns out, is the perfect environment for local thieves to do their dirty work. As my husband and I stand gawking at Jesus' tomb, a thief steals Peter's camera bag, probably using a knife to slice the strap. Luckily, Peter has his camera in hand. Unluckily, our passports are in that bag; which, along with the thief, melts into the crowd before we even realize it's gone.
Dusk has fallen and it's time to go back to the ship. Will we be able to get out of Israel? Will Cyprus, our next port of call, let us enter without passports so we can obtain emergency passports at the U.S. Embassy? Or will we be confined to the ship and miss the next three ports of call? Hmm, this is starting to sound like "As the Ship Turns."
Happily, the fixers on the ship arrange everything, even passport photos. Then the next day in Nicosia the kind folks at the embassy present us with shiny new passports. We miss the excursion in Cyprus, but forget our disappointment the following day in Rhodes as we explore the windswept ruins of the Acropolis of Lindos. Spectacular views – even a rainbow – add to the dramatic landscape. But the best part of our Rhodes visit is lunch at a rustic restaurant: there we feast on juicy lamb, tzatziki and fresh Greek salad.
FOOTSTEPS OF HISTORY
Our next port of our cruise, Kusadasi, on the western coast of Turkey, is the gateway to Ephesus, one of the most well-preserved ancient Greek-Roman cities. A highlight is the excavated ruins of homes belonging to Ephesus' wealthiest residents. Huge mansions, buried underground for millennia: they feature elaborate Roman baths; mosaic scenes; plus frescoes of animals, birds, gods and goddesses … their colors still vibrant even after thousands of years.
But what's special about Ephesus is knowing that the white marble stone streets we're walking on – polished smooth by the centuries; these were also traveled by Marc Antony and Cleopatra, St. Paul, perhaps even the Virgin Mary, who is said to have come from a village not far away. Talk about walking in the footsteps of history.
We lunch in the nearby village of Şirince, once the home of a Greek community that left after WWI. Its winding streets, colorful market and friendly people are so full of life compared with the dusty ruins of Ephesus. We stop for Turkish coffee in the market and watch an amazing ritual as the server slides a small pot in circles in hot sand – shhh, shhh, shhh – until the brew bubbles and foams. The woman smiles as she pours steaming coffee into my cup.
Traveling is about more than bucket lists, I realize. It's about leaving behind the ordinary and embracing the extraordinary. It's about slowing down and experiencing all your senses. Most of all, it's about connecting with people in the places we go.
---
Peggy Sijswerda lives in Virginia Beach and writes about travel and wellness. She also publishes two local magazines, Tidewater Women and Tidewater Family.
---
Historic hotels and motels in the Outer Banks of North Carolina – where you can stay on your next OBX vacation.