New Statues for Virginia Women's Monument
March 14th, 2019
Sculpting begins on Laura Copenhaver, Mary Draper Ingles and Elizabeth Keckly
---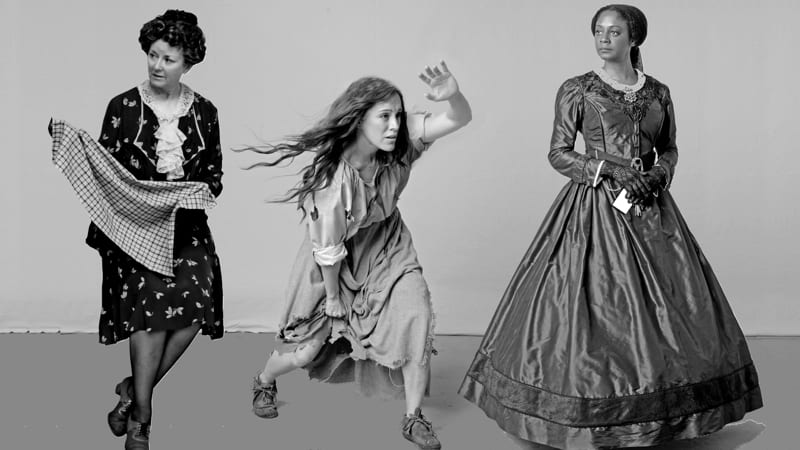 Work is underway on Voices from the Garden: Virginia Women's Monument, the nation's first monument showcasing women who have made significant contributions in 400 years of Virginia history.
Although profiles and stories have men have typically dominated history, the monument – 12 bronze statues and a Wall of Honor inscribed with the names of 230 additional women – will help tell the story of the diversity of achievement, ethnicity and thought that has shaped the Commonwealth.
The granite plaza and the Wall of Honor were unveiled in October 2018. The first four statues of – Pamunkey Chief Cockacoeske; Anne Burras Laydon, one of the first female settlers to Jamestown; Virginia Estelle Randolph, Henrico County educator; and Adèle Goodman Clark, suffragette and a founder of the Virginia Museum of Fine Arts – were commissioned in 2018. The newest statues to be commissioned are of Laura Copenhaver, Mary Draper Ingles and Elizabeth Keckly.
Laura Copenhaver, an entrepreneur from Smyth County in Southwest Virginia, was an early leader within the Virginia Farm Bureau Federation. She coordinated the production of coverlets, rugs and other household items that were made with wool from area farms and crafted by local women. These popular textiles attracted customers from throughout the U.S. and internationally. Contributions to Copenhaver's statue came from Virginia Farm Bureau Federation and the Altria Group.
Mary Draper Ingles lived in Draper's Meadow (now Blacksburg). In 1755, she was captured by Shawnee Indians and taken to Ohio, where she was forced to sew shirts for the men of the tribe. She eventually escaped and traveled five or six hundred miles back to her home, much of it across the rugged, mountainous landscape.
Elizabeth Keckly was born a slave in Dinwiddie County. She became a talented seamstress and bought her freedom in 1855, with the help of patrons. She moved to Washington, D.C., developed a clientele of prominent women and eventually became First Lady Mary Todd Lincoln's personal dressmaker and confidante. Keckly wrote a book of her experiences in the White House and later taught sewing and domestic arts at Wilberforce University in Ohio.
Each statue has required a financial investment of $200,000 in order to proceed to the sculpting phase. The remaining five statues are partially funded and will be commissioned as contributions become available. These statues are (Sarah Garland Boyd Jones, first African-American woman to pass the Virginia Medical Examining Board exam and a founder of a medical association for African-American doctors; Maggie Lena Walker, Richmond community leader and banker; Sally Louisa Tompkins, who established a hospital to treat wounded soldiers during the Civil War; Clementina Bird Rind, editor and manager of the Virginia Gazette during Colonial times; and Martha Dandridge Custis Washington, representing First Lady position for the wives of the eight Virginia-born presidents.
A formal dedication of the Virginia Women's Monument is scheduled for October 14, 2019. Most of the bronze statues will be installed by that time. A large amount of space is available for the names of more women to be added to the Wall of Honor in the future.
"As a society, we have a responsibility to ensure that women's stories are embedded into the narrative of Virginia history," said Mary Margaret Whipple, vice chair of the Women's Monument Commission. "The Virginia Women's Monument will provide a unique opportunity to explore and experience the powerful role that these female trailblazers played in the past, serving as an inspiration for current and future generations to find their own voice."
For more information or to contribute to the Virginia Women's Monument, visit VirginiaCapitol.gov. Contributions can be designated for a particular statue by making a note in the "Additional Comments" box.