Calling All Knuckleheads
| May 12th, 2023
A new book looks at touring with the Three Stooges
---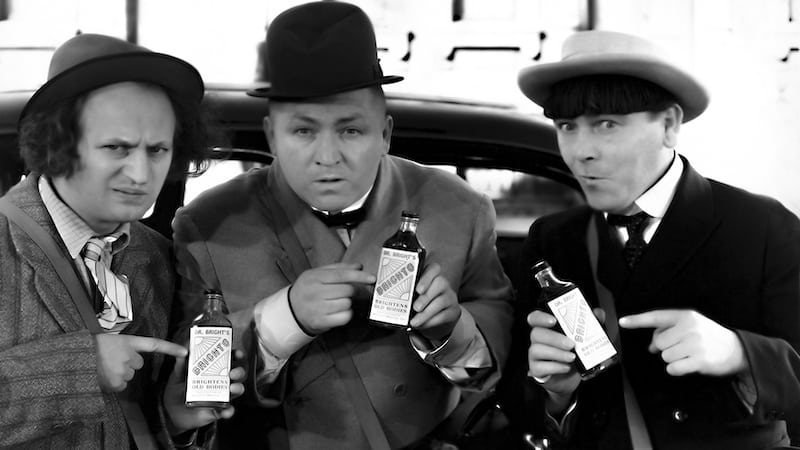 Did you know that the Three Stooges comedy team spent more time on the road than in a production studio? A new book, "A Tour De Farce: The Complete History of the Three Stooges on the Road" recounts these journeys in detail.
---
Despite extensive on-screen credits throughout their long careers, the Three Stooges comedy team only spent about a month or two a year in front of the cameras, rarely producing more than 10 of their beloved comedy shorts a year. According to long-time Stooges fan Gary Lassin, the slapstick legends were on the road for up to six months a year, crisscrossing the country to perform largely vaudeville-like acts on stage.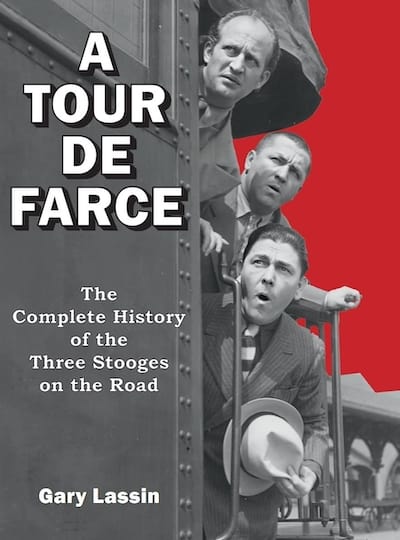 Those journeys, from the 1920s to the 1960s are now recounted in exquisite detail in more than 750 pages of Lassin's new book, "A Tour De Farce: The Complete History of the Three Stooges on the Road."
As president of the Three Stooges fan club and owner/curator of a Three Stooges museum (The Stoogeum) in Ambler, Penn., Lassin began assembling touring data over two decades ago.
"I just opened a blank Excel spreadsheet and began going through my Stooges memorabilia – playbills, programs, ticket stubs, photographs – to compile their travel history," said Lassin from his suburban Philadelphia home.
He also began searching newspaper archives back in the day before online databases existed. "Twice a year I'd drive to the Library of Congress in Washington to search their archives of major newspapers stored on microfilm."
The book, currently available directly from the author (see www.tourdefarce.net), is also crammed with over 1,400 images mostly from Lassin's private collection, hundreds being published for the first time.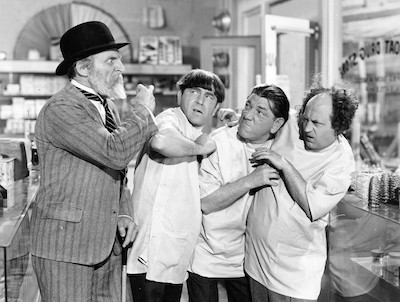 Comprised of the two Howard brothers, Moe and Curly (Curly being later replaced by third brother Shemp, followed by Joe Besser and Joe DeRita), and Larry Fine, the Stooges are famous for the 190 short films produced by Columbia Pictures from 1934-1959. The trio of turmoil were masters of vintage Hollywood madcap mayhem, famous for brutalizing each other with any heavy object at hand, initiating food fights, and flattening their surroundings faster than a professional demolition team.
So what would audiences attending their live stage shows have experienced?
"Nothing like their films, really," said Lassin. "They didn't have the benefit of movie special effects or other actors they could play off. So they usually did a 10 to 15 minute act consisting of two basic routines. There were skits where they'd play roles and act out a little and the other was called patter where they would go back and forth with silly jokes."
An example of the latter, says Lassin, is when one would ask, "You goin' fishing?" To which another would respond, "Yeah, you got worms?" followed by the punchline, "Yeah, but I'm going anyway."
Lassin estimates his book documents up to about 95 percent of live appearances by the Stooges. "We'll never come up with all of them," he said. "They also visited hospitals, military bases, and other places that weren't advertised to the public."
The author, who is related to Larry through marriage, has amassed over 100,000 pieces of Stooges memorabilia with thousands of items displayed in his museum. Like many adult Stooges fans today, he originally became enamored by the comedy troupe as a child.
"We only had three TV channels to watch when we came home from school," he recalled. "So it was impossible for a kid not to see them and like them."
---
Nick Thomas teaches at Auburn University at Montgomery, Ala., and has written features, columns, and interviews for many magazines and newspapers, including many in the Boomer nostalgia and humor departments. See www.getnickt.org