Tips for Cooking with Herbs
| May 20th, 2022
A powerful, easy, and tasty route to better health
---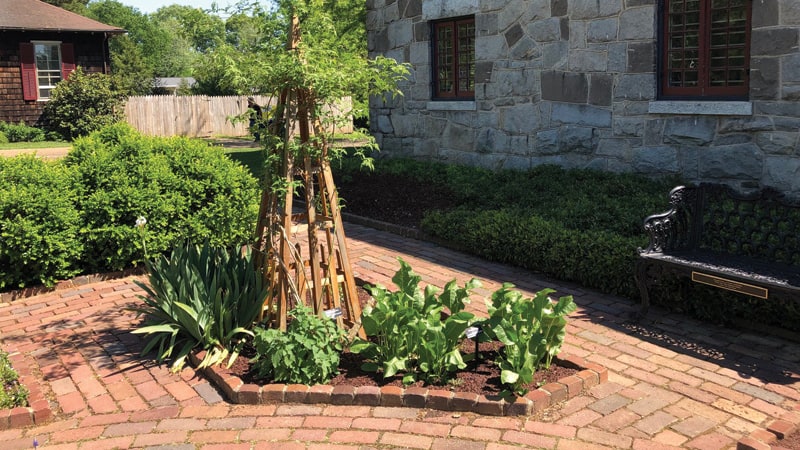 Growing up in the 1960s, I remember my mom's kitchen cabinet filled with an array of dried herbs and spices. Seeing the little containers today evokes warm memories of my mom's delicious home cooking and the wonderful aromas in our kitchen.
When my sister got married in 1974, she received three spice racks for wedding gifts. In 1985, I was disappointed I didn't get even one, although I was given five nice sets of salt and pepper shakers as wedding gifts. People had started eating out more, cooking less, and increasingly relied on salt for flavoring.
Seasoning with extra salt can be problematic for those trying to control their blood pressure or keep their heart and kidneys healthy. Adding more herbs to your meals is an easy way to add flavor while reducing sodium as well as fat.
That's what started Marilyn Trownsell's fascination for cooking with herbs and then growing her own. Trownsell is a registered dietitian, nutrition consultant, Master Gardener and member of the Old Dominion Herb Society. She has taught heart-healthy cooking classes with the American Heart Association since the 1970s.
From those classes, she developed a 12-week program, "Cooking for Your Heart." For 15 years, beginning in the 1980s, she taught that adult education cooking series plus other cooking classes at the Hermitage High School Tech Center.
Participants reduced their cholesterol significantly and lowered their blood pressure. More importantly, they felt empowered knowing how to cook delicious meals that tasted good and were good for them, too.
"When you're cooking with herbs, you're cooking for health in many different ways," says Trownsell. Herbs contain small amounts of vitamins and minerals, plus they're a source of antioxidants – nutrients that reduce inflammation in the body. Antioxidants can help reduce blood pressure and risks for heart disease and cancer. They also help keep arteries healthy. Some improve digestive issues, and others promote brain health and memory.
Be careful about self-medicating with herbs, though. Always inform your doctor if you use any herbal supplements as some can be toxic in large amounts or can interact with some prescription medications.
It's wonderful how many different ways there are to cook with herbs and spices! Trownsell has a large herb garden and grows parsley, sage, rosemary and thyme, plus chives, ginger, oregano, lavender and mint. She recommends oregano for tomato-based recipes. Rosemary pairs well with chicken, pork and potatoes. Dill is delicious on salmon and cucumbers. Nutmeg enhances cauliflower, and cinnamon subtly sweetens foods.
---
More expert tips on using herbs and spices at home
---
PLOTS AND POTS
You don't have to be an expert to grow herbs. Leslie Ellis grows them for their flavor and a bit of nostalgia. She has fond memories of her father's large garden and the vegetables he raised and her mother canned.
With her busy schedule, Ellis couldn't manage a full-fledged vegetable garden, so she began growing herbs as an extension of the flower borders in her yard. When moving to a 55+ community, she transitioned them to several decorative pots on her patio. They provide what she needs, and it's something she can maintain while working full time in human resources.
Ellis shared, "What first got me hooked was when I added a few fresh sweet basil leaves to a turkey, lettuce and tomato sandwich. That simple addition of herbs made the sandwich amazing." The must-have herbs she grows are oregano, thyme, sage, sweet basil, onions and chive.
Sage advice from Trownsell: "Don't be afraid of cooking with herbs. The more you know, the better you'll master them." It's like learning how to drive a car – you get better the more you practice. Pick up your favorite cookbook or find a new recipe online with several herbs and start cooking.
You may find a new herb you love. That's how I discovered fresh rosemary. It enhances the flavor of my white bean, bruschetta, chickpea tomato soup and pork medallion recipes.
There are plenty of options for buying or growing your own herbs from local grocery stores, markets, farms and plant nurseries. Each spring you'll find a variety of herb sales, some offering classes for beginners to experienced growers. In April, many Richmonders attend Maymont's popular annual Herbs Galore & More event to start or refresh their herb gardens.
DRIED VERSUS FRESH
I'm often asked, "Is it better to cook with fresh or dried herbs?" The answer is, either, especially since dried herbs keep their antioxidants through the drying process! Both Ellis and Trownsell dry their fresh herbs to use year-round. Dried herbs are quick and easy when you don't have fresh on hand and are readily available locally from grocery or specialty stores and online.
Flavors vary between fresh and dried herbs, although you may prefer the flavor of one over the other for specific herbs. Dried herbs are more concentrated than fresh, so you need to use less. General rule of thumb as a starting point: 1 tablespoon (3 teaspoons) fresh = 1 teaspoon dried leaves/flakes = ½ teaspoon dried ground herbs.
Take inventory of your stock if you buy dried herbs and spices. They don't go bad, but they lose their potency and flavor, so check the "best by" date. If that's missing, use your senses. The color should be vibrant, not faded, and the aroma should be strong.
In general, use dried herbs within one to three years, seasoning blends one to two years, ground spices two to three years and whole spices three to four years. To preserve their freshness, cap tightly and store away from heat, moisture and direct sunlight.
---
How to keep your herbs fresher longer
---
Mary-Jo Sawyer is a registered dietitian with VCU Health where she provides outpatient nutrition counseling. A former Richmond-Times Dispatch columnist, she wrote the popular "Practical Nutrition" column combining timely nutrition information with recipes to help put her suggestions into practice.
---
OLD DOMINION HERB SOCIETY
Besides helping tend Maymont's herb garden, the group gathers to learn about herbs. "We're the most informal of garden clubs, despite our stuffy name," said Michele Faison, 2019 president of the society. "We like to eat, talk and have fun."