Themed Cafes in Tokyo
| February 8th, 2017
Tokyo has long been known as a futuristic, funky and out-of-this-world kind of a city and, make no mistake, its restaurants and cafés hold up to the same standards, packed with the art and creativity of food.
---
When visiting a new city, you can be a generalist or a specialist. You can gain an overview of the city by attempting to hit museums, nightlife, restaurants, recreation – a smattering of everything that gives the city its aura and that floats your boat.
Or you can specialize, focusing on a city's unique personality traits: live theater in New York City; UNESCO World Heritage sites in Lhasa, Tibet; inspired mountain day trips from Denver; ecotourism in Costa Rica; museums in D.C.; or themed cafés in Tokyo.
Welcome to the quirky world of themed cafés in Tokyo, Japan. Tokyo has long been known as a futuristic, funky and out-of-this-world kind of a city and, make no mistake, its restaurants and cafés hold up to the same standards, packed with the art and creativity of food.
Imagine dining at an Alice in Wonderland-themed café, where even the food you order is shaped like characters from the movie, or sipping on coffee and hanging out with your favorite animal: cats, puppies, birds, lizards and even owls. Recently, I ventured off to Tokyo to discover the art of themed restaurants and cafés.
Animals: The Owl Café
There are several owl cafés throughout Tokyo. The most popular one is located in Harajuku. First, you spend 30 minutes drinking tea or coffee while getting a briefing on how to treat and handle the owls. Then you enter a small room for another 30 minutes with owls of various species that you can hold, feed or pet, whatever you feel comfortable with. It's an incredible experience and the café really takes good care of the animals. Spaces are limited, so make reservations in advance.
Alice In Wonderland: Q-Pot Café
Step into your own Alice In Wonderland tea party at Q-Pot Café, a colorful space with a long Alice In Wonderland/Mad Hatter table. Dessert and beverage menus change regularly. For example, fall features a Halloween-themed cup of coffee with orange foam and a jack o' lantern face. Artfully designed plates create a picture-perfect dessert, such as sweets placed like rings upon a plate with the design of a hand.
Bunnies: Nicholas House
Nicholas House is a fully operating restaurant themed for all you bunny lovers. Upon arrival, you will be asked to pick bunny ears to wear and everything you order from the restaurant will be shaped like a rabbit, including your food and beverage.
Housekeepers: Maid Café
Maid cafés have become so popular that there are more than 200 locations throughout Tokyo. They've been featured in movies, TV shows and even on CNN. So what exactly is a maid café? Women ages 16 to 25 dress up in cute little maid outfits and serve you while dancing and singing. They may even make you sing a song or two.
Snoopy: Peanuts Café
If you're looking for an Americanized café where you can enjoy hamburgers and s'mores hot chocolate, look no further than the Peanuts café. You will even find Snoopy and Peanuts on your hamburger bun.
Hello Kitty: Café De Miki
You can't go to Tokyo and not experience the Hello Kitty world. Everything about Café De Miki screams this Japanese pink-themed children's character. It's the perfect breakfast café with delicious pancakes, pastries and macaroons.
Colors galore: Kawaii Monster Café
Imagine walking into a colorful Disney-like café with bright, vivid pastels and oversize toy-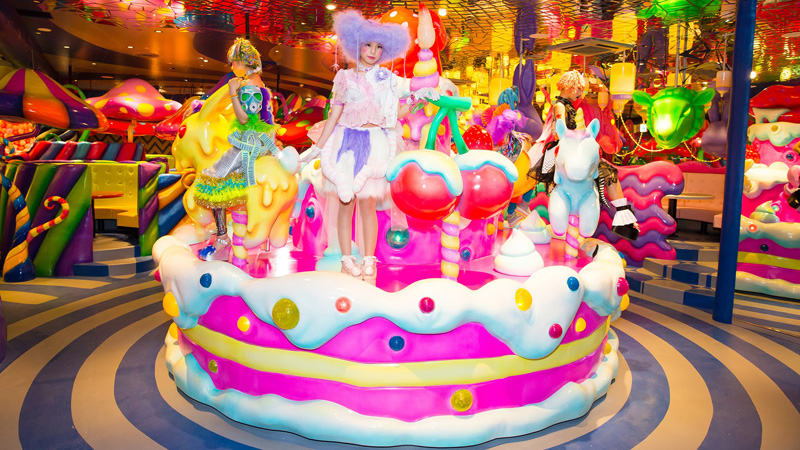 like figures. You can enjoy a rainbow-colored pasta and colorful desserts, served by women in outrageous outfits – "Monster Girls" from Harajuku, Japan's center of fashion and youth culture – and watch a fun show on the spinning, cake-shaped merry-go-round.
Costumed role-playing (cosplay) and anime: Robot Restaurant Show
If you're looking for a night full of madness and fun, check out the Robot Restaurant Show. You will leave the restaurant with a smile of confusion and ask yourself, "What just happened?" The Robot Restaurant operates four shows nightly.
Package options include a meal, just drinks or just the show. The out-of-this-world show is the perfectly cheesy Japanese cosplay and anime experience with a laser show, characters, giant robots and stylish Harajuku girls. You will have the time of your life in this crazy place.
---
Follow travel blogger Hofit Kim Cohen's adventures at VanillaSkyDreaming.com or on Instagram @hofitkimcohen.
Now see beautiful architecture in Indiana.