Transitions
| December 27th, 2017
At the heart of cross-generational love
---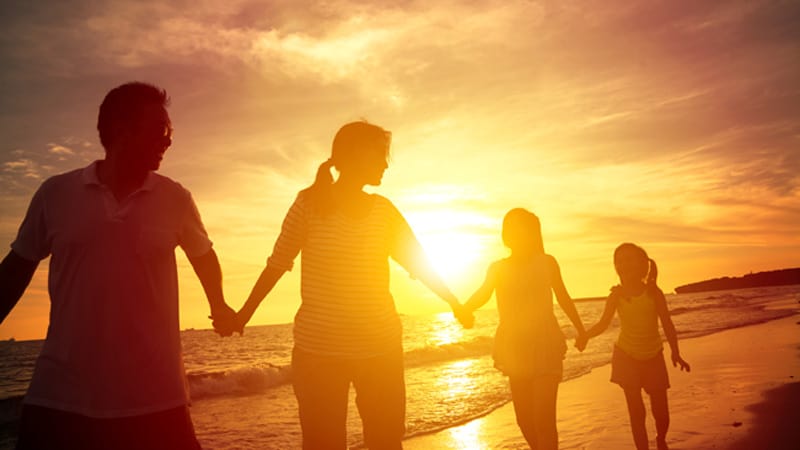 Every season offers us an opportunity to transition to something new and beautiful in our lives. The question is, will we recognize and seize these moments or be so busy living our lives that we miss them?
I grew up in a military household, which is code for constant change. I navigated through dozens of transitions as the child of an Air Force colonel – changes in scenery, schools, houses and even nations. Out of necessity, I learned to make friends quickly, knowing full well I wouldn't be planted in any one place long enough to fully bloom.
After what felt like an eternity of travel, it hit me recently that I'm finally settled. Suddenly, there are five generations of our family under one Commonwealth roof, helping each other through various life transitions: the not-so-Silent Generation representative, my wise and wonderful mother; the boomer generation, my beloved brother, and his Gen-X wife; my marvelous millennial children, ever-feisty and independent. And my Gen-Z niece, full of insights and creativity beyond her years.
We are one family, yet drawn to different aspects of our community and influenced by different generations. While it's easier to gravitate toward what our peers are thinking and doing, every day represents a chance to open new doors of thought and transcend our generational comfort zones.
Five generations in motion: today, I can throw a rock and hit the back deck of Mom's house. We are two generations of moms, living in a beautiful, quaint (and I'll dare say it, pre-retirement) setting, surrounded by a sea of trees and water. When I first moved in, eyes rolled, because I'm not quite a boomer (Gen-X by a thread) and brought boisterous boys to the ZIP code. My boys would play basketball with their friends in the driveway and test the curfew (and the patience of our neighbors) on a regular basis. Our next-door neighbors* grew to embrace the noise, and my children. The elders taught my kids how to mow a lawn and earn a dollar, through yard work and informal "internet repair" services. Multiple generations, at first resistant, became open to sharing, learning and loving the unique gifts each brings to the table.
While my kids are in high school now, for years they would get off the school bus and head straight to Mom's for homemade cookies, connecting in ways only skip-generations can. Their Gigi instills faith, plants seeds of hope and offers practical advice for their growing minds. They leave her house more full, happy and wiser than before.
Mom and I have cheered each other on through life's adult transitions, from her retirement and move, to my divorce and career changes. And while we've spent many a Saturday night with Hallmark chick flicks and rounds of gin (the card game, not the drink), she is quick to point out that life is finite. She encourages me to let go of my safe-zone Golden-Girls habits and instead go on actual dates.
A few miles down the road, my brother and his wife have set up shop in a new neighborhood, designed for families with younger kids. They made friends quickly and have become leaders in their community. Their street has a modern-day-Mayberry vibe. It's a nestled-away-nostalgic neighborhood, where help is just a knock away and the kids walk to school, like the good old days. Their son, a mature millennial, enjoys college life in picturesque Farmville and comes home occasionally to rest, restore and, yes, do laundry.
If you asked me what's the one thing I've learned from having family close by (other than "call first"), it's this: The tapestry of life is best understood looking back, but best lived moving forward. Mom had originally planned to retire elsewhere. We road-tripped in pursuit of the perfect retirement haven, to no avail. Months later, when looking for a new home of my own, I stumbled upon her dream home, right here in Richmond. Three years later, I achieved the same for my brother and his family.
Sometimes we don't understand all the transitions we go through in our lives as they are happening. But when we look back, a clear picture and purpose emerge. Five generations, together, at this point in time, making sense of roads that led us to this one community we now call home.
May we all embrace the diversity within and across our family trees to learn, live, love and grow for generations to come.
---
Tracey Sloan, M.Ed. and Certified Executive and Life Coach, is a freelance writer and author. She lives in Midlothian with her two sons and their dog, Gravy. 
---
*Our sympathy goes out to Ruth Catlin of Farmville, Virginia, on the loss of her partner, Bill Polaris, who passed away peacefully on Christmas morning, 2017. They are the two neighbors referenced in the article above.