Become an Intrepid Traveler
| July 6th, 2017
Managing disabilities while on the road
---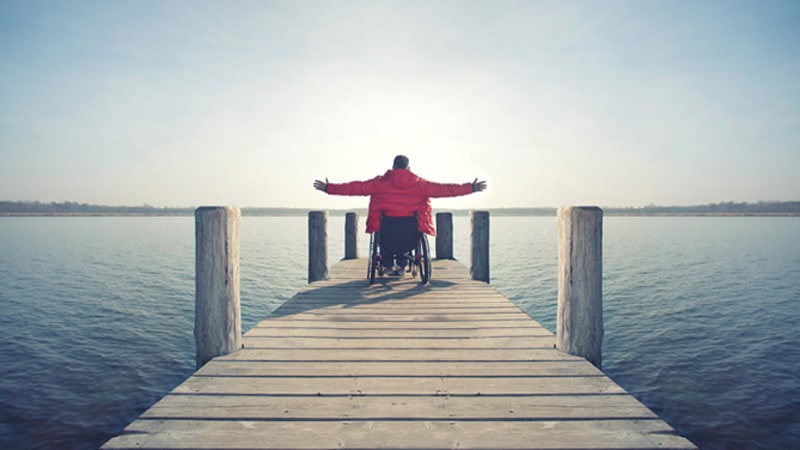 My husband, Tom, has Parkinson's disease and uses a transport chair, walker or cane daily. As seniors accustomed to doing our own thing – including a biking, hiking and canoeing trip to Canada's Maritime Provinces – we found his diagnosis put a new wrinkle in our travels. I learned our pleasures wouldn't be diminished if I did a bit more advanced, detailed planning. Good communication is key.
Jim Rothrock, commissioner of the Virginia Department of Aging and Rehabilitative Services and a wheelchair user since the age of 16, provides background: "Even though attractions, tour buses and cruise ships are much more attuned to special needs than they were 25 years ago," he says, "an employee will sometimes say on the phone, 'We handle that all the time' – and then I find out there are 'two steps down' to get somewhere – which won't work for a scooter, transport chair or wheelchair. A mobility impairment for one isn't necessarily a generic mobility impairment for everyone."
NAVIGATING VIRGINIA
In 1987, Cheryl Duke and her husband, Bill, founded and now manage the Opening Door Inc. They maintain a web-based resource travel guide for those with disabilities (AccessibleVirginia.org). Cheryl says, "Guides and websites typically use symbols to express accessibility, but symbols don't give the whole picture. Everyone wants to know how accessible is it for me – whether it's a mobility, visual, hearing or cognitive disability – and it's critical to know before we go."
The Dukes herald their award-winning guide and website – with almost 600 statewide listings – as being "done by people having physical or sensory disabilities for persons with disabilities." They know whereof they speak, as their son, Paul, who will be 48 in October, was in a wheelchair by age 12 with Duchenne muscular dystrophy: he smiles, speaks and uses his right thumb and index finger to communicate via Facebook, despite being on a ventilator since age 20 and a feeding tube for about eight years.
The Accessible Virginia site is the only statewide resource in the U.S. providing extraordinarily detailed descriptions of local attractions, lodgings, restaurants, outdoor recreation and shopping facilities – including the number of accessible parking spaces, width of doorways, height of toilet seats, availability of captioned videos/audio-taped descriptions of exhibits, special services (such as tours in American Sign Language) and much more. There's also a section on resources such as equipment repair or rental, dialysis clinics and sources of oxygen.
---
An accessible cruise offers a vacation for the whole family
---
"The challenges can be daunting," Cheryl says, "because people with disabilities don't have the luxury of flexibility or spontaneity about many things. But, armed with information, they can become intrepid travelers."
The Dukes invite any business to be part of Accessible Virginia, which is always expanding, even though it's dependent on private donations and underwriting, with no state funding.
TIPS FROM EXPERIENCE
The world beyond the commonwealth beckons to travelers, too. The Society for Accessible Travel & Hospitality website (SATH.org) is replete with travel tips ranging from traveling with arthritis to reporting discrimination against a passenger with a disability. Organizations dedicated to individual medical conditions, such as diabetes, also feature travel tips on their websites. Travelers can check out disability sections of airline, rail and cruise websites, too. When traveling by air, be sure to contact airlines' disability desks for advice and special accommodation.
Joan Kidwell, who works at Chesterfield's Lifelong Learning Center and travels with a walker and oxygen tank, has taken Amtrak to Nebraska for a family event and driven solo for a five-day trip to Florida before boarding a cruise to Nassau. She says she travels light, carrying (1) an extra supply of all medications, (2) a little something to eat, such as peanut-butter crackers, (3) a small bottle of water, (4) a mini-size packet of tissues, (5) a letter from a doctor in case she needs to justify what she needs and (6) disposable underwear. When traveling by car, she finds it easiest to use one hotel chain for her entire trip: if she finds she's running behind schedule, the chain moves her reservation to one of its closer hotels.
My husband and I add first-aid items to our list because of his propensity to fall.
Bolstered by several successful Amtrak trips to New York, Tom and I are embarking on a train trip to Colorado this summer. We're sure to have more stories to tell.
---
A Midlothian-based freelance writer, Martha Steger has received national awards for her journalism, essays, short fiction and poetry. She is a Marco Polo member of the Society of American Travel Writers, a past president of Virginia Professional Communicators and a member of the Virginia Communications Hall of Fame.