'Virginia Beer: A Guide from Colonial Days to Craft's Golden Age,' by Lee Graves
| October 1st, 2018
The book combines tastes of today with lessons from the past
---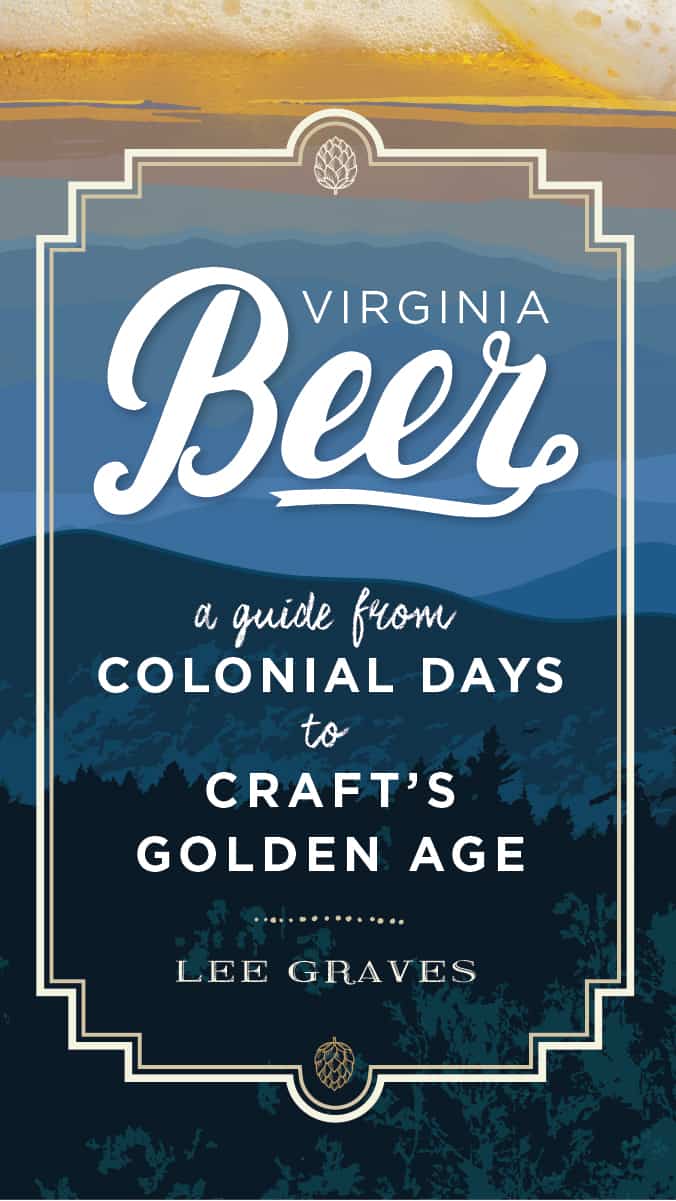 PAIRINGS OF BEER AND HISTORY
Any period in time, including our own, is merely a snapshot of a much larger story. Understanding that larger story can enhance appreciation of the snapshot. Beer writer Lee Graves' new book provides that context as well as a clearer image of craft breweries in Virginia.
Virginia Beer: A Guide from Colonial Days to Craft's Golden Age
BOOMER readers may recognize Graves for his contributions to BOOMER but especially for his years as the Richmond Times-Dispatch Beer Guy columnist and author of Richmond Beer (2014) and Charlottesville Beer (2017). Graves brings that experience, his training as a journalist and his appreciation for history to his latest project.
The Virginia Beer guide's first exploration of context begins with history, including the importance of beer to the early Jamestown settlers and the creativity necessary for early American home brewing – using "whatever was at hand," including spruce, persimmons, sassafras, molasses and pea shells. Home brewers will appreciate the "Corn Beer Recipe" from the Staunton Spectator and General Advertiser, July 16, 1861.
Readers of Graves' earlier books may be familiar with some of the ale tales from Richmond and Charlottesville, but they will expand their knowledge of the historic beer scene in other regions of Virginia.
Curious readers will also appreciate the insights that Graves gleaned from his extensive research, such as evidence of slaves' involvement in antebellum brewing. For example, Peter Hemings assisted in full-scale brewing operations at Monticello. Slaves at Mount Vernon brewed beer for their own use. And slaves at both plantations grew hops, which they sold for cash. "In addition, purchases of hops from 'Nottoway Negroes' helped supply the brewery that existed at the College of William and Mary."
The history lesson travels through the 19th century and the Civil War, through Prohibition, through the nation's "low point in brewing" and up to the reasons for today's surge.
The context continues with an exploration of other aspects of beer appreciation, tied in to Virginia beer: the importance of local ingredients to Virginia brewers; the national home brewing movement and its roots and branches in the Commonwealth; pairing food and beer; and popular styles in Virginia, new and old.
The remaining two-thirds of the text provides a guide in the more traditional sense of the word, highlighting breweries in seven regions of the state, followed by the Beer Guy's take on "Looking Around, Looking Ahead."
Such a guide can be neither comprehensive nor up-to-the-minute – such are the limitations of print. But it does provide a useful point of reference for beer exploration: setting the context of each region and giving a backstory on top breweries, plus a map and listings of events, beer trails, groups, tours, publications and breweries.
As Graves says in his preface, "If you come away with a deeper appreciation of this ancient beverage, the golden age we're experiencing, and the people who love, brew, and consume beer, then … I will join you in a toast to good times and great beers."
---
Virginia Beer: A Guide from Colonial Days to Craft's Golden Age
By Lee Graves
Published by University of Virginia Press, released Oct. 2, 2018
Available in paperback (384 pages) and e-book, $24.95
For updates on local and statewide book signings, go to The University of Virginia Press and at Facebook @Beer Then and Now.
---
---
As an Amazon Associate, Boomer Magazine earns from qualifying purchases from linked book titles.