Virginia Music Festival Milestones
| May 14th, 2020
A state united by rhythm
---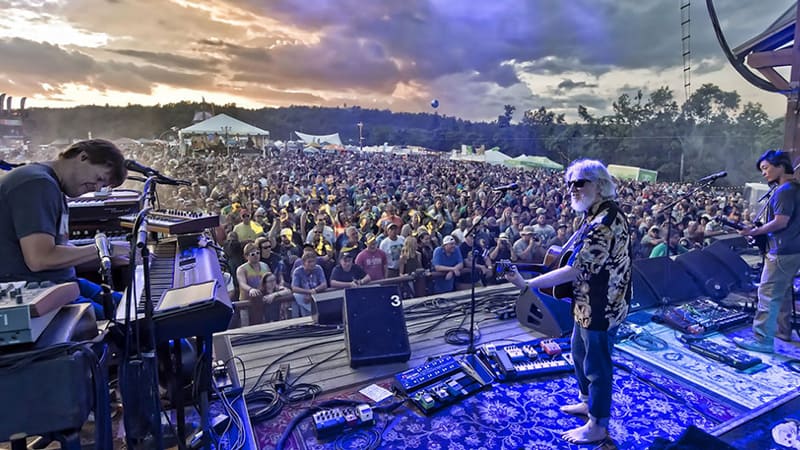 ---
Virginia boasts a slew of spirited music festival events throughout the year: multi-day festivals put together to connect festival-goers in their shared enthusiasm throughout the festival's duration.
This year, five of Virginia's acclaimed music festivals are celebrating monumental milestones – from a 10th all the way to an 85th – and we've delved into the histories that got them kicked off in the first place.
---
10th Annual HoustonFest
Houston Caldwell was a musician, soldier, firefighter and dedicated member of the community – all by the age of 18. Tragically, at 18, he was killed in a motorcycle accident; instead of merely mourning, his family and friends wanted to keep this acclaimed banjoist's legacy alive. Subsequently, HoustonFest was created with the goal of joining the community in the name of music and service; while preserving the integrity of bluegrass in the area. Fittingly, it also aims to give youth a creative outlet to share and develop their musical passions with the world.
So today, HoustonFest brings music fans from all over to Galax, featuring two full days of kinship and bluegrass, in an annual tradition that would make Houston Caldwell himself strum with pride.
June 12-13, Galax
Note: this event has been cancelled.
---
Musician and FloydFest co-founder Kris Hodges grew up on the philosophy that music is an experience – one that breaks barriers and brings people together in a way that nothing else can. After opening a tight-knit music venue and restaurant in Floyd in 2000 – simultaneously putting the small town on the map for musicians and music-lovers everywhere – he wanted to create something even bigger … and so, in 2002, FloydFest was born.
The festival celebrated its first year on an 80-acre recovered pasture off of the Blue Ridge Parkway. As a result, it grew steadily every year, now boasting multiple event and music festival awards. Every five-day-long festival caters to music fanatics of all types, featuring genres from rock to Appalachian to reggae and more.
July 22-26, Floyd
Note: this event has been cancelled.
---
An inception in 2002. A 20th anniversary in 2020. Math not quite adding up?
In order to line up their festival count with the calendar year, festival managers added an additional FloydFest in 2016. While FloydFest 16 was happening, the very elusive FloydFest 15 took place at a secret onsite location, complete with an entire lineup of its own.
---
Galax Fiddlers' Convention, 85th Anniversary
In 1935, the year of the first Galax Fiddlers' Convention, a piece in the local newspaper stated that the event aimed to "Keep alive the memories and sentiments of days gone by, and make it possible for people of today to hear and enjoy the tunes of yesterday."
A group from the then-new Moose Lodge #733 were looking for some type of fundraiser for their chapter and landed on this method of celebrating a shared passion for strings.
Eighty-five years later, the convention continues to fulfill their original purpose. Every August, mountain music-players and mountain music-lovers of all types unite for a week at the world's oldest and largest fiddlers' convention.
Aug. 3-8, Galax
Note: this event has been cancelled.
---
Dr. Ralph Stanley's Hills of Home Bluegrass Festival, 50th Anniversary
The Stanley Brothers – Carter and Ralph – were widely admired for their old-timey mountain music that entertained audiences for decades. When Carter died in 1967, Ralph Stanley sought a way to memorialize him in the name of bluegrass; and in 1970, the Carter Stanley Memorial Festival was established.
Now called Dr. Ralph Stanley's Hills of Home Bluegrass Festival, this annual event hosts a multitude of renowned bluegrass bands from all over the country. It's like a mountainous refuge, held in the Clinch Mountains of Southwest Virginia, bringing families and communities together over one common passion … a triumph almost as sweet as music from the Stanley Brothers themselves.
Aug. 26-29, Coeburn
---
20th Annual Bristol Rhythm & Roots Reunion
Being the illustrious "Birthplace of Country Music," this town, consequently in 2001, decided to throw together a festival in celebration of its revered claim to fame. The fest started off humbly, but it has grown dramatically throughout its 20 years – boasting big names such as Doc Watson, Del McCoury and Sam Bush.
Today, the festival hosts more than 140 acts, delivering a range of deep-rooted Appalachian music for the residents and visitors of Bristol. Musicians perform on 20 stages scattered throughout the town, entertaining attendees of all ages during three days.
Sept. 11-13, Bristol
BirthplaceOfCountryMusic.org/Festival
---
NOTE: Check websites for possible pandemic-related date changes.