Music Towns: Floyd, Virginia
| May 31st, 2016
This segment of music towns puts the spotlight on Floyd, Virginia and its annual music festival.
---
Five consecutive days of musical bliss may seem like a dream, but FloydFest – held July 27-31 this year – is a glorious, tuneful reality.
The festival in the mountains of Southwest Virginia has been attracting and delighting fans from all areas of the musical spectrum since 2002. The theme for 2016 is "Dreamweavin'," and while legends like Gregg Allman, Warren Haynes and Bruce Hornsby stand out at the top of the lineup, one up-and-coming artist has Across-the-Way Productions marketing director Sam Calhoun especially elated.
"One that I'm very excited about is Nathaniel Rateliff & The Night Sweats," Calhoun said. "We signed him and popped him [in] the lineup right before he had a big hit with 'S.O.B.,' and then he played The Tonight Show, and it took off from there. That's a high-energy [band] that has a lot of roots music in it with a little bit of pop, so I'm really excited about having them up on the mountain."
The festival's Floyd, Virginia, surroundings play a central role, as the stages almost become one with the environment. Calhoun noted that the two main stages are "timber frame structures that are meant to blend into the mountain landscape, so they're awe-inspiring on their own before the music begins."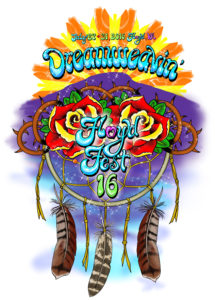 Just as inspiring is the cohesion that develops among FloydFest's 12,500 attendees. "Everyone's on the same page," Calhoun described. "People just relax around each other. It's community."
While the grounds are just a 10-minute drive from downtown Floyd, many attendees choose to camp on-site. Camping for five days helps build a sense of togetherness, and fans can upgrade their accommodations by opting for powered RV passes or the High-Roller All Access experience, which puts them even closer to the action.
"The VIP camping area is directly behind our main stage," Calhoun explained, "which you will find at no other event. You actually cross the backstage border, and we have a pub and a restaurant, and your camping area is all right there." That package includes free drinks, free food, "and you get to sit onstage with the musicians," Calhoun added, "so it's a pretty solid deal."
The festival's scope extends beyond music, as daily outdoor excursions explore the region's generous natural resources, rounding out FloydFest's activities list.
"It's very important to us that we have daily offerings of outdoor adventure," Calhoun said. "We do the On the Water float trips every single day, which include lunch on the [Little River] and shuttles to and from the site. We do the Belcher Mountain Beat Down, which is a very unique downhill mountain bike ride that's accessible for all ages. And we're ramping up our 5K trail races this year."
This is an especially momentous year, as organizers are taking this opportunity to align the event's name with the calendar year in which it's taking place – FloydFest 16, in this case – even though last year's was the 14th iteration.
"We like to have fun," Calhoun hinted. "FloydFest 15 will exist. It will just come in a secret form, and you have to come to the festival to figure that out." And that's not the only bonus event. The smaller, one-day Floyd Fandango will take place on the same site on June 25, offering a throwback to the festival's early years.
Whether you're there in June or July, Floyd is a summer pilgrimage well worth making for any live music fan. Learn more about FloydFest at floydfest.com and visit atwproductions.com for details about Floyd Fandango. Inquiries can be directed to 888-VA-FESTS or info@floydfest.com.
The lowdown
When: July 27-31
Where: Floyd, Va.
Who: Over four dozen acts, including Greg Allman, Bruce Hornsby, Keller Williams, Leftover Salmon, The Wood Brothers and Blue Mule
Cost: SINGLE-DAY PASS: $95, 5-DAY PASS: from $240