Giving Back with Lisa Schaffner: The Virginia War Memorial Foundation
| October 10th, 2017
Nonprofit Charity Spotlight
---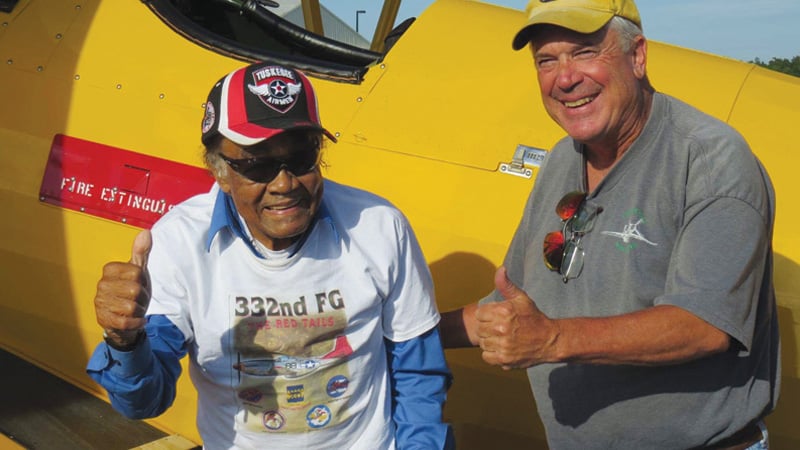 David Christian loves to see a passenger strapped in the forward cockpit of his vintage World War II prop plane. That's because every passenger has made a $250 donation to a cause near and dear to his heart in exchange for a breathtaking aerial sightseeing tour. Christian has found a unique way of volunteering and Giving Back to one of Central Virginia's most patriotic nonprofits: the Virginia War Memorial Foundation.
The Virginia War Memorial, located in downtown Richmond on Belvidere Street, honors veterans, preserves history, inspires patriotism and educates youth about those who have served our country. The memorial includes the names of 12,000 Virginians who made the ultimate sacrifice for our country from World War II through the Persian Gulf War, with a Wall of Honor for the 299 who have lost their lives in the Iraq and Afghanistan conflicts.
"We're just trying to preserve the record of service and sacrifice of Virginians who have given their all," says Christian, who, in addition to being a pilot, also serves as the chair of the Virginia War Memorial Foundation board.
Christian's inspiration to give back arises from two people: his father who served in WWII and his son who served in Afghanistan and Iraq. "I didn't know that much about the War Memorial before coming on the board, but everything I've seen since has enriched and strengthened my knowledge of veterans and their sacrifices," explains Christian, who is the chief innovation officer of Dominion Virginia Power.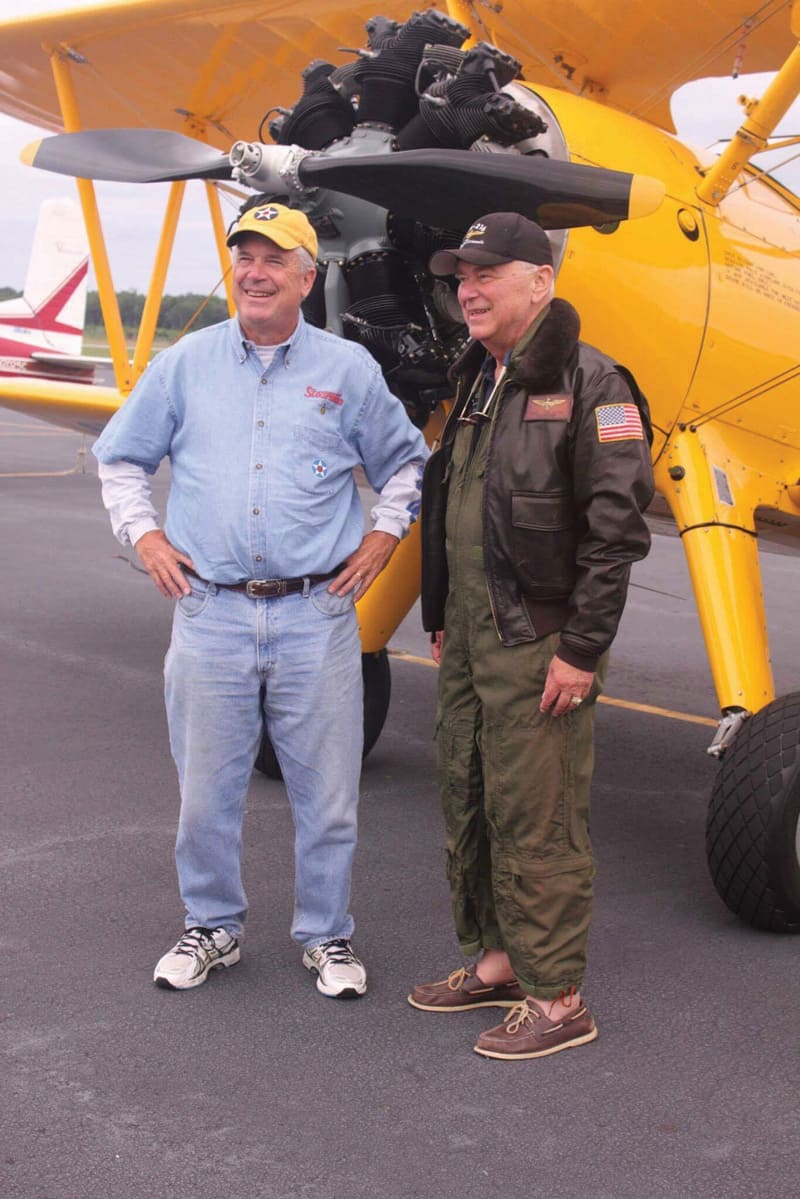 THE FACE OF THE MEMORIAL
The Virginia War Memorial, which is open to the public seven days a week, has a huge need for volunteers to greet visitors, conduct tours and work in the Memorial store.
"Our volunteers are the face of the War Memorial," says Dr. Clay Mountcastle, executive director of the Virginia War Memorial. According to Mountcastle, the contributions of volunteers are significant. "They are the folks visitors interact with, and it's guaranteed the experience visitors have with our volunteers is the reason they return to the War Memorial."
Mountcastle speaks fondly of one WWII veteran, Russell Scott, who was a prisoner of war after his bomber was shot down. Scott volunteers weekly at the Memorial. "People come to see Russell. He's a rock star," exclaims Mountcastle. "Our volunteers are what make our War Memorial the best in the country. They can tell the story, our story, and tell the stories of the names on the wall. They make it special." Volunteers are asked to give back a minimum of three hours monthly.
COMING UP AT THE MEMORIAL
If you'd like to experience the Memorial's mission before signing on as a volunteer, you'll want to check out two October events. The Virginia War Memorial Golf Classic at Independence Golf Course takes place Oct. 2, and the Art of War Expo unveils Oct. 13.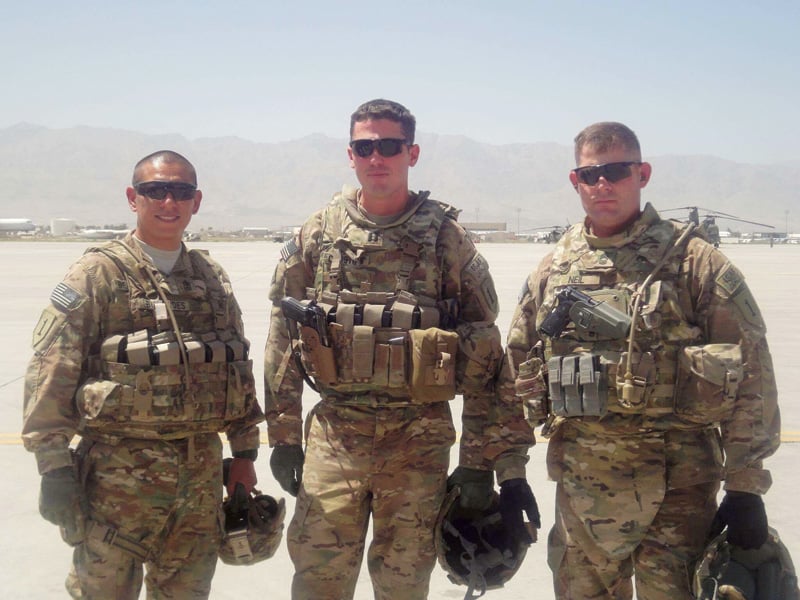 The Art of War Expo will feature three different galleries of works, including a photography gallery featuring two former combat photographers, Jeremy Lock and Stacy Pearsall.
"We've seen how the arts help returning veterans find a voice and overcome and become a part of the community again," Mountcastle explains passionately.
As a devoted Virginia War Memorial Foundation volunteer, David Christian is living words of advice from his father who walked the battlefields of France and Belgium and who survived WWII. "He told me, don't ever join anything or be a part of something for what you get out of it. Be a part of it for what you put into it!" explains Christian. "That's why I'm supporting the Virginia War Memorial."
It's not about what you receive; it's about what you can give. A life lesson from a WWII veteran and his son that we can all live by in Giving Back to our community.
---
WANT TO VOLUNTEER?
These worthy organizations need your help.
THE VIRGINIA WAR MEMORIAL FOUNDATION
HOW IT HELPS: Financially supports the activities of the Virginia War Memorial, including education and patriotic programs honoring Virginia veterans, memorial tours and historic exhibits.
HOW YOU CAN HELP: Contribute financially or volunteer as a visitor greeter, tour guide or support staff at one of the War Memorial's many events.
WEBSITE: VaWarMemorial.org
CONTACT: To volunteer, visit VaWarMemorial.org/get-involved and submit an online volunteer application or call 804-786-2060.
VETERANS & ATHLETES UNITED
HOW IT HELPS: Supports wounded, injured and ill veterans, helping them overcome their challenges by providing access to sporting activities and retreats.
HOW YOU CAN HELP: Share your time as a volunteer, donate a beach or river house for a retreat or sponsor a VetNet luncheon or barbecue.
WEBSITE: VetsAU.com
CONTACT: Fill out a volunteer application on the website, email VeteransAU@gmail.com, call 540-597-3186 or write Veterans & Athletes United, 2536 Falkirk Drive, Northern Chesterfield, VA 23236.
VIRGINIA VETERANS SERVICE FOUNDATION
HOW IT HELPS: Supports wounded and elderly Virginia veterans and their families through programs that are not covered by government resources and funding. Supported programs include Virginia Wounded Warrior Program, Sitter & Barfoot Veterans Care Center and Virginia Veterans Cemeteries.
HOW YOU CAN HELP: Make a donation.
WEBSITE: VirginiaVeteransServicesFoundation.org
CONTACT: Visit "donate" on the website or contact Karla Boughey at karla.boughey@vsf.virginia.gov.
ART FOR THE JOURNEY
HOW IT HELPS: Volunteer artists provide art classes as a way of healing to those who typically would not receive such training, including women in prison and low-income senior citizens.
HOW YOU CAN HELP: Volunteer as an artist or as an event volunteer at the group's upcoming fall art exhibit and gala, The Art of Well-Being, on Oct. 26.
WEBSITE: ArtForTheJourney.org
CONTACT: Visit the website or email LearnMore@artforthejourney.org.
STORY CONTACTS:
David Christian, Chair of the Virginia War Memorial Foundation board, volunteer, david.christian@dominionenergy.com 804.382.2350
Dr. Clay Mountcastle, Executive Director, Virginia War Memorial, 804-786-2061