Safe and Healthy Communities
October 23rd, 2017
Pedestrian- and bike-friendly drivers and roads
---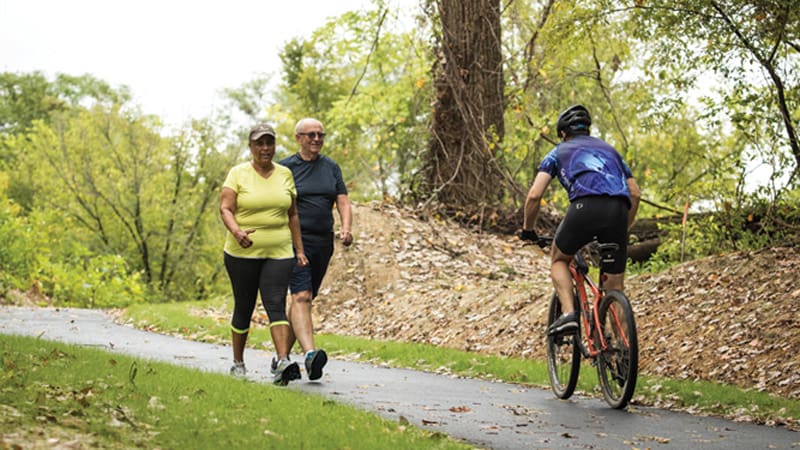 The benefits of being physically active have been generously sprinkled into contemporary conversation like salt on a giant pretzel: it keeps our muscles and circulatory system strong and stimulates our mind. We're admonished to walk or bike instead of drive, to take the stairs instead of the elevator. We can even buy bracelets and other devices that count our movement to keep us accountable.
But sometimes the risks seem to outweigh the benefits. Max Hepp-Buchanan, director of Bike Walk RVA, reported that pedestrian deaths from traffic-related crashes in Virginia increased 55 percent from 2015 to 2016, and that May and June of 2017 saw about "a dozen bicyclist and pedestrian fatalities and serious injuries in our region caused by traffic crashes." Going wider, he pointed to five pedestrian deaths and 50 pedestrian injuries in Henrico County and four deaths and 30 injuries in Chesterfield County, all in the first half of 2017.
The danger stems primarily from inadequate infrastructure and human carelessness, especially careless drivers. Metro Richmond and its residents can benefit from improving both. By modifying or adding to existing roadway systems, local governments can create protected bike lanes, shared-use paths and safe intersections that make biking and walking safer. By recognizing the need to safely share the road with pedestrians and bikers, drivers can do their part each time they're behind the wheel.
Richmond City Council took a step in that direction in March 2016, when it adopted a resolution that "supports the development of a Vision Zero program for the City of Richmond with the goal of reducing traffic fatalities and serious injuries in road traffic to zero by the year 2030." Vision Zero sets certain minimum standards, which parts of our region are taking action in implementing.
To help our region achieve safer and healthier communities:
Advocate for Vision Zero and other community-wide initiatives. Learn more at SportsBackers.org/program/bike-walk-rva.
When walking or biking, wear bright colors, be alert and do not assume that cars are going to yield.
When driving, be alert and considerate. Know that whether they're acting for health or transportation needs, pedestrians and bikers have rights, too.
In a time when Americans' overall health, the expenses of health care and government spending on health care are problematic, how much better off we all will be when biking and walking become safe options.