Contemporary Art in Uptowne Old Towne
| June 16th, 2017
Father-son duo brings national and international exhibits to Petersburg
---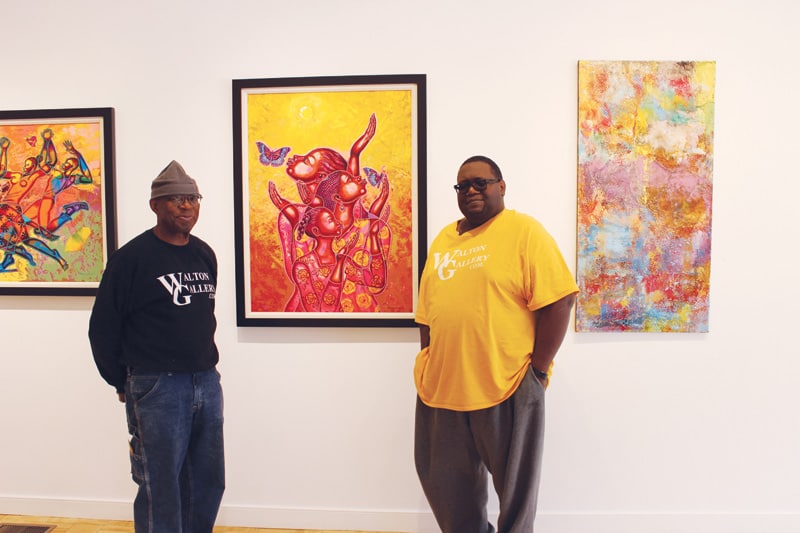 In recent years, historic Petersburg has started to make a name for itself as a town of culture, dining and leisure. A part of the city's blossoming art scene is Walton Gallery, a five-year-old gallery in Old Towne Petersburg owned and run by a family of four – benefiting not merely the family but also the community.
Ronald Walton, father of the family, has been an artist for most of his life. The internationally recognized abstract artist is based in New York and Virginia, and his works convey a conglomeration of colors, designs and textures. In 2016 the Virginia Museum of Fine Arts acquired his "Nightmares," a 59" x 50" oil and paper on canvas.
In 2004, Eric Walton, son in the aforementioned family, had to go on dialysis for kidney failure. He was forced to give up his job, priorities and life as he knew it. But then an idea developed: open an art gallery.
Growing up around art, Eric Walton already knew the drill. He had also worked in art galleries in New York. And since his dad was already heavily involved in the art scene, it felt like, well … a "perfect match," or so said the father-son duo almost in unison.
So in 2010, when operation-open-an-art-gallery was in full swing, the Waltons decided to break ground in the gradually expanding art scene of Petersburg. In 2017, they're still going strong. Eric and Ron Walton continue to work side by side, with co-owner and mom/wife, Sibyil Walton (also an artist), and daughter/sister, Jeanine Walton, chief financial officer.
Every exhibit at Walton Gallery is unique, but each complements the next. "Like a CD," says Eric Walton, director of Walton Gallery, kindly putting it into terms that an art amateur like me can understand, "[exhibits] need to flow from one to the other."
The gallery is constantly evolving, as the Walton family adds their creative touches to the local art community. The father-son duo agrees, "We are making our footprint in the art scene here [in Petersburg] and Central Virginia."
---
On June 10, Walton Gallery will begin hosting a summer exhibit titled "Conversation Piece." A collection of abstract artists Bill Fisher, Karl McIntosh and Michael Platt, this exhibit is intended to create a conversation among gallery attendees.
The exhibit will run through July 17, with an opening night reception on June 10 from 5 to 8 p.m.
17 N. Sycamore St., Petersburg
804-732-2475
WaltonGallery.com