What's Booming: Acrobatic Cats and Sonic Butterflies
| September 2nd, 2021
Who knew that even existed? Who knew THAT even existed?
---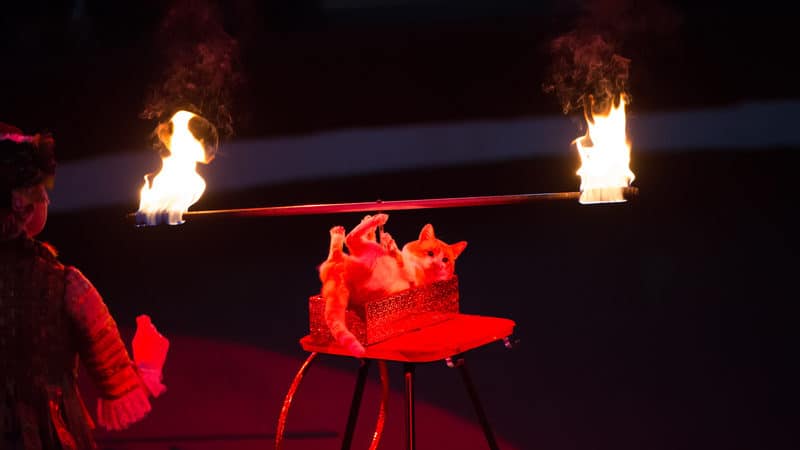 The Amazing Acro-Cats
Thursday, Sept. 2 through Monday, Sept. 6 at Dominion Energy Center
If you've ever seen your kitty in a precarious position and wondered, "How the heck did you get there?" these astounding felines will further enhance your awe at the agility of a cat. Leaping, crawling, hanging, even playing in a rock band; suddenly, your cat's ability to jump on top of the fridge may not seem so unusual after all.
Sonic Butterfly
Friday, Sept. 3 at 1 and 7:30 p.m. at the Perkinson Center for the Arts and Education
Did you know a harp could even do that?
Good Shot Judy
Friday, Sept. 3 at 7 p.m. at the Lilly Pad
Richmond's most vivacious swing band is gracing audiences with their jazzy doo-wops – against the sunset and along the James.
Virginia and Her Railroads
Saturday, Sept. 4 at noon at Magnolia Grange House Museum
Railroad enthusiasts? Meet your match. Historian Arthur Taylor is coming to Magnolia Grange to indulge all of your train-related queries and more, featuring hot topics such as the Chesterfield Railroad; the Louisa Railroad; and – yes – even the Richmond, Fredericksburg, and Potomac Railroad! As someone who worked for the Virginia Department of Transportation for 32 years, this is the guy you're going to want to get your train facts from.
Facebook @Chesterfield Historical Society of Virginia
Genworth Free Community Day at Lewis Ginter
Monday, Sept. 6 from 9 a.m.-5 p.m. at Lewis Ginter Botanical Garden
A lovely garden, an even more lovely admission fee.