What's Booming: Toby Keith, Maggie Walker, and Tobacco Brides
| July 15th, 2021
History, entertainment, and historical entertainment
---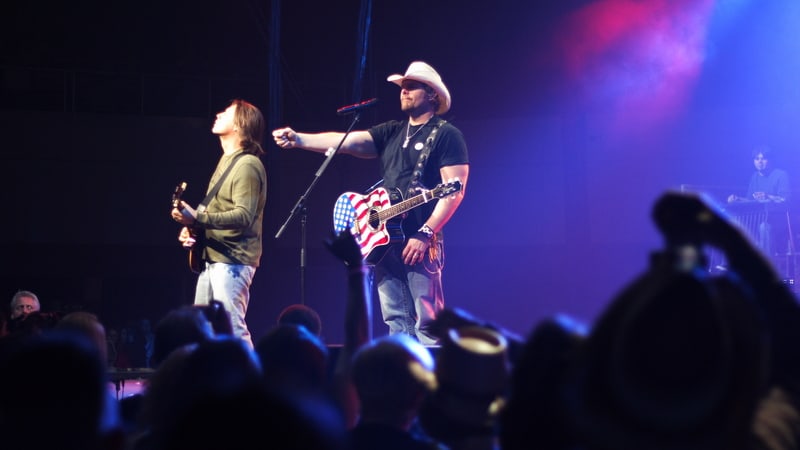 Art Night Featuring Four New Exhibits!
Thursday, July 15 from 6-8 p.m. at the Cultural Arts Center at Glen Allen
Feast your culturally loving eyes on four brand-new art exhibits, exclusively at the Cultural Arts Center. Then explore the sculpture garden, peruse the gift shop, and rub elbows with the artists themselves.
Volunteers Needed for the Virginia War Memorial Flag Removal!
Friday, July 16 starting at 8 a.m. at the Virginia War Memorial
The Hill of Heroes has done all of its veteran honoring for the time being, and the Virginia War Memorial needs volunteers to help remove the flags. Want to help out? Contact Rob Paylor at 804-786-2060 or rob.paylor@dvs.virginia.gov.
Buskey's Mezcal Barrel-Aged Cider Release
Released Friday, July 16 at noon at Buskey Cider
A smoky, apple-y cider featuring a blend of Ashmead's Kernel and Gold Rush cider aged in Mezcal barrels. As delicious as it sounds? Well there's only one way to find out…
Maggie Walker Day of Service & Celebration
Saturday, July 17 from 9-11 a.m. at the Maggie L. Walker Historic Site. Celebration to follow
Maggie Walker's birthday is coming up, and just like any 157-year-old, she's ready to party it up with a wild day of service projects. After all, what better way to celebrate the birthday of a woman who gave back to her community than – giving back to the community?
The Tobacco Brides of 1621
Saturday, July 17 from 10 a.m.-5 p.m. at Henricus Historical Park
A little bit of history for your nerdy side, a little bit of cringe for your feminist side. Learn about the lives, journeys, and fates of 17th-century "tobacco brides" – women shipped from England to serve as wives for tobacco farmers. Hey, Match.com didn't exist back then.
Toby Keith
Saturday, July 17 at 7 p.m. at Meadow Event Park
Yeah, he's coming to Richmond. And yeah, he's bringing all his iconic hits (and cowboy hats) with him.