When the "I Do's" Almost Didn't
| September 19th, 2018
An unexpected near-disaster ushers in lessons of life
---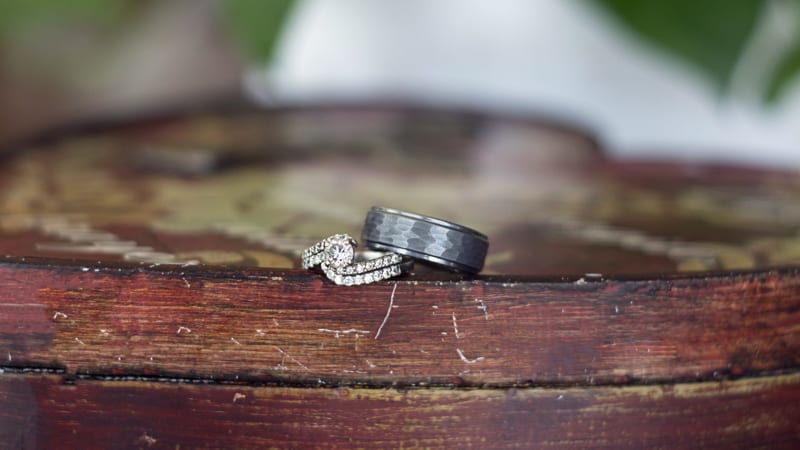 Since Daughter Sarah's wedding earlier this summer, Barb and I have bored our Facebook friends to snores, I'm sure, with the many pictures we've posted of that day: Of the beautiful llamas in their flower garlands, leading the processional; the views of the Blue Ridge over the wedding tent; of the three-act play, complete with Greek chorus, that was the heart of the wedding; and of the guests laughing uproariously during the ceremony.
It was by far not your traditional wedding, but it was perfect for Sarah and Ian, who do little in a traditional way. As much as Barb and I have written and posted about this wedding, not too many people know how close it came to being a day of tragedy rather than a day of celebration.
The phone call came around 8 a.m. on Friday, the day before the wedding. Barb had earlier emailed with Sarah, who said she and Ian were about to go down to Zion Crossroads to pick up Ian's 9-year-old son, who was visiting a friend. As Barb continued working on some last-minute wedding details, the call came that Sarah and Ian had been in a car wreck, hit head-on in their lane by a car traveling on the wrong side of the road. Both cars were totaled, sending the bride and groom, and a groomsman in the back seat, to UVA Medical Center for what turned out to be day-long tests and treatment.
Imagine our panic. We knew only that they were alive and apparently on their feet, with some degree of injury – and we learned that groomsman Rich, who was in the back seat without an airbag, was the most seriously injured of the three. They all were wearing seat belts, and the police said Sarah and Ian's airbags had saved their lives. The other driver was unhurt and ticketed.
When we finally found out at the end of that long Friday that, despite some lacerations, a concussion, a back injury and scrapes and bruises, they were going to be OK, I started thinking how close we all are at any given moment to everything going south. That realization has even greater impact when it comes to you at a high point in your life, when you're floating along in a particularly joyful state or on a special high. Then – pow! – you get that hard blow to the solar plexus. It's a longer way down when you're up.
As I write this, Sarah is still having back pain. She and Ian have moved to Berkeley, where he's teaching this fall. The packing, lifting and moving – like the wedding – was complicated by the effects of the wreck. The cost for the one day they spent in the ER was $10,000, plus some medical charges later. 
COUNTING LOSSES
The other driver's insurance should pay, but how do they get back the wedding rehearsal that had to be called off? Or for having to turn up late to the rehearsal dinner that night, direct from the hospital and wearing the same shorts and tees in which they had started the day? How about the groomsman who was unable to attend the wedding, whose teeth were knocked askew and who suffered a concussion? How about all the last-minute wedding details that never got done? How about a bride who limped a bit through her wedding day, or whose wedding pictures show a jagged cut on her shoulder?
COUNTING BLESSINGS
Is there any fairness then? Yes, the fairness is that they all lived. So many don't. A day that could have been the end of so much for so many turned out to provide a reason for even greater celebration the next day. We tend to forget how very close life and death can be – too close. I'm remembering that now, and it's going to change my life.
---
Randy Fitzgerald is the author of Flights of Fancy: Stories, Conversations and Life Travels with a Bemused Columnist and His Whimsical Wife, published in 2017. He was a longtime public relations director at the University of Richmond and columnist for The Richmond News Leader and the Richmond Times-Dispatch and taught modern American literature at Virginia Union University. RFitzger@gmail.com