Where is Cindy Williams Now?
| October 14th, 2015
BOOMER snags an interview with the famous actress from "Laverne & Shirley."
---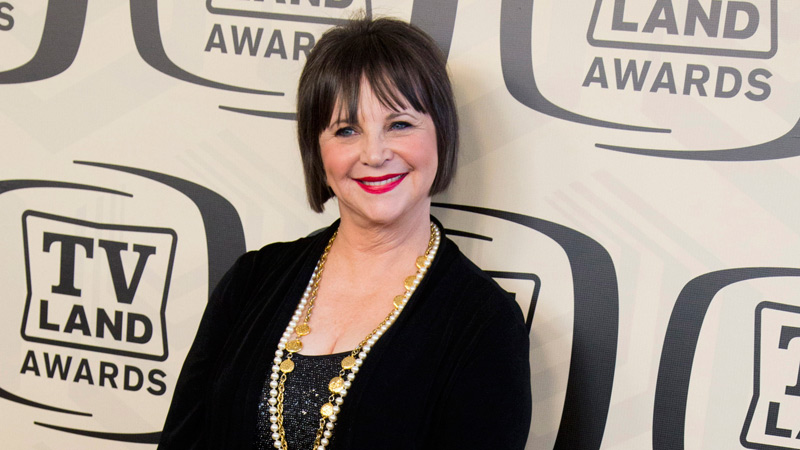 With numerous TV, theater and film credits, including the classic American Graffiti (1973), Cindy Williams – who played Ron Howard's girlfriend "Laurie" in Graffiti – realizes she'll forever be identified as "Shirley" from the TV comedy Laverne & Shirley.
"I know there are actors who hate to be called by their character's names," she says by phone from her home near Palm Springs, Calif. "But when people say 'Hey, Shirley!' to me, I love that."
FORCING HERSELF TO BE EVER-HOPEFUL
As "Shirley Feeney" in the Golden Globe-nominated hit series (1976-83), Williams and co-star Penny Marshall ("Laverne DeFazio") play working-class dreamers. Marshall's "Laverne" is a tough exterior/proverbial heart-of-gold character clad in sweaters emblazoned with a giant "L." Williams' "Shirley" is the cute, upbeat friend and roommate whose stuffed "Boo Boo Kitty" became an iconic prop. Episodes open as they skip down the street chanting a Yiddish hopscotch tune ("1, 2, 3, 4, 5, 6, 7, 8, Schlemiel! Schlimazel! Hasenpfeffer Incorporated!") before the show's "Making Our Dreams Come True" theme song begins.
"Situation comedies, when they work, are like personality plays, that's what I call them," Williams, 68, says. "They write a character and you bring yourself to the character. The character of Shirley was me, but I'm a lot more cynical … Shirley was ever-hopeful, whereas I have to try to be that."
Williams left Laverne & Shirley when she married actor/musician Bill Hudson (Goldie Hawn's ex-husband) and became pregnant. ("Shirley" was written off the show by marrying "Walter Meany" and leaving town as "Shirley Feeney-Meany.") Her 18-year marriage ended in 2000; grown children Emily and Zack are musicians. Williams continues to act and reunited with Marshall for a 2013 episode of the Nickelodeon TV series Sam & Cat.
MEETING (GULP!) CARY GRANT
At an early age Williams dreamed of acting, developing a love for old movies and especially Cary Grant.
In her new book, Shirley, I Jest!, she relates a hilarious story about meeting Grant at a Hollywood event. When Grant called her name, she recalls, "Every cell in my body [gasped], I was [stammering] like The Three Stooges … I managed a thank-you. He was a superb physical comedian; there were double-takes he did in Arsenic & Old Lace (1944) that I mimicked on Laverne & Shirley."
Playing three different personas in a 1972 Foster Grant sunglasses commercial was a turning point in her early career, she says: "I knew everything was going to be OK, as far as acting as a career where I could support myself."
Williams wrote her new book in longhand on legal pads. "Because I'm dyslectic, I think visually – when I wrote, I wanted to paint a picture for readers," she says. "When I told my writing collaborator, 'I don't know where to start,' he said, 'Start somewhere else, then.' This is my first time [as a writer] – now I know I can do it."
She doesn't like talking about her challenging childhood with a father who struggled with alcohol. After her parents separated, she lived with her mother and grandmother in Dallas before her mother returned to California.
Movies were an escape, she admits: "I had this other world to escape to and I would mimic that. I had a talent for mimicking, but the escape part of it was certainly there. I could have written an entire book about my childhood, but I'm not interested in that. I managed to be true to being a child of an alcoholic [in the book] but at the same time keep it light. I wanted to write something fun and upbeat."
ON RON HOWARD AND ADVENTURES AHEAD
On working with now-famous director Ron Howard in Graffiti, she says, "He's like everybody's perception of him, just a wonderful guy. He [talked] to the cinematographer [during Graffiti filming]. When I asked [about it], he said, 'Oh, I'm just asking him about set-ups [shots] and lighting, because someday I want to direct.' … I thought, yeah, right!" She adds, "We've played so many parts together: I played his date, his wife, even his mother in an episode of the faith-based TV series Insight in 1975 [where I was] a teenager having a baby. My unborn son was in Heaven and Ron [played the son] I was going to have."
Williams recently completed a stage musical with former Laverne & Shirley costar Eddie Mekka ("Carmine Ragusa"), has book-related events scheduled and is writing a mystery, explaining, "I love a good, bloodless murder mystery. It's fun to figure out who-done-it, and that's what I want to write."
To boomers she says, "At this stage of our lives we have to think like we're 19 again and in college. You've had your family, you're free and there are adventures ahead."
In her best singsong "Shirley" voice, Williams laughs, "It's adventure time!"