Where Are They Now? Kevin Dobson, Kojak's Sidekick
| June 16th, 2016
From sidekick on "Kojak" to anchor on "Knots Landing," the former train conductor continues to have one of TV's most enduring careers
---
New York native Kevin Dobson happened upon acting almost by chance.
After seven years in the U.S. Army, Dobson was working as a conductor on New York's Long Island Rail Road when someone suggested he audition for an acting job.
"I got the job … it was a fluke," he recalls. "I continued to work on the railroad but due to that job, they cast me in a commercial. I went to the SAG [Screen Actors Guild] office and they let me join. I was punching [railroad] tickets with a SAG card in my wallet."
THIRD TIME THE CHARM FOR KOJAK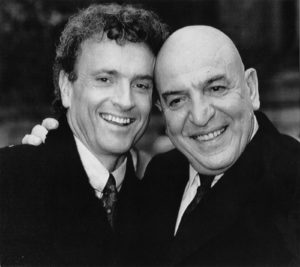 Dobson found an agent and read for a summer stock play starring Tom Ewell, who had played opposite Marilyn Monroe in The Seven-Year Itch.
"Ewell was giving a talk to some high school drama students and I listened to him. He talked about the confidence [acting] takes and it was like something said, this is it," Dobson says.
He took a leave of absence from his railroad job; when the summer tour ended, he resigned from his railroad job and pursued acting full time. He worked numerous odd jobs and did a 98-city national theater tour before moving to California with his wife, Susan, in 1971.
"I thought there was more opportunity [there]," he says simply.
Dobson acted in a 1971 episode of The Mod Squad with Desi Arnaz Jr. and in TV shows such as Emergency, Ironside and Police Story before landing the pivotal role of Detective Bobby Crocker on a new TV police show, Kojak, in 1973. He borrowed a suit from a friend to audition for the role of Telly Savalas' (Kojak) sidekick. After two failed auditions he called his agent, telling him, " 'Do what you have to do,' so he called in a favor and I read for them [again]. I was a military policeman in the Army, so I knew how to hold a gun and throw somebody against a wall. I got a call [the next night] asking if I'd sign a contract."
Dobson stayed through the show's run (1973-78), remembering Savalas as "a wonderful, gracious guy."
He adds, "He [Savalas] wanted to stop smoking.  A friend of mine on the set had a lollipop in his shirt pocket, so I flipped it to him. … That started the lollipop cop [trademark]."
DON'T CALL HIM THE LAWYER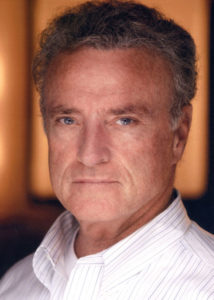 Post-Kojak, he did TV movies, starred in Shannon (1981-82) and played Barbara Streisand's husband in the film All Night Long (1981) before landing another pivotal role in 1982 as attorney Patrick "Mack" MacKenzie on the prime-time soap, Knots Landing. Joining in season four, Dobson stayed through the final season, 1993. A Dallas spinoff, the show was set in a fictional Los Angeles suburb and became one of TV's longest-running primetime dramas. Actress Michele Lee played Dobson's TV wife.
"They would say, 'You're the lawyer on the show,' and I said, 'No, I play the husband.' I wanted to bring family responsibility to the show," Dobson explains. "Michele and I stayed married [on the show] and were like the show's anchor couple. We had good storylines."
Dobson, 73, continues to act in theater and film; recent TV spots include CSI: Crime Scene Investigation and Anger Management. Long active in veterans' causes, Dobson twice has served as chairman of The National Salute to Hospitalized Veterans, promoting volunteerism at America's VA hospitals, and is chairman of SAG-AFTRA's Military Personnel and Family Committee.
Married since 1968, he and Susan, a grief and addiction counselor, have three children and three grandchildren. They're in the process of moving from their longtime Los Angeles home to Stockton, California, where Dobson also plans to be involved in the long acting community.
But the move really is about family, which has defined Dobson's life.
"Our son lost his wife a year ago to breast cancer," he explains. "He's in Stockton, California, and we're moving to help [with the grandkids]."
Audrey T. Hingley is a Richmond-based freelance writer who writes frequently for BOOMER, including last issue's article on Tony Roberts. Her website is AudreyTHingley.com.