Where Are They Now? William Sanderson
| January 24th, 2015
BOOMER's Audrey Hingley interviews the actor.
---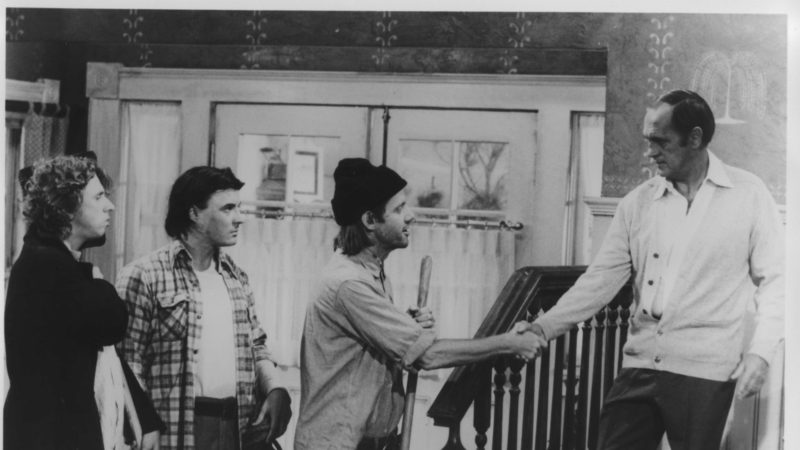 "Hi, I'm Larry. This is my brother, Darryl. This is my other brother, Daryl."
That monotone catchphrase propelled actor William Sanderson to stardom on TV's Newhart (1982-90), starring Bob Newhart and Mary Frann as rural Vermont innkeepers surrounded by quirky townspeople. Audience response turned Sanderson and the silent "Darryls," played by Tony Papenfuss and John Voldstad, into series regulars.
"Bob insisted on a live audience because you wouldn't get feedback without it. I would come off [stage] wondering how I did and somebody would say, 'Did you hear the applause?' The audience was the reason we got to survive," Sanderson explains.
The "Darryls" stayed in character during media interviews. Sanderson says, "A lot of people ask me did they mind not talking. … If they did, they never said anything to me about it."
He pauses and deadpans, "That's a joke." "They were happy; they were paid as if they were talking. We were glad to have a regular job."
Seen by nearly 30 million people, Newhart's finale was named by TV Guide "the most unexpected moment in TV history." In it, the entire Newhart series was revealed as a dream in the head of Dr. Bob Hartley, Newhart's character in his earlier hit series, The Bob Newhart Show, which ran from 1972 to 1978.
'FAME IS SO STUPID BUT IT GENERATES OTHER JOBS'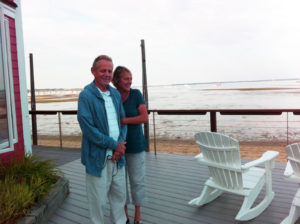 Born and raised in Memphis, Sanderson is often asked about his childhood idol, Elvis, whom he met several times. He remembers visiting Graceland with a shop owner delivering clothes: "Elvis was playing the piano when I walked in … He acted alarmed."
Following an Army stint, Sanderson started acting in plays while earning a law degree from the University of Memphis. After graduation he moved to New York to pursue acting, and by the time Newhart made him famous he'd done stage roles and played Sissy Spacek's uncle in Coal Miner's Daughter (1980).
He explains, "Fame is so stupid but it generates other jobs. I did a film that helped me a lot, Blade Runner (1980, with Harrison Ford). It's not everybody's cup of tea but it's considered a cult classic. I played a genius-type, and it got me out of [playing just] renegades and bad guys."
THE NUMBER OF ACADEMY AWARD WINNERS'
His 123 film/TV credits include City Heat (1984) with Clint Eastwood, Last Man Standing (1996) with Bruce Willis and Gods and Generals (2003) with Robert Duvall and Mira Sorvino. He was in TV's Lonesome Dove miniseries (1989 and 1993 sequel) and enjoyed regular roles on two HBO hits, Deadwood (2004-06) and True Blood (2008-14).
---
Like nostalgia? Browse celebrity nostalgia on our website.
Or sign up for our monthly Nostalgia e-newsletter or other e-newsletters tailored for boomers!
---
"Deadwood was a great joy. In True Blood, I lasted three seasons and they retired me. That disappointed me because I liked the steady [pay] check," he says.
Sanderson loved working with John Candy ("a nice man") in Candy's last film, 1994's Wagons East; Candy died at 43 during filming. And he "clammed up" from nervousness when Robin Williams told him he liked his work and later worked with Williams in one of the late actor's final films.
"I got a role in A Merry Friggin' Christmas but I think they cut me out of it. I'm so glad I got to work with him and tell him how much I enjoyed him," he says. "If I have any claim to fame, it's the number of Academy Award winners I've worked with."
'SELF-INFATUATED FOR TOO MANY YEARS'
In 2014 Sanderson and his wife Sharon moved from Los Angeles to their Pennsylvania summer home. Together 25 years, Sanderson calls his wife "the best thing in the world," adding he likes being closer to son Andy and four grandchildren in North Carolina.
"I still act, but my life now is about helping people. I visit a nursing home regularly to see my wife's grandfather, who's 99. Here they are more into real life and family. I was self-infatuated for too many years," he says, quoting a Jackie Gleason line, "self-deception thrives in the compost of flattery."
With two upcoming films in 2015, Assassin's Fury and The Griddle House, Sanderson admits, "It's a gift from God to make a living from something you love."
Audrey T. Hingley is a Richmond-based freelance writer who writes frequently for BOOMER, including last issue's story on Keith Thibodeaux, who played Little Ricky on I Love Lucy. Her website is AudreyTHingley.com.