Woodstock Memories
| June 14th, 2019
Peace, love, music – plus mud, misery, empowerment and cultural spirit
---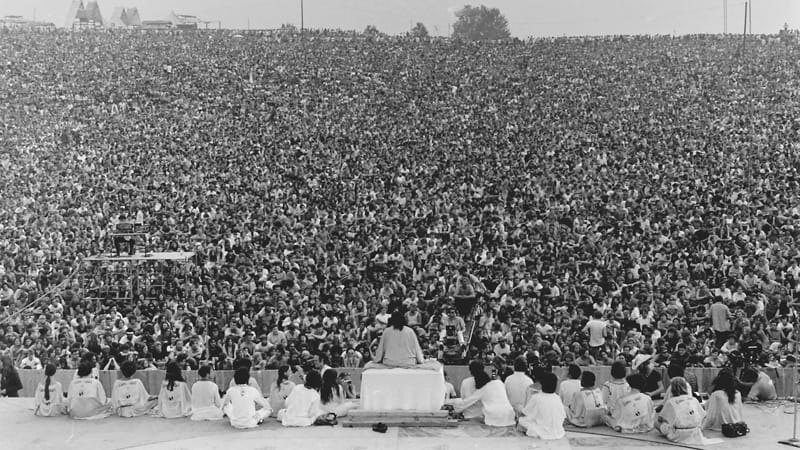 At roughly 11 a.m. on Saturday, Aug. 16, 1969, my oldest brother, Bill, and I trudged onto a rise overlooking a muddy slope cluttered with clusters of people sitting patiently in the grass on a farm in upstate New York. We'd been traveling for 18 hours, driving through the night from Virginia until the line of vehicles crawling in front of us became impassable and we joined the mass of tie-dyed, beaded and bell-bottomed youngsters for a seven-mile hike to this place. Finally, we plunked down and sat – for two days.
Nearly 50 years later, on Friday, March 29, 2019, I again drove up from Virginia, pulled into the spacious parking lot at the Bethel Woods Center for the Arts, walked through the museum's foyer, ambled a hundred yards or so and stood roughly where Bill and I had sat.
It was definitely easier the second time.
I had returned for the launch of the museum's "We Are Golden" exhibit honoring the half century since the Woodstock Music and Arts Fair. The site, now on the National Register of Historic Places, is enshrined with monuments and exhibits framing the times and detailing the circumstances of an event that made headlines around the world. Nearly 500,000 people came for a weekend happening and left a testament of peace, love and music that defined a generation.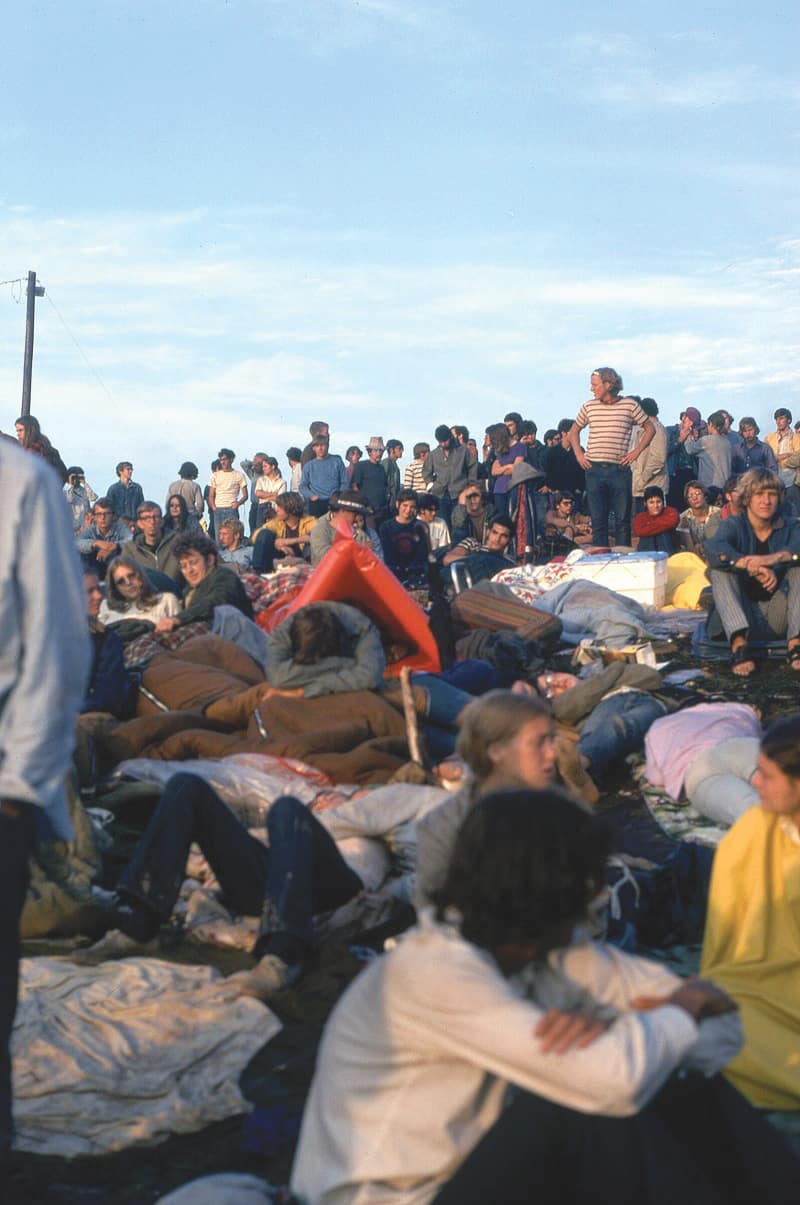 "I feel like I've been part of one of the most important things of our lifetime," said Chuck Wrenn, a well-known Richmond music impresario who attended the festival with his then-wife, Myra Daleng. "The Woodstock concert represented a social awakening and a cultural change. It didn't cause that; it just reflected the time."
Wade Lawrence, the Bethel museum's director and senior curator, echoed those thoughts. "As a historian, Woodstock is of course the high-water mark of the counterculture. It was that moment where young people could look around and see that they weren't alone and see other people like them and that they were a force to be reckoned with. If they could get together for three days and make it work at Woodstock, maybe they could stop the war in Vietnam, end poverty and racial bigotry. It was naïve, but I think Woodstock really did symbolize a lot for that generation."
MORE THAN WE'D BARGAINED FOR
For Bill and me, the main motivation was simpler. Music. More than that, we came to see Jimi Hendrix. He was The Man. We'd seen him three times, so we knew it would be worth the long drive and the rain-sodden slog. What we didn't bargain for was the "we're not in Kansas anymore" feeling as the space around us on that slope began to fill, bodies crammed tighter and tighter, shoulder to shoulder, elbow to knee. Before leaving the car, Bill and I had grabbed blankets, a couple of oranges, water and some Vienna sausages. They were the only provisions for us and everyone within our reach – and we were among the lucky ones. The festival strained every resource – food, water, sanitation, transportation, medical support – and tested our ability to withstand rain, mud, stench, cold, fatigue and fear. The fear that, despite the groovy vibes and calm reassurances from the stage, at any moment something might happen to turn peace into panic.
"When people ask me what was my favorite group, I say it was the audience," said one fellow during a discussion at the museum. "Five hundred thousand kids had slept next to me in the mud, under horrible circumstances, but were able to think positively, have fun and make it a party."
And what a party. What music! It was the glue of the counterculture and the magnet not only for Woodstock but also for festivals at Monterey, Laurel and elsewhere. The Bethel museum's exhibits, the film documentary, the vinyl releases, the CDs – none quite captures the moment-by-moment revelation of the music unfolding note by note, song by song, band by band.
Bill and I missed Friday's lineup of Richie Havens, Arlo Guthrie, Joan Baez, Sweetwater and more. Saturday's session became magical when Santana took the stage. The mix of Latin rhythms with Carlos Santana's searing guitar work and Michael Shrieve's drumming set the standard for all to come.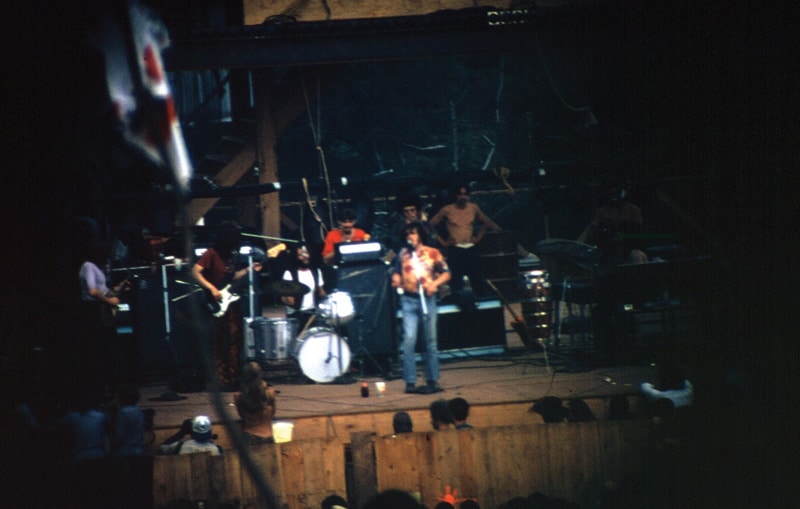 And there was so much more to come. Canned Heat taking us "up the country" with toe-tapping boogie. Mountain playing a rock-heavy set, with grizzly bear Leslie West growling and squeezing juicy guitar licks as Felix Pappalardi laid down melodic bass lines. Evening yielded to night, with performances, some uneven, by the Grateful Dead, Creedence Clearwater Revival and Janis Joplin. By the time Sly and the Family Stone funked it up, I'd succumbed to exhaustion – I totally slept through Sly's "I want to take you higher."
But when The Who took the stage, pure adrenaline surged. One of rock's greatest bands played one of the festival's greatest sets. "Tommy" in its entirety, ending with the majestic "See Me, Feel Me." By the time Pete Townshend smashed his guitar, the sun was rising and spreading a kindling warmth across the throng. And I felt the first true sense of euphoria, beyond the music, of kinship and we're all brothers and sisters and let's take care of one another. The morning chorus ended with Jefferson Airplane's set of classics.
Joe Cocker's Sunday afternoon show had one distinction beyond the singer's spastic gestures and inspiring covers – he was the only act that Chuck and Myra were able to see. They had arrived Thursday, their gutted 1956 four-door Ford sedan (nicknamed the Blue Streak) loaded with tie-dyed T-shirts they planned to sell. Chuck had been to the Atlanta Pop Festival that July and realized there was a market for such things. They made it to within a mile or so of the stage. "We were stuck there Thursday, Friday and Saturday," Myra said. "We didn't go down to the 'mosh pit,' or whatever you call it, until Sunday."
By then, it was clear there was as much misery as music at the festival. "There were no bathrooms, there was no food, there was no water," Myra said. "We were pretty miserable. But we were still in the mix of it. We knew that we were in something that was really special."
That afternoon, the crowd faced a thunderstorm that threatened a gut punch to the event. Winds whipped, rain pelted and a sudden chill set in. I huddled under one of our blankets, wishing I'd never come, praying the rain would stop, hoping the weather didn't sour the vibe. As the rain eased, I peeked from under the blanket to see geysers of soda going off from cans near the stage. People began banging on anything at hand to a primal beat that became a tribal anthem: "Naaaaaaah, nah nah naaah nah!!"
The night provided more guitarvana. Alvin Lee of Ten Years After whipped us into a frenzy with blazing ax work. Robbie Robertson spurred on The Band, at the time a little-known group. Johnny Winter soon followed with gritty Texas/Delta blues. Crosby, Stills and Nash (joined midset by Neil Young) won the crowd with sweet harmonies, brilliant acoustic work and a candid admission from Stephen Stills: "This is the second time we've ever played in front of people, man. We're scared sh**tless." The Paul Butterfield Blues Band cranked out more blues before Sha Na Na took us into the Twilight Zone on Monday morning with a blast from the '50s.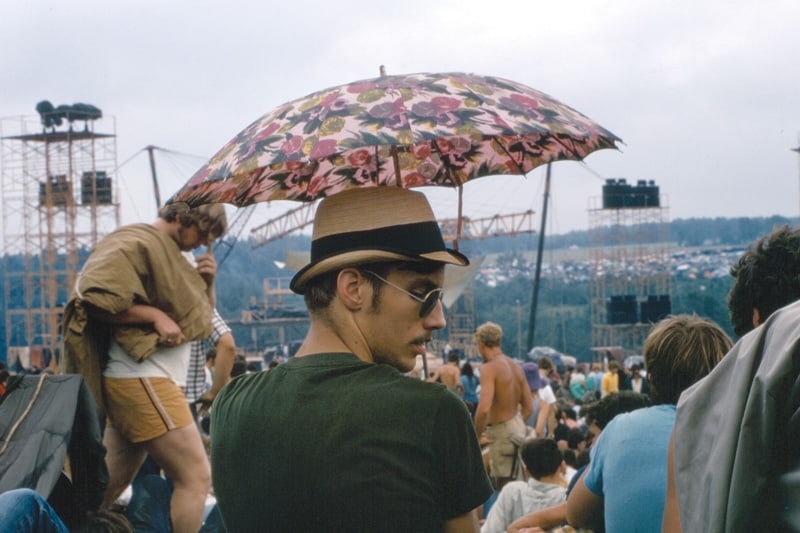 Finally, finally, Hendrix. But what's this? A new lineup with bassist Billy Cox (a friend from Army days), Larry Lee on backup guitar, a couple of percussionists and Mitch Mitchell as the only familiar face, on drums. Hendrix, resplendent in white fringe, launched into a mix of standards and new material, some that came across more as loosely framed jams than tight songs. People began to leave in droves. Bill and I moved closer, scratching our heads at the material while marveling at Hendrix's virtuosity. Then came one of the festival's defining moments, a complete surprise, with "The Star-Spangled Banner." With masterful control of his feedback and whammy bar, Hendrix made us see "the rockets' red glare" and hear "bombs bursting in air." Critics more astute than I have called it genius. Largely ignored, however, has been the lyrical, haunting melody, almost a lament, at the end of his set. I wanted to cry when it was over, because it was over.
KEEPING THE EXPERIENCE ALIVE
But thanks to the Bethel center, its museum and people affected by it, the festival's legacy endures. While at Bethel, I shared reminiscences with Steven Rolnick, a docent at the museum who had been on the lighting crew in 1969. I talked with Abbe Reichman, whose father, David Levy, provided scaffolding for the festival. I chatted with Barry Horan of Cornwall, Ontario, who is helping coordinate a Canadian version of the anniversary concert.
Their excitement and warmth reinvigorated in me the sense of wonder and great blessing for having been part of an event that is remembered for peace and love as well as amazing music.
"Those were some really magic times," said Chuck Wrenn. "I will always be thankful that we came up during those times and had those experiences."
The Bethel Woods Center for the Arts
Tour the museum and take in the Woodstock anniversary exhibits all summer long. Attend special events and concerts for the festival's anniversary, Aug. 15-18.
Woodstock 50
Scores of performers, classic and modern, come together for a new three-day celebration of peace, love and music. Watkins Glen, New York, Aug. 16-18.
---
Lee Graves has been a lifelong musician, starting as a classically trained oboist before becoming a rock 'n' roll bassist/guitarist. He has played in countless bands in Richmond and elsewhere and currently holds down the bottom in the Bluz Catz, an RVA blues band.
---
Billboard Top-10 Singles of 1969
"Sugar, Sugar," The Archies
"Aquarius/Let the Sunshine In," The 5th Dimension
"I Can't Get Next to You," The Temptations
"Honky Tonk Women," The Rolling Stones
"Everyday People," Sly and the Family Stone
"Dizzy," Tommy Roe
"Hot Fun in the Summertime," Sly and the Family Stone
"I'll Never Fall in Love Again," Tom Jones
"Build Me Up Buttercup," The Foundations
"Crimson and Clover," Tommy James and the Shondells