Those 'Quickie' Popeye Television Cartoons
| May 24th, 2022
Behind the variability of 1960s 'Popeye' on TV
---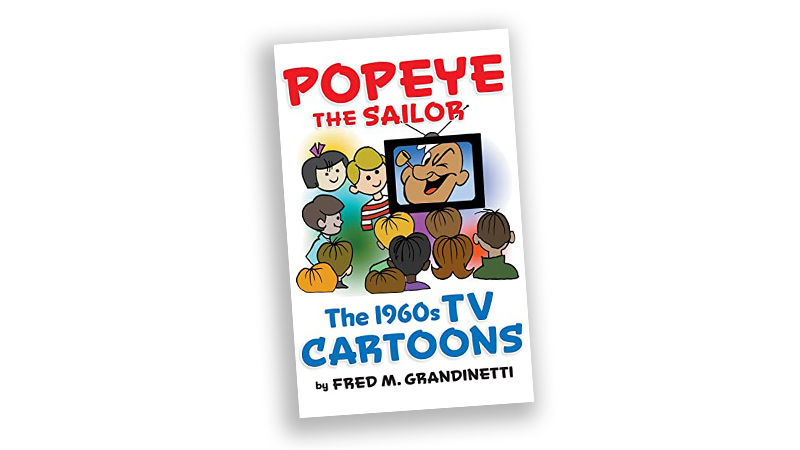 Fred Grandinetti, author of Popeye The Sailor: The 1960s TV Cartoons, peers behind the scenes of those 1960s Popeye TV shows, which varied greatly from Fleischer's early movie cartoons and within the TV cartoons themselves. Why the changes? Grandinetti explains.
---
In the book Creators of Life, published in 1975 by Drake Publishers author Donald Heraldson said of the Popeye television cartoons:
The life and fantasy given Popeye in the earlier cartoons by Fleischer was smothered when King Features, which owned Popeye, produced that series of "new" cartoons especially for television. This is one of the best examples of waste and poor art on TV screen. "Art" for this quickly made series was begun in America and rushed to Europe for completion in Yugoslavia. And some of the same animators who had drawn Popeye well in the older cartoons had also drawn him stilted and unliving in these King Features cheapies.
What happened to the 1960s Popeye TV cartoons?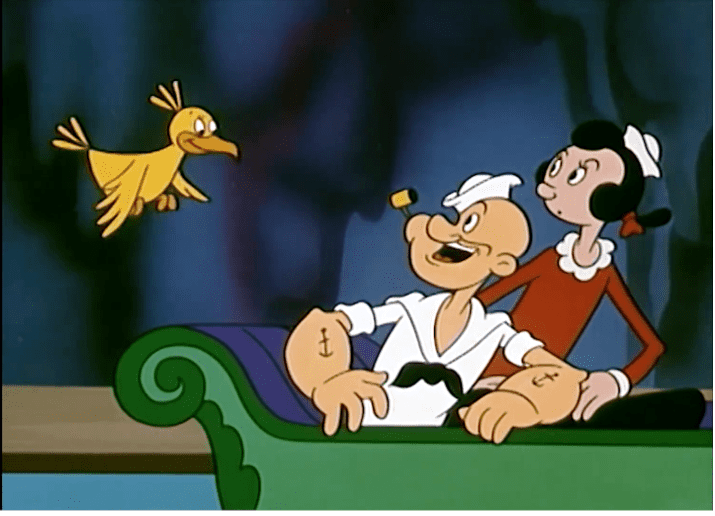 Such is the general consensus how critics of a certain age feel about the made-for-television Popeye cartoons produced from 1960 to early 1962. This is due, in part, because they followed the Popeye theatrical films produced by the Fleischer Studios. These Popeye cartoons are considered to be the gold standard in classic animation. When these same cartoons made their television debut in September 1956, they were a smashing success. The demand for new Popeye cartoons was high. King Features Syndicate, though owning the rights to the Popeye characters, made no money from the theatrical films' syndication on hundreds of television stations.
The April 7, 1960 edition of The Albuquerque Journal announced:
Al Brodax, director of television for King Features Syndicate of the Hearst Enterprises, has signed a deal with Herbert Kynn for 100 "Popeyes" for TV color prints. The producer will be Jack Kinney, one of the best of the animators who did "Dumbo" and Pinocchio" for Disney. And don't tell me that all you grown up children who have followed Popeye, Olive Oyl and Wimpy in the Hearst Newspaper funnies won't be lookin' in too.
Al Brodax stated,
At the time Popeye was running high in the ratings. These were the old Max Fleischer Popeyes that were distributed by Paramount. I thought it would be a good business move to announce that we (King Features Syndicate) are making 220 new Popeyes in color and they were up for grabs. The investment was a mere $25,000 for two five-and-a-half minute pieces. The entire series grossed $3 million in our first year simply going to the stations who already had a big success with the old Popeyes.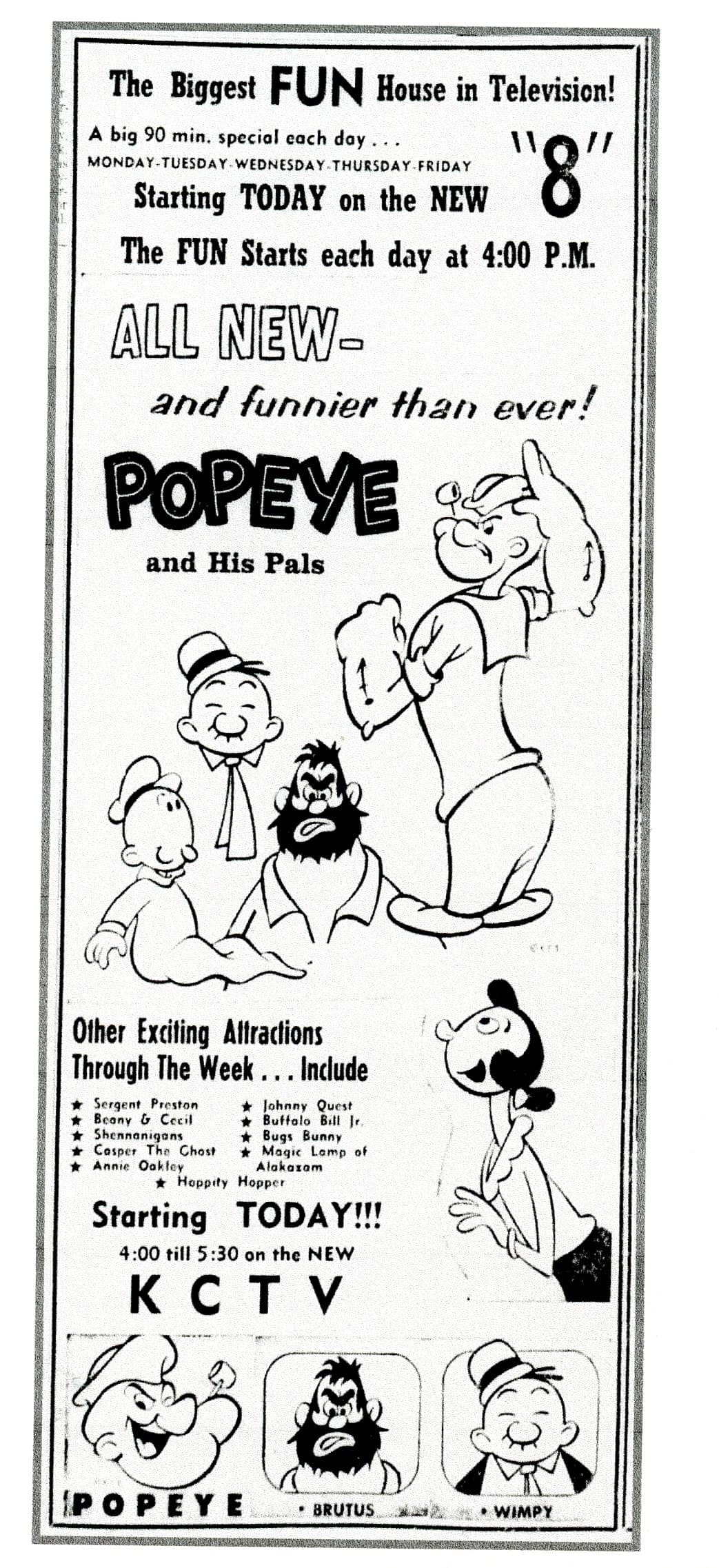 The Cincinnati Enquirer's June 18, 1960 edition reported, "M.C. Watters, vice president and general manager of WCPO-TV, announced the purchase of 208 all new Popeye cartoon episodes. Mr. Watters said they will be aired in October and represent one of the most expensive cartoon purchases ever made in Cincinnati television."
To cash in on the Popeye hysteria, Brodax contracted different studios to make the films very quickly. Despite Jack Kinney's résumé, his unit produced some of the poorest of the lot. Popeye's pipe suddenly disappeared and then reappeared; Brutus would be in a living room one moment then shown laughing at a window (via stock footage from a previous Kinney cartoon); Olive Oyl would grow an eye under her chin; and Wimpy would lose his whiskers while talking. Audio would be recorded indicating an action not backed up by animation. The quality of Kinney's cartoons depended on who the animation director was for a particular episode. Many were ex-Disney personnel who had difficulty adjusting to the production of a cartoon using limited animation.
While several of Kinney's cartoons are difficult, as an adult, to watch, many feature fine animation and are enjoyable. Directors Rudy Larriva, Volus Jones, Ed Friedman, Ken Hultgren, and Harvey Toombs contributed fine cartoons to Kinney's series. Director Eddie Rehberg had a choppy animation style. Although director Hugh Fraser worked on Pinocchio and Fantasia, he had difficulty adapting to limited animation. His Popeye cartoons, for the most part, feature sloppy animation. Unfortunately, Rehberg and Fraser did quite a few of them. Kinney's studio was responsible for 101 Popeye cartoons.
Larry Harmon, who produced the animated antics of Bozo the Clown, also produced Popeye cartoons for King Features Syndicate. Harmon's stories are fast moving with a simplistic animation style. The characters' heads bopped back and forth when they spoke. Occasionally Popeye or Brutus would be wearing a short sleeve shirt only to have it suddenly become long sleeved in the next scene. Harmon's cartoons improved with each subsequent film and his crew produced 18 episodes.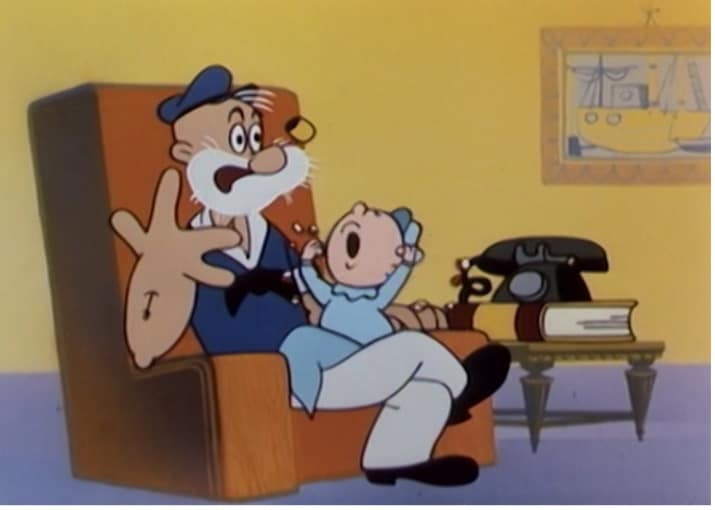 Gerald Ray, whose studio was responsible for King Leonardo and His Short Subjects, took on ten Popeye cartoons. The animation looks a bit primitive, but overall they're delightful. The scripts are witty and each of his cartoons ended with one of the characters singing a song with Popeye's theme as the instrumental music. For example, Poopdeck Pappy sang to the audience after telling his son and Swee'pea a tall tale, "I may tell a whopper but I am the popper of Popeye the Sailor Man!"
Gene Deitch directed cartoons for Rembrandt films, a Czech production company, founded by American film producer William L. Snyder. Deitch's Popeyes feature a simplistic animation style, which on occasion takes away from the exciting plots. Otherwise, they're entertaining and known for their haunting musical scores. His studio was responsible for 28 cartoons in the series, which included episodes animated by the British team of Halas and Batchelor. Halas and Batchelor's contributions featured fine animation and fun stories.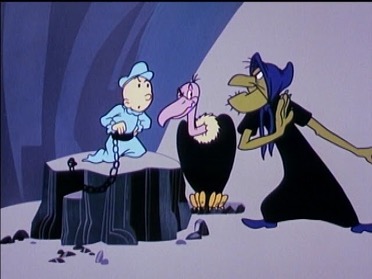 Paramount Cartoon Studios handled 63 episodes, and these are considered the best of the lot. Many writers and animators who worked on the theatrical Popeye films were involved with the production of the television cartoons. Writer Seymour Kneitel adapted stories from the Popeye comic strip into animated cartoons. These included Me Quest For Poopdeck Pappy, It Only Hurts When They Laugh, Myskery Melody, and Poppa Popeye. Paramount's scripts also saw Olive Oyl eating spinach to beat up the wicked Sea Hag. Popeye's sailor's code would not allow him to strike a woman. Winston Sharples, who provided the musical scores for Popeye's color theatrical films, did the same with these entries for the small screen.
This series is noted for introducing children to characters from the comic strip including Rough House, The Wiffle Bird, Alice the Goon, The Sea Hag, and King Blozo. Two new characters were created for this series: Deezil, Olive Oyl's bratty niece; and Roger, the talking dog. Bluto became known as Brutus due to a disagreement over the origins of the brute's moniker. Jack Mercer, Mae Questel, and Jackson Beck, who provided the vocals for the characters in the theatrical films, did the same in these small-screen episodes. Mercer also wrote several scripts for the cartoons produced by Paramount Cartoon Studios.
More green than just spinach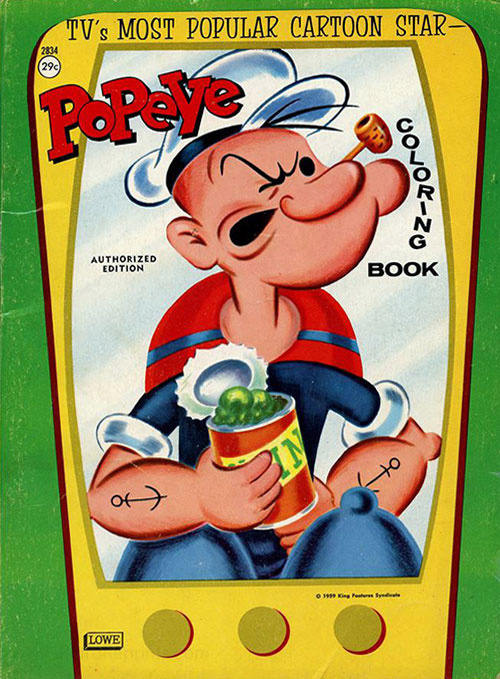 Despite the varying quality of the series, it was a big hit for its intended audience – children. It was also a financial success for all involved. The Cincinnati Post and Times Star reported on January 18, 1964, that Popeye had grossed $56 million dollars, which combined his appearances in newspaper, theaters, and television. Variety's July 28, 1965 edition reported that the television cartoon series "racked up more than $1,500,000 in renewal sales." The cartoon series retained its popularity throughout the 1970s and '80s. Backstage magazine noted on Sept. 12, 1988 that the series was sold in 47 of the top 50 markets. It was the second highest rated syndicated cartoon series in the February and May Nielsens.
King Features revived this version of Popeye for a 1971 safety film titled Look Where You Are Going. It was animated by Myron Waldman, who worked on several classic cartoon characters.
Scripts from the cartoons were adapted into record format by Peter Pan. Several were released as home movies, video, and DVD.
Much more 'Popeye'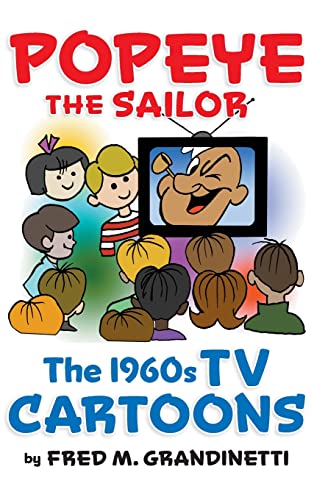 Truthfully, when I was five years old watching these cartoons, I did not notice the glitches in animation. To me it was simply more Popeye to watch and I was thrilled. Millions of children apparently felt the same way I did. Today these cartoons can be viewed on the Popeye and Friends You Tube Channel. Me TV has aired a few of the cartoons. Pluto TV carries the entire series for viewers to enjoy.
To learn more about the history of this series, please purchase the book, Popeye The Sailor, The 1960s TV Cartoons, published by Bear Manor Media by Fred Grandinetti, the author of this article, available on Amazon.
---
Entertainment historian Fred Grandinetti has been writing about Popeye since 1983 in numerous magazines, newspapers, and websites. Grandinetti also produces the award-winning cable access series, Drawing with Fred, for Massachusetts cable-access television, and published Popeye The Sailor, The 1960s TV Cartoons. 
---
The history of the Popeye strip from 1954-1959
---
More pics from 1960s Popeye TV Cartoons