Popeye, The Wandering One-Eyed Sailor
| May 7th, 2021
How the strip changed over the years, 1954-1959
---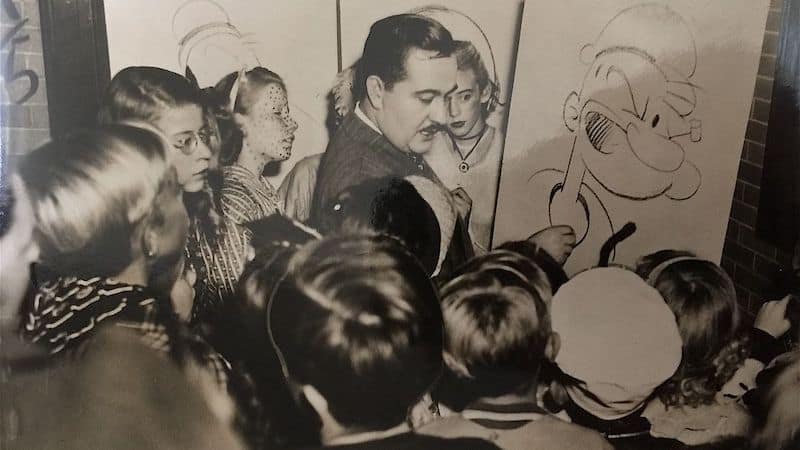 Entertainment historian Fred M. Grandinetti explores the early history of Popeye the sailor man, swimming through a rarely remembered period in Popeye's comic strip career. He looks at the cartoonists and writers, as well as cartoon cohorts like Olive Oyl, Bluto, and Poopdeck Pappy. Grandinetti also shares with Boomer readers some priceless graphics that he has collected over the years.
[Photo above: Bela Zaboly's drawing session with children. Photo courtesy of Jonathan Lozovsky.]
---
From Dec. 6, 1954 to Aug. 8, 1959, people read the adventures of a very different Popeye in his daily comic strip.
The strip, known by Popeye or Thimble Theatre, was created by E.C. Segar in 1919. Originally it featured Olive Oyl along with her boyfriend, Ham Gravy, and brother, Castor Oyl. Popeye joined the cast on Jan. 17, 1929, and Thimble Theatre skyrocketed in popularity.
Segar passed away in 1938 at the height of Popeye's fame. King Features Syndicate, who distributed the comic strip, would not allow Popeye to disappear from newspapers. By this time, the muscleman was appearing on numerous products and had his own radio program. The sailor also starred in a popular series of animated cartoons produced by Paramount Pictures.
A new cast of creatives
Cartoonist Bela Zaboly was selected to become the strip's new cartoonist. He succeeded artist Doc Winner who drew the comic strip, unsigned, in 1938 and 1939. Zaboly's first Popeye daily strip was published on Dec. 4, 1939. His initial Sunday page debuted on the 24th of the same month. Segar signed his strips with a cartoon cigar. Zaboly's original signature was in the form of a bumblebee.
Born in Cleveland, Ohio, Zaboly was the son of a Hungarian-born cabinetmaker and his wife. He began drawing at the age of 3 and cartooned for his school paper. Zaboly produced comic strips for the Detroit Times' junior page and Los Angeles Times. Upon graduation, he worked as an office boy for the art department at a newspaper syndicate in Cleveland. In 1932 Zaboly began assisting Roy Crane, who was drawing Wash Tubbs. Later he worked on Gene Ahern's panel, Our Boarding House. In 1939 he was selected by King Features Syndicate to draw Thimble Theatre.
Tom Sims wrote Popeye's daily adventures until 1954 (he remained with the Sunday feature until 1958).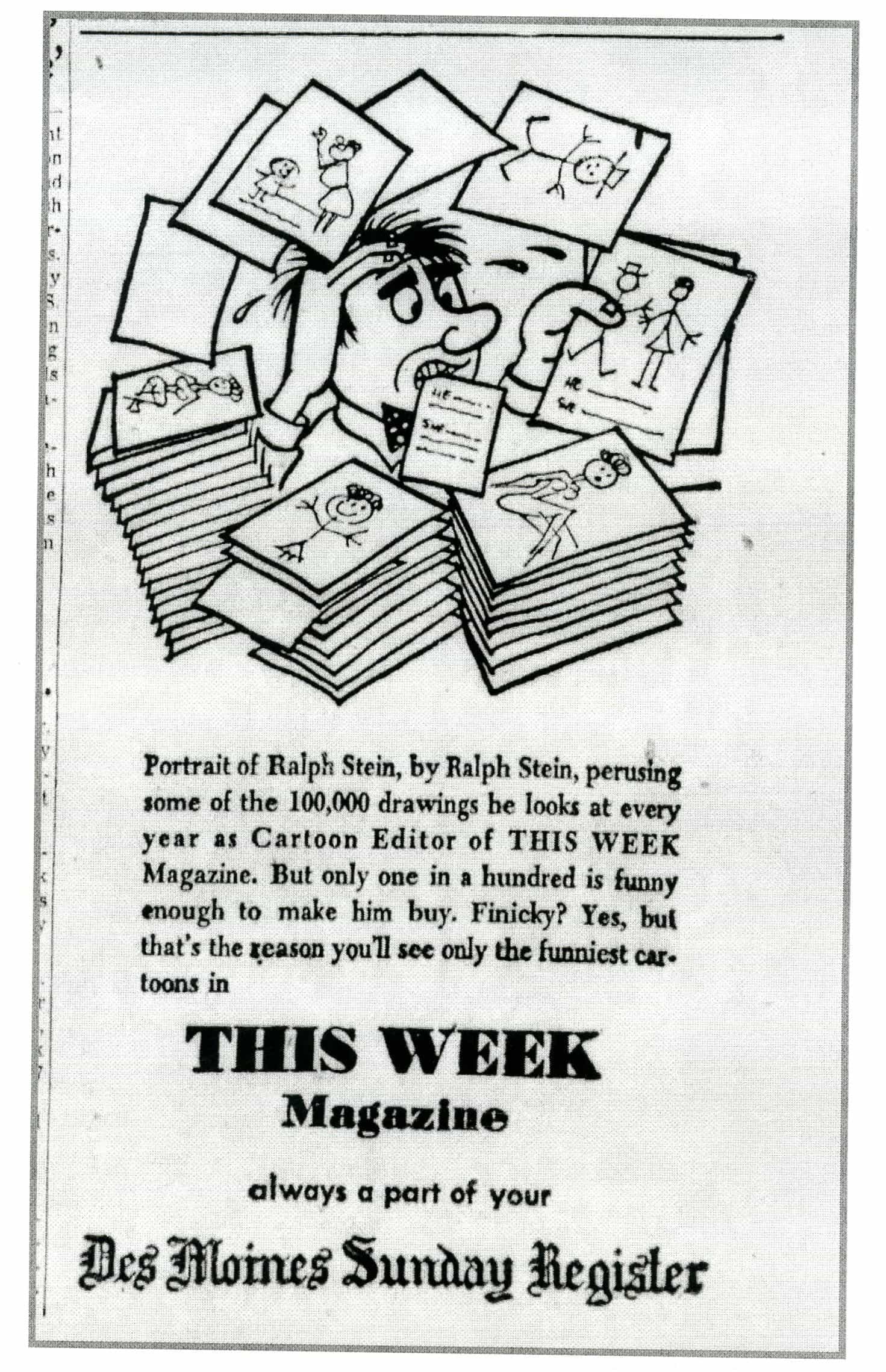 Following Sims, Ralph Stein was selected to provide the scripts for the sailor man's adventures. Stein was known for his knowledge of photography, the automobile industry, and cartooning. He was the author of Sports Cars of the World (1952), Treasury of the Automobile (1961), The Great Cars (1967), and The American Automobile (1978). Stein's syndicated column on automobiles featured his artwork. He was born in New York and began his career as a photographer and illustrator at the World Telegram. During World War II he was the staff cartoon editor for Yank, the Army weekly.
Stirring the pot with new characters
Stein's Thimble Theatre stories were controversial enough to be mentioned in the Dec. 27, 1954 edition of Newsweek. The magazine noted the changes he made to the storylines. Previously the daily strip featured more conventional routines Popeye had with his cohorts, Olive Oyl, J. Wellington Wimpy, Swee'pea, Oscar, Rough House, Poopdeck Pappy, and The Sea Hag. The article, "The Passing of Olive Oyl," stated:
But two weeks ago, the followers of the 300-newspaper Thimble Theatre strip observed that the bucket-jawed blusterer was on the prowl again. The reason: Ralph Stein, a versatile artist-editor, had been signed to write the strip's continuity and outline the drawings to be finished by Bill Zaboly, the Popeye artist since Segar's death. After studying the original Segar files, Stein intends to get Popeye into "lots of dizzy adventures, but I'll kid the whole deal." Olive Oyl disappeared the day Stein took over; it was his conviction that she couldn't excite Popeye or anyone else enough to do battle. Into her place stepped a cuddly blonde.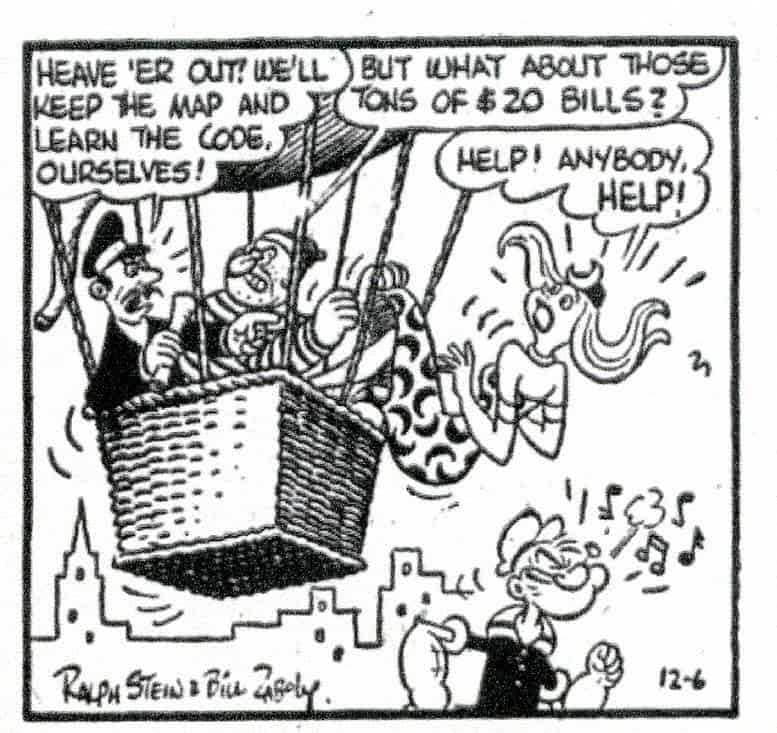 Actually, more than one cuddly blonde appeared in Stein's initial story, which involved the Abominable Snowman. These blondes were followed by several attractive females who were either damsels in distress, from royal lineage, sidekicks, or villainesses. They included Madame LaGonga, Muriel Madison, Admiral Zaza, Elva, Platinum, and Lulu.
When Olive Oyl did appear, Popeye referred to her as his "Great an' Good Frien'" without any hint of romance. In keeping with Popeye's new taste in females, Stein turned Ms. Oyl into a beautiful woman! However, both her transformation and appearances in the strip were short-lived.

Popeye's regular cast of characters were sidelined in favor of Sir Pomeroy Vauxhall, a portly English adventurer. Nicknamed "Pommy," he traveled the globe with Popeye. The pair also ventured into outer space! Eventually Popeye's father, Poopdeck Pappy, became a traveling companion. The bearded sailor usually had an attractive woman at his side.

Due to his appearances on television, Bluto was becoming popular with audiences. The bearded brute appeared once under Segar's tenure in 1932 but became Popeye's perennial opponent in the animated cartoons originally produced by the Fleischer Studios. Stein revived the character, who made his return on March 27, 1957. He was portrayed as the criminal leader of a gang of pirates.

Visual metamorphoses in the early history of Popeye the sailor man
Artistic changes were made during Stein's tenure and illustrated by Bela Zaboly (who, by this time, signed his first name as "Bill"). Popeye lost two of his three shirt buttons. Poopdeck Pappy shrank in height and was without his pipe. Swee'pea no longer wore his traditional nightshirt. Instead, he wore a sailor's uniform featuring short pants which revealed his long-concealed legs.
---
---
Stein also toyed with Popeye's long association with spinach. In the daily strip from June 17, 1957, Popeye and Pommy are in a dungeon chained to a wall. They're both given a bowl of spinach to eat for lunch. As Popeye consumes the vegetable, he explains to Pommy that he hasn't eaten spinach "fer years." It makes him "too strong and dangerous!" Popeye then proceeds to break his chains and nearly tears down the dungeon. Tom Sims often had Popeye eat spinach during his tenure writing the strip. It's interesting Stein took the spinach legend in a different direction.
In 1958 King Features Syndicate replaced Ralph Stein, Tom Sims, and Bela "Bill" Zaboly with Segar's former assistant, Bud Sagendorf. Sagendorf was producing the Popeye comic book series. To make the artistic transition smoother for readers, Zaboly was instructed to draw Popeye in Sagendorf's style. This meant returning Popeye's missing shirt buttons. Additionally, Popeye's pipe moved from the end of his nose (where Segar placed it) landing on the chin.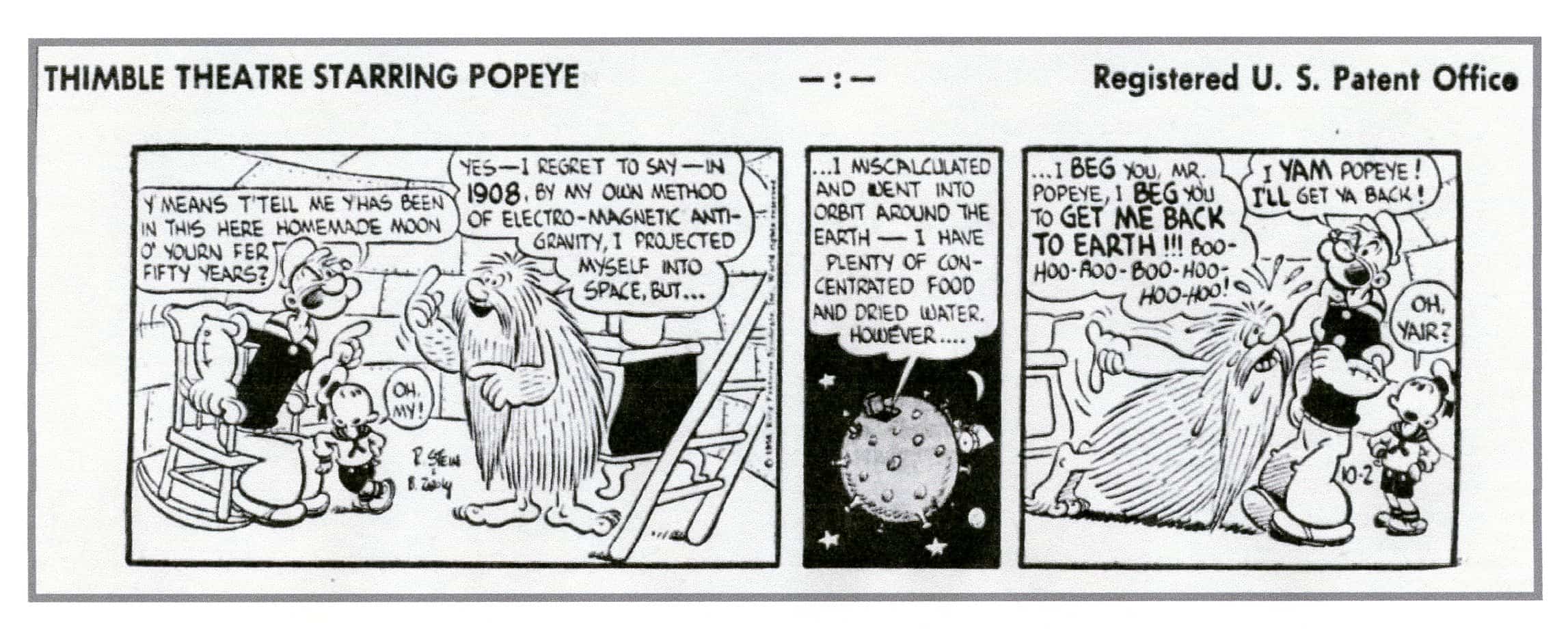 Although Sagendorf took control in 1958, enough of Stein/Zaboly's strips were completed and published until Aug. 8, 1959. In this daily, Popeye says a tearful goodbye to Sir Pomeroy as do Ralph Stein and Bill Zaboly toward their readership.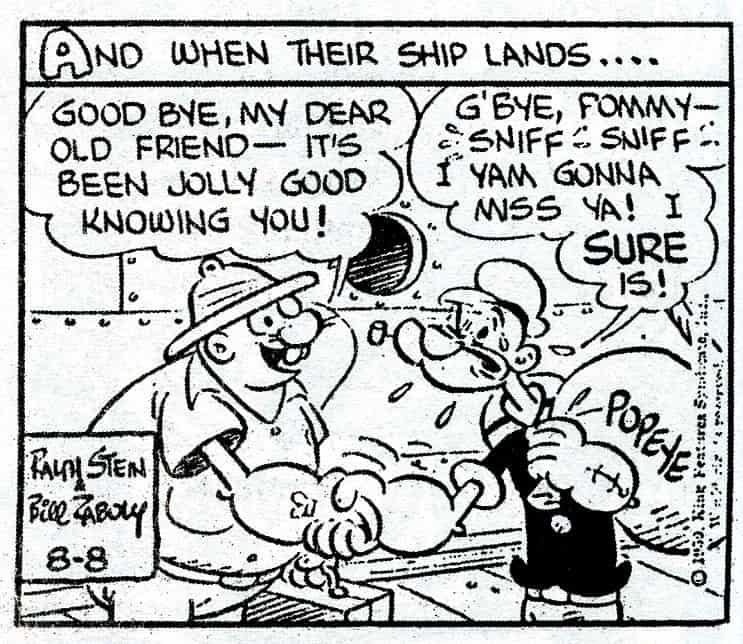 Later the Stein/Zaboly stories would be reprinted in comic books published by L. Miller & Co., a British publisher. Stein's daily strips were adapted as text stories in several British Popeye Annuals with art by George Cattermole. As late as 1973 this team's stories were reprinted in the comic magazine Quadradihos, published in Portugal.
Both Stein and Zaboly remained involved with the arts after Thimble Theatre. When Bud Sagendorf took control of the daily and Sunday strip, Olive Oyl again became Popeye's girlfriend. But for nearly five years, Popeye certainly had a wandering one-eye!
---
Entertainment historian Fred Grandinetti has been writing about Popeye since 1983 in numerous magazines, newspapers, and websites. Grandinetti also produces the award-winning cable access series, Drawing with Fred, for Massachusetts cable-access television.