What is Popeye's arch-enemy's name?
| June 21st, 2016
No, you're not crazy – Popeye's nemesis change names back and forth
---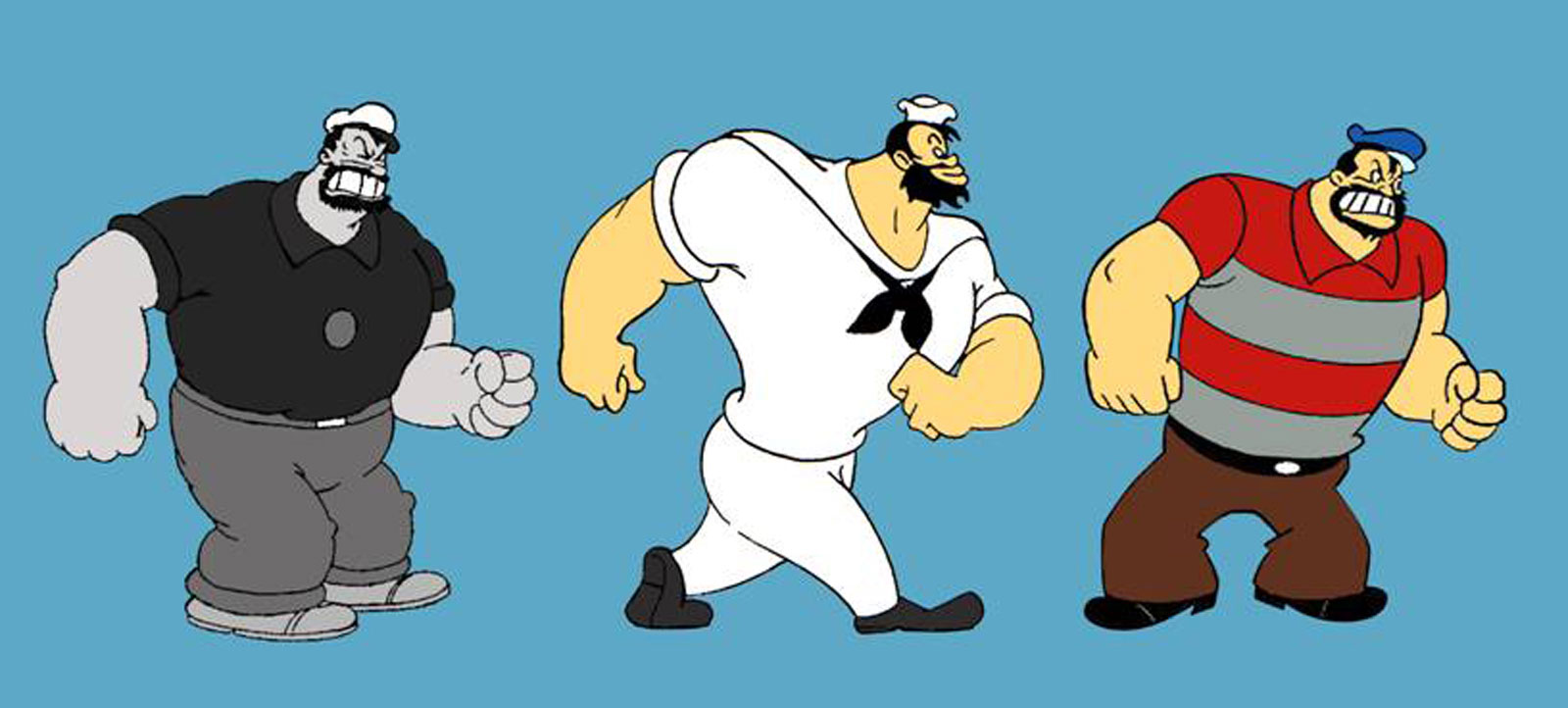 Popeye the Sailor Man has been famous from the moment he wandered into a 1929 comic strip and muttered the famous line, "D'ja think I'm a cowboy?" So, too, have been the strip's other characters, Olive Oyl, Swee'pea, J. Wellington Wimpy and, of course, the arch-enemy Bluto … er, Brutus … er, Bluto …
What IS the guy's name?
HE'S NOT 'PLUTO!'
Could you mistake a bearded muscleman for a dog? People thought Walt Disney felt "Bluto" sounded too much like "Pluto." This was a theory why Popeye's enemy, originally Bluto, became known as "Brutus."
Before he died, I contacted Jackson Beck, who voiced Bluto in the Popeye theatrical films produced by Fleischer and Famous Studios for Paramount Pictures in the mid-1940s. He also voiced Brutus in King Features Syndicate's television cartoons. Beck recalled, "Bluto was a later character in Popeye, owned by Fleischer or Paramount. When King Features Syndicate took back the property and kept the character, they had to change his name. This is my understanding of the situation."
THE NAME GAME
To understand Beck's recollection, let's look at the history of Popeye's bearded rival. E.C. Segar created Bluto in 1932 for the story The Eighth Sea, published in the daily Thimble Theatre comic strip. Fleischer Studios chose Bluto to become Popeye's perennial opponent on film. Popeye's theatrical cartoons premiered successfully on television in September of 1956. Bluto, after a long absence, returned to the daily Thimble Theatre strip on March 27, 1957. By this time the feature was handled by writer Ralph Stein and artist Bela "Bill" Zaboly.
---
Like nostalgia? Browse celebrity nostalgia on our website.
Or sign up for our monthly Nostalgia e-newsletter or other e-newsletters tailored for boomers!
---
Paramount Pictures claimed they owned the rights to the name Bluto, thinking he was a creation of The Fleischer Studios. Thus when King Features started production on their own Popeye cartoons they renamed Popeye's enemy, Brutus. The King syndicate apparently forgot Bluto's roots in its very own comic strip.
This change overlapped pretty easily on film but was more challenging in print.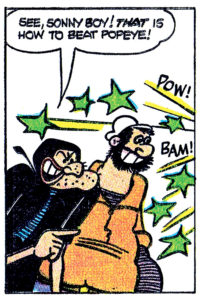 TO FURTHER CONFUSE … ENTER "SONNY BOY"
Bud Sagendorf took over production of both the daily and Sunday strip in 1958. He also was writing and drawing the Popeye comic books of the period. Since the name Bluto could not be used, Sagendorf had the sailor encounter several brutes with no name, eventually creating Sonny Boy, the son of the Sea Hag.
The first mention of the name Brutus in the Sunday strip occurred Sept. 30, 1962. The use also occurred a few months later in the daily strip of Jan. 29, 1963. Both story arcs revolved around Sonny Boy and the Sea Hag. During this time, however, Sagendorf never made it clear whether Brutus was Sonny Boy's name or an entirely separate character.
In the Popeye comic book, meanwhile, the nameless muscleman also became known asSonny Boy, though eventually replaced by the bearded Brutus. The name Brutus debuted in Popeye#64 (1962), also featuring an unnamed brute in a different story within the same issue. Sonny Boy returned in Popeye#66 (1962) but Brutus finally weighed anchor in Popeye#67 (1963).
BLUTO AND BRUTUS
When Hanna-Barbera's All New Popeye Hour debuted on CBS in 1978, the villain was back to being called by the original name, Bluto. Meanwhile, George Wildman, who was producing the Popeye comic books during this same period, had the Sea Hag refer to Brutus as her "Sonny Boy."
Recently Bluto and Brutus have been depicted as twin brothers. Hy Eisman, who handles the Popeye Sunday strip, had the pair team up with the Sea Hag on April 5, 2009. Today manufacturers tend to use the Fleischer Studios design of Bluto … but call him Brutus.
Regardless, the brute's name change had nothing to do with a dog owned by a mouse wearing white gloves.
Entertainment historian Fred Grandinetti has been writing about Popeye since 1983 in numerous magazines, newspapers and websites. Grandinetti also produces the award-winning cable access series, Drawing with Fred, for Massachusetts cable-access television. For more: facebook.com/DrawingWithFred/.