Happy 90th Birthday, Popeye!
January 4th, 2019
"I yam what I yam"
---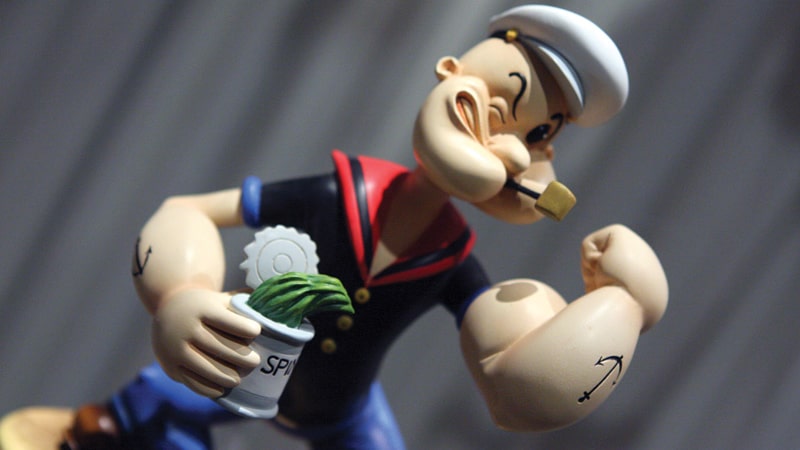 Get your Popeye nostalgia here!
"Castor Oyl [Olive Oyl's brother] was looking for a sailor to run his ship," says Popeye archivist Fred Grandinetti of the iconic cartoon character. He came across a pipe-smoking, funny-looking character and asked, 'Hey there! Are you a sailor?' 'Ja think I'm a cowboy?' was the reply, and Popeye was introduced in E.C. [Elzie Crisler] Segar's 'Thimble Theater' comic strip. He soon won over the Depression-era public and became Segar's star player."
The spinach-eating fictional sailor first popped up in the cartoon strip in January 1929. He later appeared in TV cartoons, comic books, arcade and video games, a 1980 live-action film and peripheral products. Much of the Popeye merchandise that flooded store shelves soon after his creation has become highly prized as collectibles.
---
Like nostalgia? Browse celebrity nostalgia on our website.
Or sign up for our monthly Nostalgia e-newsletter or other e-newsletters tailored for boomers!
---
Grandinetti has been writing about Popeye since 1983, published in various magazines, newspapers and websites. He's also authored multiple books on the subject, including Popeye, the Collectible and Popeye: An Illustrated Cultural History.
"As the author of several articles and books on Popeye," says Grandinetti, "I'm often asked why he has endured. My answer is based on a personal experience I had. I donated a small Popeye doll to our local children's hospice and received a phone call from the woman who accepted the gift. She informed me [that] the terminally ill children hug Popeye for strength. I had never thought of him in this fashion before. However, giving it much thought, Popeye was always promoting values in his comic strips, books and cartoons. Many of his animated adventures ended with a lyrical moral."
A new Sunday strip is currently produced by veteran cartoonist Hy Eisman and can be read at ComicsKingdom.com/popeye. Popeye continues to thrive on Facebook at Facebook.com/popeye and on his YouTube channel.
"Today, more than ever, we need someone who's strong to the 'finich' 'cause he eats his spinach!" proclaims Grandinetti.
More Popeye Nostalgia