5 Outdoor Exercise Safety Tips
| July 23rd, 2021
How to enjoy Mother Nature throughout the year
---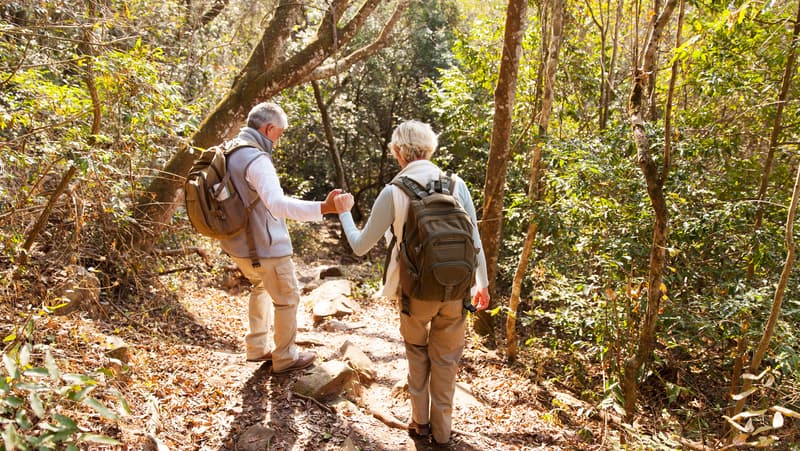 Certified fitness trainer Doug Setter offers 5 outdoor exercise safety tips to help you embrace Mother Nature safely.
---
Nature wants to kill you.
Or that is what some people believe. They think that every open space is filled with dangerous weather, insects, and animals. It is like there is a hurricane ready to sweep them away or a famished grizzly bear hiding behind every tree. (Full disclosure: I live in Canada, where that might actually be true).
In reality, Mother Nature is to not to be feared, but respected. And respected she should be.
I, for one, love the outdoors and see little sense in exercising in a stuffy, sweat-filled gym when there are miles of beautiful open spaces to run, hike, bike, or even just exercise in. You cannot beat the fresh air, sunlight, and scenery for boosting energy and mood.
But, just remember, "It ain't the gym, baby." You are NOT in a controlled environment. You need to consider a few factors like rough terrain, navigation, heat, cold, and wildlife. Getting injured or lost doesn't get any easier as we age.
Use these tips to make the most of summer outside this season:
1. Proper footwear
A hiking trail can trash a good set of dress shoes or fashion running shoes. I have seen people in street shoes and heard of some wearing high heels on some steep hiking trails. Good hiking boots or solid running shoes or even solid hiking sandals will minimize blisters, twisted ankles, or various injuries.
2. Navigation
There are no street signs in the wilderness, so make sure you know where you are going. It serves you well to know something about outdoor navigation, including map reading and the use of a compass or just have an idea how to get back. If you are traveling away from civilization solo or in a small group, it is a good idea to tell a friend where you are going and when to expect you back. Almost every year a tourist goes missing from Vancouver's famous Grouse Mountain "Grouse Grind" hiking trails. And these are well-marked trails that only go up or down a mountain. Somehow some people get confused and wander off the trails, get lost, and then get injured.
---
Avenza maps for navigating Virginia State Parks – and many other locations
---
3. Preparing for the heat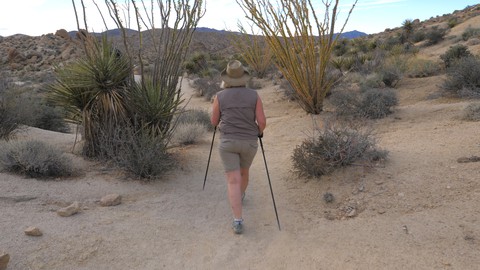 The heat can wear you out faster than the air-conditioned gym. Gym rats (gym users) often ignore the effects of sun rays, heat, dehydration, and sun glare. It takes very little effort to pack some sunscreen, sunglasses, a hat, and some water. The heat can cramp your muscles or put you into shock if you are not careful. (I have seen this happen several times, mostly with young people who refuse to drink water.) Sun rays are a form of heat radiation, so make sure that you gradually adapt to it.
4. Preparing for the cold
As much as I like how the colder temperatures keep away the mosquitoes and crowds, the cold can drain your energy. People can burn up over 6,000 calories a day when working in the cold. So, pack at least a wind breaker, a hat, some water (or thermos with a hot drink), a snack and an extra T-shirt. I mention water because the cold suppresses the body's thirst mechanism and you may get very thirsty and not know it. Even in the late summer or fall, I usually pack an extra T-shirt. If I am sweating heavily, I might cool off too quickly when I stop moving. This is why it helps to have dry clothing or wear the type of clothing that wicks moisture away. In a cold environment, sweating can cool you off too quickly and bring on hypothermia. If years of training in Canada's winters taught me anything, it was to keep your skin dry in the cold.
5. Respecting wildlife
A friend of mine was walking a trail at night and a black bear ran right past her. Usually if you leave wildlife alone, they will leave you alone. Check the local park authorities if you are concerned about wild animals, bugs, or dangerous plants. Personally, I find the wilderness safer than most cities with their two-legged predators running around.
Decades of living and exercising outdoors has taught me a deep appreciation for Mother Nature. When you give her the love and respect that she deserves, you will find that she gives back graciously.
Doug Setter holds an Education Certificate (University of British Columbia) and Bachelor of Human Ecology (Food and Nutrition) from the University of Manitoba. He's a certified trainer, kick-boxing welterweight titleholder, and the author of seven books on fitness. Doug served in the Canadian Armed Forces as an infantry soldier and paratrooper as well as with the U.N. Peacekeeper forces. He's climbed Mount Rainier and completed five full marathons. He's the author of the book Fit Femme After 50 a portable guidebook to fitness with illustrations that demonstrate postures and poses to ensure accuracy of training. Each chapter of the book concludes with the real story of a woman's exercise or family-life struggle and how they were helped by Doug's program. Learn more about Doug and his books and personalized training programs at www.2ndwindbodyscience.com or contact him at dougsetter@gmail.com or Instagram @doug_setter  or 778-837-3528 (Canada).
Explore more inspirational Boomer articles on enjoying the great outdoors.

As an Amazon Associate, Boomer Magazine earns from qualifying purchases of linked books and other products.