Virginia State Parks Avenza maps
November 6th, 2020
Enjoy nature without worries of getting lost
---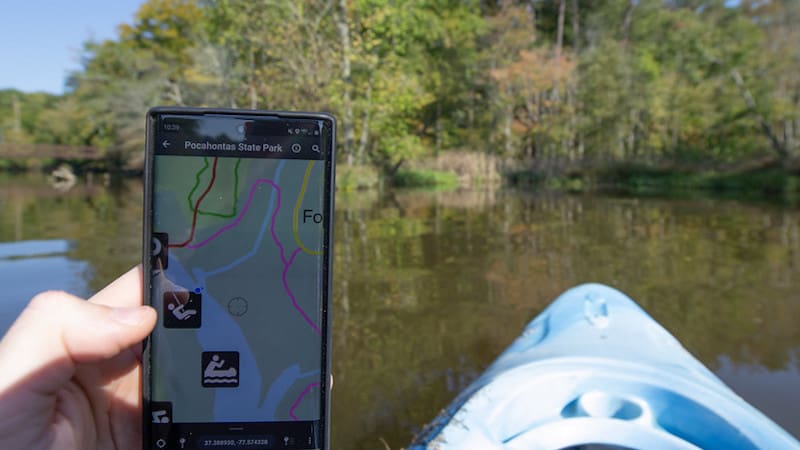 Earlier this year, I switched my weekly Sunday trail run from Richmond's James River Park to Pocahontas State Park. My goal was to avoid pandemic-related crowds and the challenges of social distancing. Initially, the idea of leaving the oh-so-familiar Richmond trails for a totally new trail system intimidated me. I picked up a paper trail map at the park entrance, but the small, low-resolution, black-and-white map was only mildly helpful. Now, Virginia State Parks Avenza maps make navigating the parks' trail systems easier than ever.
Any time of year, Virginia State Parks offer picturesque opportunities for nature therapy. Explore from the Atlantic Ocean at False Cape to the Appalachian Mountains at Wilderness Road. Take in fall foliage, uninterrupted views through bare trees of winter, bursts of colorful spring wildflowers and mountain laurel, or lush greenery in summer. But going to a strange new park can be intimidating – getting lost can frightening, and even dangerous. This free new feature, Virginia State Parks Avenza maps, lets you take clear, easy-to-read maps with you on your mobile phone. Better yet, they'll be accessible and pinpoint your exact location in the park, even when your phone service is spotty.
How's it work?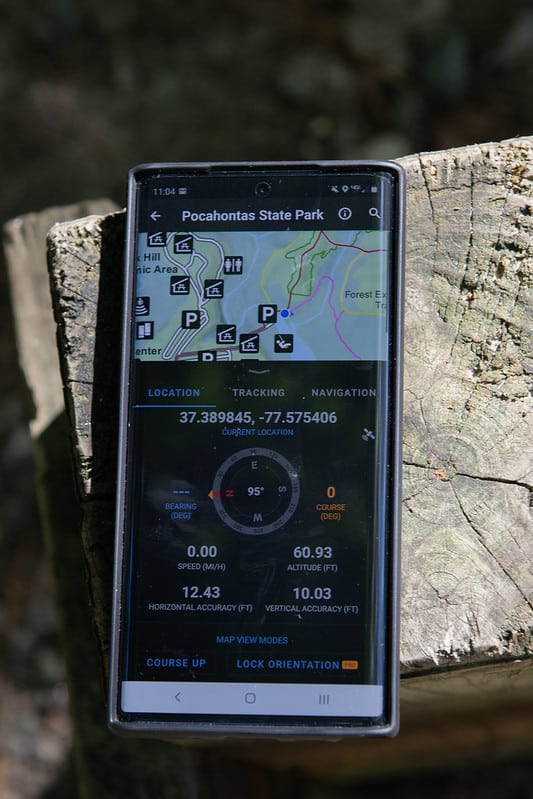 This new app-based navigational resource utilizes your phone's internal GPS unit to geo-reference your location on the map. As you travel through the park, your location, indicated as a blue dot, moves in real-time on the map. In other words: open the app, open the map, and you'll always see exactly where you are.
Always? Yes, the phone's built-in GPS units work even when wireless service is not available, so you'll always be able to see where you are (as long as your device maintains battery power).
To access the maps, download the Avenza Maps app for free. Go to the Store (shopping cart icon) at the bottom of the app. In the search field on top, you can browse by location, or by location and keywords; or you can close the location and enter keywords – in this case, "Virginia State Parks." From there, download a PDF map – also for free – of the Virginia State Park you're planning to visit.
Paper trail maps can be blurry, difficult to follow, and confusing. These clear, full-color PDF maps make knowing where you are – and how to get where you want to go – so much easier.
"The trail user experience is where Avenza really shines, especially to first-time visitors," said Virginia State Parks Western Resource Manager Forrest Atwood. "It's going to cut down on uncertainty and really make the layout of the park clear."
Other advantages of Virginia State Parks Avenza maps
The VSP maps include elevation, park amenities, trail names and uses, scale, and key. If you encounter downed trees, trail obstacles, or other matters that need park ranger attention, you can drop a pin for future reference. The maps also help you provide exact latitude and longitude coordinates in the event of an on-trail emergency.
The software is intuitive and user-friendly. Brief tutorial videos on how to use the application and maps are available through Avenza.
It's recommended users download the maps at home before visiting the park, but maps can be downloaded anywhere mobile data is available.
Several tiers of the application are available to both Apple and Android users. A free account allows users to download and store an unlimited number of maps from the Avenza store (including all Virginia State Parks maps). Plus and pro accounts allow unlimited storage of other uploaded maps and offer more advanced navigational tools for annual fees.
A multitude of maps are available on the app. You can find maps from across the U.S. and across the world. You'll find maps for a variety of purposes, whether you are on an adventure for hiking, biking, or running; touring towns; or exploring history. Some are free, others charge a fee. Examples near Richmond, Virginia, include
Richmond National Battlefield Park, from the U.S. National Park Serve (free)
Civil War battlefields of Virginia ($0.99)
Allegheny Mountains bike tour (free)
A James River nautical chart, spanning seven miles downriver beginning in Richmond ($5.99)
The complete Virginia Atlas & Gazetteer ($19.99)
Historic maps (from free to fee)
Richmond Mountain Bike Trails ($0.99)
Fort Lee 2020 Cantonment Area Hunting 2 (free)
Layered topo maps from the United States Geological Survey, including urban and suburban (free)
For more information, visit www.virginiastateparks.gov/park-trail-maps.
Whether exploring nearby parks or venturing far from home, outdoor time is therapeutic, and travel benefits the body and soul. So get out!