Laughing with My Father
| October 6th, 2021
Facing down Parkinson's disease
---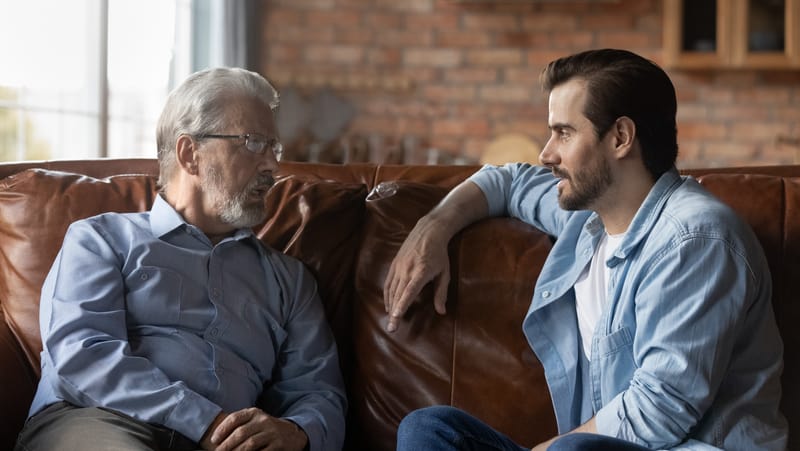 Boomer reader and frequent contributor Phil Perkins tells his Parkinson's disease caregiver story, recalling memories and laughter from the last years of his father's life.
---
It seems like a million years ago, but it was only 2005 when my father passed away in the palliative care unit of the veteran's hospital. As long as I live, I will always remember the kindness of the nurses and volunteers there. It takes a special person to work with the dying.
I think I should first tell you something about the challenges of Parkinson's disease and what it can do a family. My dad was diagnosed during a routine physical in 2003. Now, "diagnosed" is a relative term. They can't actually say definitively that you have or had Parkinson's disease until you are dead, and then only if there is an autopsy. So, all they can do is identify and treat the symptoms. In my father's case, they were classic. His hands trembled to the point that he couldn't feed himself on bad days. And then there were the hallucinations.
Hallucinations come with the territory with Parkinson's, but as a caregiver I learned that the very medications given to my dad to control the tremors made the hallucinations worse. I remember him telling me at a lucid moment that he had walked into his kitchen one morning to find me sitting at the table. It was me, only without a discernable face, a common type of illusion with the disease.
After some time of trying to allow my father to stay in his home and making several late-night trips from our house to his to check on him, we decided he needed to take up residence with my wife and me. He resisted with all of his being, but finally we convinced him to give the new living arrangements a try. Nothing could have prepared us for what was to follow.
My wife and I had to learn to deal with everything from the hallucinations to my father's growing difficulty in completing everyday tasks. After joining a Parkinson's support group, we implemented several safety measures, including giving my dad a little intercom and showing him how to push the button to summon us for assistance. He used it freely and, for me, a good night's sleep was difficult to come by.
Memories and laughter
But this isn't about all of the daily trials of Parkinson's. It's about the time I got to spend with my father discussing his life. We had never been particularly close, and definitely never discussed our feelings, hopes and desires. It just wasn't the way of his generation. But now we had both the time and the opportunity to take a look back.
My father was extremely proud of his time serving in the Army in World War II. He had been in the signal corps and worked to keep communications up and running for those in command and on the front line. He had made many friends during his time in service. He wanted me to know about each one of them.
I mentioned lucid moments earlier. Those tended to be during daylight hours, and we made the best use of them as I left work early each day to relieve our hired caregivers. At that time, I would make my dad his little margarita. He was never much of a drinker but loved the concoction I served him in a tiny stemmed shot glass. It was our "happy hour."
And happy it was, as my father recounted stories of his time in Singapore, building communications facilities that would then be destroyed by the enemy. Surprisingly, he found humor in almost every story, and he made me laugh every day. I laughed because he laughed. He laughed because I laughed. Those were precious moments and made all of the darkness of the disease just a little bit easier to take.
Even though he is gone now, I reflect back on those talks and still find myself laughing. Still laughing with my father.
---
Phil Perkins is a writer, business owner and musician who lives in Richmond and Hilton Head Island, South Carolina, with his wife, Sandi, and two pups named Skippy and Jeter. He is the author of several business books and two novellas about a legendary surfer in the 1960s. Phil has contributed several tales to Boomer, including his 'Tails of Two Heroes.'
---
Read more childhood memories from Phil Perkins and other contributions from Boomer readers in our From the Reader department.
Have your own childhood memories or other story you would like to share with our baby boomer audience? View our writers' guidelines and e-mail our editor at Annie@BoomerMagazine.com with the subject line "'From Our Readers' inquiry."