Adventure in Tennessee
| February 14th, 2017
---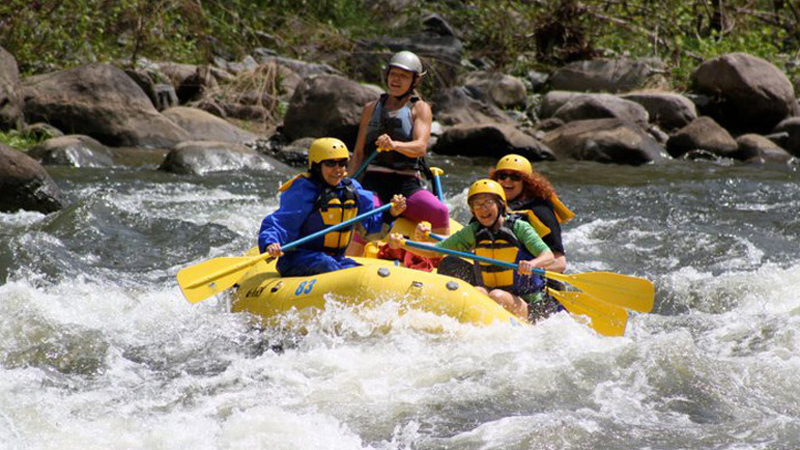 Boomer editor Annie Tobey takes us along for some safe adventure in Tennessee: in the Great Smoky Mountains as well as Pigeon Forge and Dollywood.
---
Imagine a continuum of adrenaline-seeking behavior on one axis and a continuum of risk-taking tolerance on the other. While we may think of adrenaline junkies as extreme sports enthusiasts with no concern for safety, there are those of us who value both adventure and well-being. No longer gifted (or burdened?) with the youthful feeling of immortality and well aware of our responsibilities, we prefer exciting, but safe, pursuits.
Fortunately, plenty of travel and entertainment businesses, wanting income but not exorbitant insurance premiums, feature low-risk adventure. Some guided trips focus strictly on adventure: remote mountaineering, multiday whitewater rafting or dog-sledding. Others offer active pursuits mixed with more civilized activities.
Two of my most memorable trips combined adrenaline (and the assurance that I would walk out alive) with sedentary enjoyment. One was a visit to Australia's Blue Mountains, just west of Sydney. Another was to eastern Tennessee.
Smoky Mountain High
Named for the misty look that lingers on its slopes, the Great Smoky Mountains provide natural recreation while nearby Gatlinburg, Pigeon Forge and Sevierville offer food, lodging and entertainment, from unapologetically kitschy to cultural to just plain fun.
TRAVERSING THE MOUNTAINS
The Great Smoky Mountains National Park hosts a variety of ecosystems, more than 100,000 different life forms and spectacular waterfalls and views, many of which can be enjoyed along the 850 miles of easy to challenging hiking trails. Seventy miles of the Appalachian Trail passes through the park and over 6,643-foot Clingman's Dome, the highest point in the park. Recreational bikers can meander along Cades Cove's 11-mile paved road.
A faster way to traverse the Smoky trails is by ATV with Bluff Mountain Adventures. The experienced outfitter offers trail rides from easy introductory to those not for the faint-hearted. Riders can bounce along rock-strewn ridges with sheer cliffs, over roots and ruts and rocks, around hairpin turns and through mud bogs and swollen creeks, leading to grand summits.
HEAD OVER HEELS
Ever envied a hamster? If not, you will after tumbling downhill in a 10-foot, double-wall, flexible plastic Zorb globe at Outdoor Gravity Park in Pigeon Forge. Whether you choose the dry ride or the wet sloshy orb, both of which put you at the mercy of gravity and the berms that form the boundaries, you'll almost certainly scream and laugh helplessly. This is crazy safe adventure in Tennessee!
MORE WATER
"There's more whitewater per square mile in the Southeast than any other part of the country," Dave Crawford of Rapid Expeditions outfitters told me. "Some of the steepest whitewater can be found in the Smokies," he added, "plus plenty of lakes and flatwater."
The dam-controlled Pigeon River hosts much of the area's whitewater rafting through Class III and Class IV rapids or, should you prefer, through small waves and minor ripples on the Lower Pigeon River. Besides the thrills, be on the lookout for blue herons, kingfishers, serenading warblers and other wildlife.
AIRBORNE
Multiple zipline courses send you sailing through the air, always securely harnessed. Travel at speeds up to 50 mph, up to 65 feet off the ground. At Dollywood's SkyZip, try up to four treks ranging in length from 550 to nearly 815 feet and teeter above the treetops on a 100-foot-long swinging bridge.
Experience the thrills of skydiving without the risk at Flyaway Indoor Skydiving in Pigeon Forge. Fliers don flight suits and helmets, step into a silo and launch themselves onto a bouncy screen over a humongous fan. Picture yourself as a flying squirrel, suspended with your webbed legs over the blast of air. That's indoor skydiving.
---
Be a kid again in the Great Smoky Mountains
---
THRILL RIDES
Nothing beats adrenaline with a dash of safety like amusement park thrill rides. Dollywood's family-focused theme park offers rides from sedentary to exciting (plus food, crafters and entertainment, for a little downtime). Adrenaline junkies will want to check out the new Lightning Rod, the world's first launched – and fastest wood – coaster; Thunderhead wooden roller coaster; and the smooth, 4 G, 70 mph Tennessee Tornado. In season, try 23 thrill rides and adventure slides at Dollywood's Splash Country water park.
IF YOU GO
These and many other businesses are fully operational after the late-fall fire that devastated much of Sevier County and the surrounding mountains. Support the people by giving them your business. Check ahead for seasonal hours.
• SmokyMountains.org
• BluffMountainAdventures.com
• RaftingInTheSmokies.com
• OutdoorGravityPark.com
• FlyawayIndoorSkyDiving
• Ziplining at AdventureParkAtFiveOaks.com or AdventureZiplinesOfSevierville.com
On Aug. 21, 2017, a total solar eclipse will be visible in parts of the U.S., including the western half of the Great Smoky Mountains National Park (weather permitting), which will host organized public viewing events. NPS.gov/grsm