The Great Smokies: Live Like a Kid Again!
| October 15th, 2020
Travel to a world where adulthood is childhood
---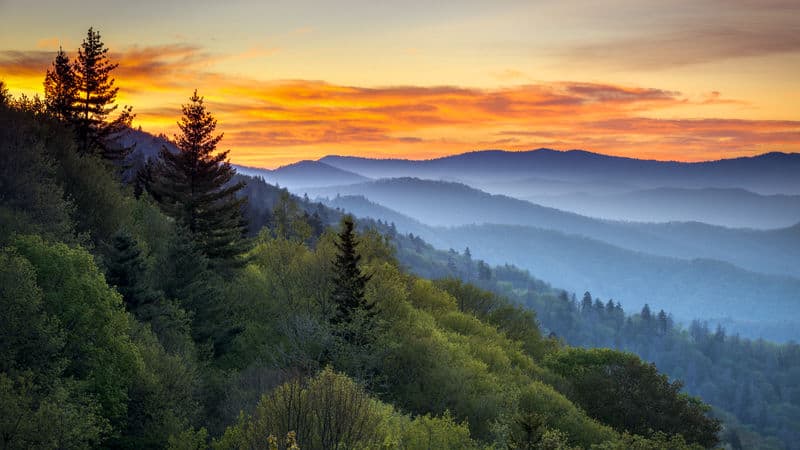 Has anyone else noticed that adulthood is overrated? Especially if you've been doing it for a while, you have to admit, it's getting pretty old.
If you need a break from all of the expectations, stigmas, and responsibilities that come with adulthood … pack your bags and head to the land where kids can be kids, and adults can – also be kids.
The Great Smoky Mountains and its neighbors – Gatlinburg, Pigeon Forge, and Sevierville – would love to take you back to the days of childlike amazement and amusement. From enticing attractions to unique experiences, you get to feel like a kid again. In the most adult way possible.
'Darling, It's Better, Down Where It's Wetter'
Named the number one aquarium in North America by Tripadvisor patrons, Ripley's Aquarium of the Smokies naturally encourages childlike awe from visitors of all ages. Especially since this is far from your average aquarium. The building, in fact, holds 32 aquariums altogether; combined, they house over 150 types of fish, and over 10,000 living animals total. Find all of the usual suspects here: penguins, sharks, moray eels, and sea turtles, to name a few. 
But, believe it or not, Ripley's also touts a slew of unique experiences: from a glass bottom boat tour, to a jellyfish petting tank, to – yes – swimming with the stingrays. 
And, thanks to Ripley's "go big or go home" attitude, they don't do anything halfway. Glide along, for example, the moving pathway inside their 340-foot-long tunnel filled with … sharks! Likely (and hopefully) the closest you'll ever get to a sea of sharks without ending up on one of those "I survived" shows.
Anakeesta: The Treehouse Experience You Never Knew You Were Missing
If you were one of those kids who loved treehouses and tree climbing … Anakeesta may bring back memories of those days. Extreme, heightened versions of those memories, perhaps, but memories nonetheless.
This 70-acre attraction sits among the Great Smokies in downtown Gatlinburg. It aims to give visitors unique ways to experience nature within the mountains, among the trees, and close to the sky.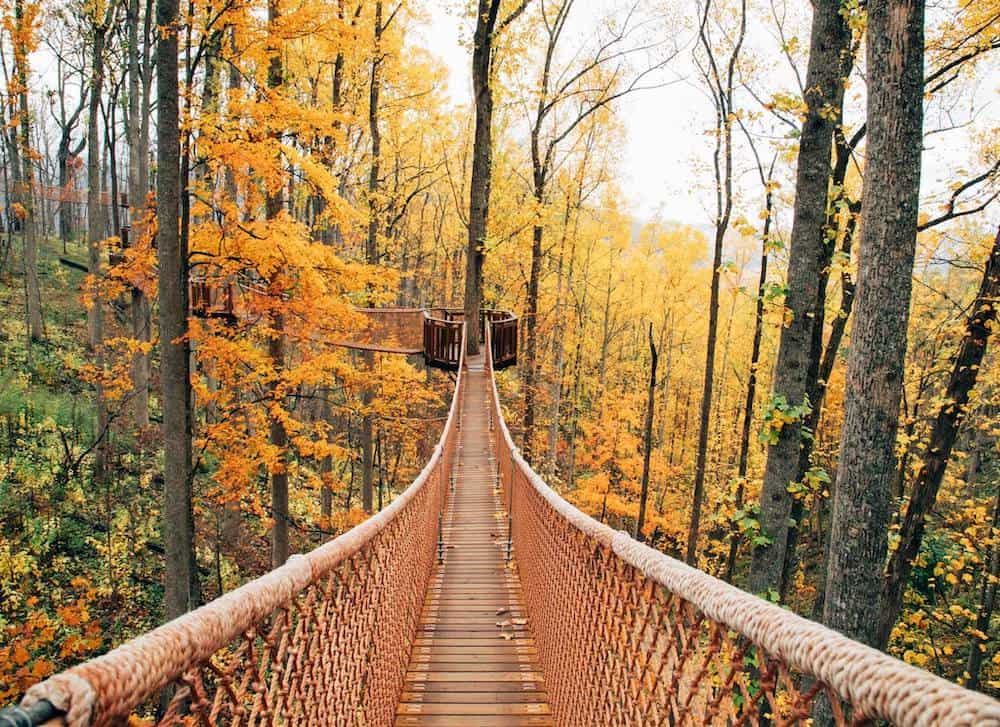 First, of course, Anakeesta offers many unique nature- and adventure-related experiences – including ziplining, rope swings, and the chondola (like a mix between a chairlift and a gondola – generally the preferred way to get up there!). Overall, the entire destination offers so many varieties of attractions, it's easy to spend the day among the trees. Sift through Anakeesta's different gift shops; soak in their enchanted botanical garden in the sky; or unwind with a drink and a meal at one of the half dozen eateries and bars.
Featuring both unique attractions and Instagram-worthy views, Anakeesta was voted Best Attraction of the Year by Tennessee Hospitality and Tourism Association – just one year after it opened in 2017.
Eat Like a Kid Again
Once a huge logging town, the Great Smokies area used to house a teeming number of lumberjacks back in the day. And the cheapest, easiest, most delicious way to keep them well-fed through their day of log-slinging? Pancakes.
Though the lumberjacks are now long gone, the flapjacks remain.
Take your mind (and your taste buds) down Saturday morning memory lane with the area's greatest pancake offerings.
Pancake Pantry is a good place to start. For over 60 years, this local legend has kept residents and visitors satiated with every type of flapjack imaginable: wild blueberry, sweet potato, or pigs in a blanket, anyone? They feature other breakfast staples as well, including a wide variety of crepes, waffles, and omelettes.
Or fill up at Crockett's Breakfast Camp. Dedicated to the legacy of local frontiersman and soldier David C. "Crockett" Maples, this spot has been successfully feeding the hungry since 1840. Their menu boasts thick griddle cakes, Cherokee sweet corn pone, and "hen fruit" (eggs!). Or indulge in heartier fare, like chopped steak and eggs or signature corned beef hash: a breakfast assortment would make even the burliest lumberjack proud.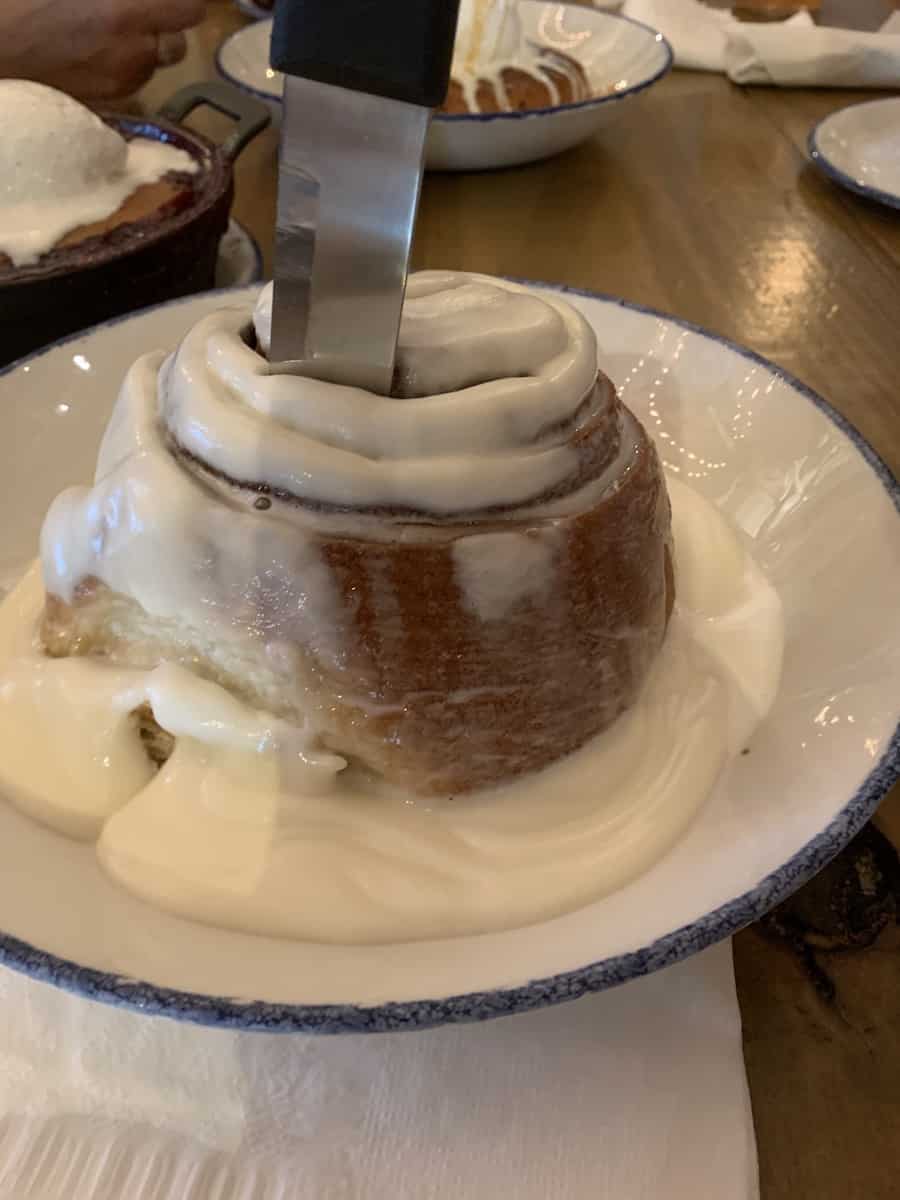 Beyond the Flapjacks
As they say, however, Tennesseans cannot live on pancakes alone; and fortunately the area has a wide range of other cuisines on which to feast – and imbibe.
Get your Southern fix at Five Oaks Farm Kitchen in Sevierville. Home to hearty from-scratch fare and quite possibly some of the largest cinnamon rolls out there, the one thing nobody ever leaves with is an empty stomach.
Or swing by The Old Mill, a centuries-old (and still operating!) gristmill in Pigeon Forge. Beyond the flour, their restaurant serves up classic deep-fried deliciousness like catfish, barbecue, and chicken 'n' dumplings.
Act Like a Kid Again
But if there's one thing Tennessee knows more about than most anyone else, it's – okay, well it's Dolly Parton. But if there's another thing Tennessee knows more about than most anyone else – it's moonshine. 
To really feel like a kid again (or at least behave like one), sip your way through the area's iconic moonshine distilleries.
Doc Collier Moonshine Distillery
If it's doctor prescribed, it must be good. Doc Collier, located in Gatlinburg, boasts the most unique array of flavors guaranteed to appeal to moonshine-lovers and moonshine-occasional-drinkers alike. Try traditional sips or more unique flavors like blackberry, root beer float, and 'naner (banana!) – great alone or in cocktails. Slushies available, too!
Ole Smoky Moonshine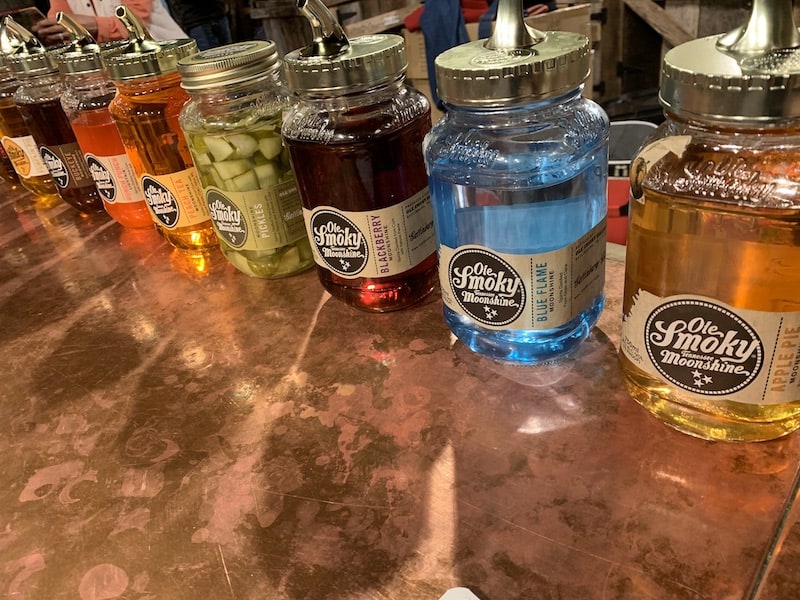 Though distillers at Ole Smoky have been creating moonshine for over 100 years, Ole Smoky officially opened up as the first legal moonshine distillery in Tennessee in 2010 (don't focus too hard on the math). 
They started with four flavors, but now boast over 60 – including jars of moonshine-soaked peaches, cherries, and pickles.
Old Forge Distillery
Located just a few feet away from The Old Mill (remember them?), Old Forge Distillery moonshines are made with freshly ground grain straight from the nearby mill. And four years after launching in 2014, they opened up a cocktail bar, boasting moonshines and other liquors (gins, rums) made in the distillery. They even incorporate products from their own herb garden!
Adult-Approved Kid Fun
In a world where we grow up getting told to act our age, you can escape to a world where you don't have to! The Great Smokies offers adult amusement topped off with childlike delight that you can enjoy unabashedly and without shame.
Hey, no one's going to tell your parents.
---
Award-winning travel writer Rachel Marsh loves traveling and hates thinking of bios.