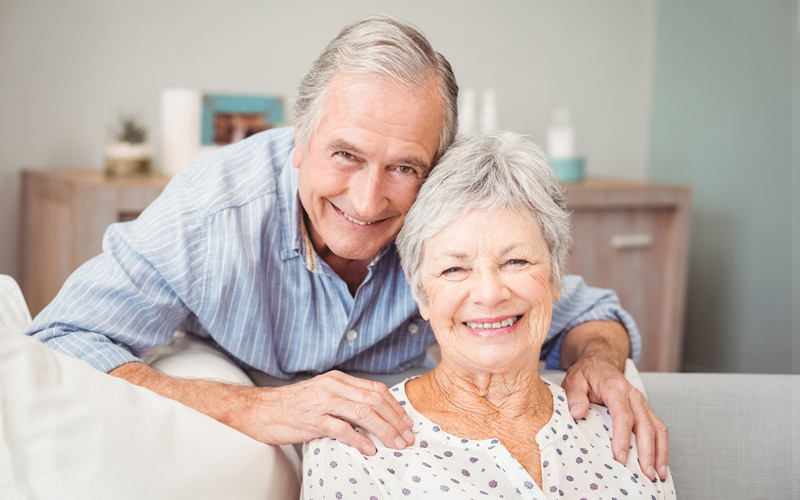 Planning is Key to Aging at Home
| October 24th, 2016
Three important steps in maintaining independence, for you or a loved one
---
"I want to remain in my home forever. My family memories are here." That's a sentiment I often heard when I owned and operated a home care company here in Richmond. "Aging in place" means utilizing services, products and conveniences that allow you to safely remain in your home. It may involve technology, home modifications and home care services. It is beneficial to plan ahead, just as if you were planning for your children's education or your retirement.
TECHNOLOGY TIPS
Implementing technology systems is a suitable initial step. Mark Sheets, owner of Comfort Keepers, says, "Technology solutions can be tailored to the individual, only require a month-to-month commitment and cost much less than caregiving services. These technologies range from personal emergency response systems (PERS) to automated medication dispensers (AMD) to home monitoring systems."
Waterproof, wearable PERS technology can detect falls, and the GPS version allows for travel away from the home. When needing assistance, the wearer simply presses the PERS button and is quickly connected to a call center. The wearer speaks into the device to explain their need and the representative calls one of the wearer's personal contacts or dispatches emergency services, staying on the line until help arrives.
Managing medications can be overwhelming, so consider use of an AMD, which can hold about a month's worth of medications. The device alerts the user when it's time to take medications and will notify contacts if a dose has not been dispensed within 15 minutes. The user must be cognitively aware, so it is not a solution for an Alzheimer's or latent dementia patient. A family member, friend or hired nurse can fill the machine.
Wandering is often a concern for someone who is a fall risk or who has Alzheimer's or dementia. Sheets recommends "home monitoring systems, which include pressure mats, motion detectors, door and window contacts, cameras, etc. This allows family caregivers to be notified of certain movements within the home, such as opening a door. This provides dignity for the person in their home and peace of mind for the family caregiver."
HELPFUL HOME MODIFICATIONS
"Most people adapt their behaviors to their environment and don't realize that they can adapt their environment to their needs," says Marion Shackford, president of Adaptive Home Environments LLC, which helps folks determine what modifications will allow them to safely age in their home. She says she has repeatedly seen people permanently moved to nursing homes after falling and breaking a hip because they used a towel bar as a grab bar.
Shackford stresses the need to plan ahead rather than trying to implement changes during a crisis. Her company's person-centered process begins with an assessment. "This includes their physical, sensory and cognitive functioning, medical histories and current medical diagnoses, as well as their strengths, challenges and goals." Shackford then furnishes a plan to meet the client's needs now and for the next few decades.
Several moderately priced revisions can simplify life for seniors. Properly anchored stylish grab bars that match bathroom décor can double as towel bars. A comfort-height toilet sits a little higher, making it easier to use. Shackford suggests raising appliances such as dishwashers or front-loading washers and dryers to prevent back injuries and to make it easier to read the controls. For those with limited hand strength, lever door handles can be an easy fix. It is also important to consider flooring: removing scatter rugs and changing to non-slip surfaces.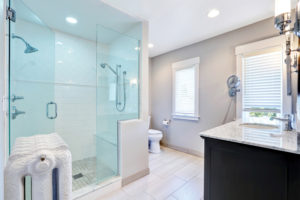 More significant changes may require a contractor. Landscaped ramps with walkways and protective curbs are practical while being aesthetically pleasing. The bathroom is often the site of accidents, so converting a bathtub to a zero entrance shower with a handheld showerhead, a seat and grab bars can help prevent mishaps. Wonderful adaptations for those using wheelchairs include widening hallways and doorways for better accessibility and maneuverability and lowering light switches, thermostats and security controls to 48 inches above the floor to reduce the chance of a fall.
COMPANION CARE
Families may notice that their loved one is no longer caring for themselves or their home in their usual manner. They may not be bathing or changing their clothes, expired food may be lingering in the refrigerator or the house may be unkempt. A caregiver can assist while also being the family's eyes and ears. Senior home care companies specialize in companion and personal care services tailored to a client's needs.
Some start small. A companion caregiver could assist a few days a week for a few hours a day, depending on the minimum services required by the agency. A companion can help with household chores, meal planning and preparation and medication reminders, and can take the client on errands and to appointments. Ideally, the caregiver will enhance the client's day through shared endeavors. If the client enjoys cooking, for example, together they can look through recipes and prepare a new dish. At the companion level, the client should still be able to manage personal care needs. A caregiver can provide reminders of tasks such as brushing teeth or changing clothes.
Should the client have cognitive impairment, such as forgetting personal care or becoming lost when away from home, if they are a fall risk or cannot walk on their own, then a certified nursing assistant (CNA) can provide personal care services. Personal care includes all the tasks of a companion as well as providing full assistance with hygiene, toileting and ambulation.
A reputable senior home care company will assess the client and discuss needs and wants. When selecting a company, start with caregiver screening: are their criminal background checks statewide or national, regularly updated or just checked at time of hire? Do they drug screen? DMV checks are helpful if transportation is involved. Are they licensed by the Virginia Department of Health? If so, then they undergo unannounced inspections and will have a report noting any deficiencies. Once services begin, how often does the company make quality assurance visits? Finally, what's the owner's involvement?
Some clients resist having care but will acquiesce in order to remain at home. Setting reasonable expectations helps improve the odds of success, so discuss these with the agency and trust their judgment. For example, though consistent caregiver schedules are beneficial, the requested hours need to fit within the caregivers' availability to work long-term. Avoid requests on the type of caregiver; let the agency determine whose skill set, personality and availability best suit the client.
Services can range from a few days a week to round-the-clock care. Care for two, such as a couple or siblings, increases fees about 15 to 25 percent. Services are typically private pay, which also includes payments from long-term care insurance policies. Medicare does not cover senior home care. Medicaid may cover some personal care hours.
If you want to live the balance of your life in your home, start planning. Richmonders are fortunate to have many experienced senior care experts to provide guidance. Meet with the professionals now to determine your needs in the future.