Free, Alcohol-Infused RV Camping for You and Your Dog
| November 6th, 2023
Greg Schwem: 'My dog would like a bottle of your finest bourbon'
---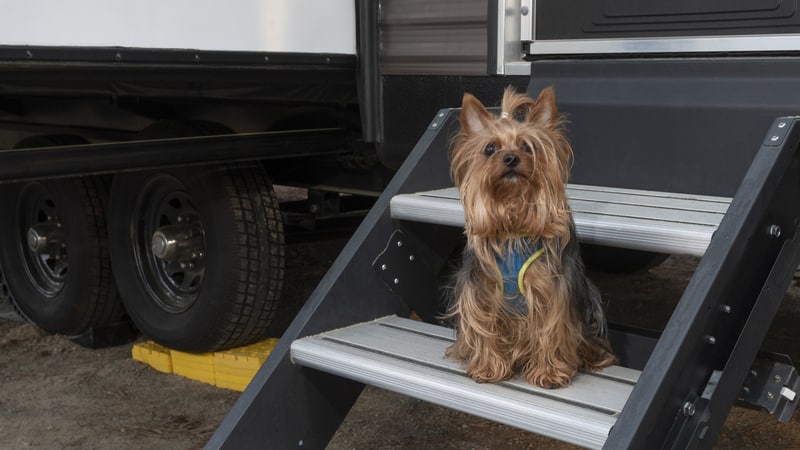 If you, too, gladly call your dog spoiled, this travel service may be for you. It provides free RV camping at wineries, breweries, distilleries and other unique destinations – and at many, your pooch is welcome.
---
I recently received a concise text message that, depending on your affection for canines, was adorable or unbelievable:
"Sorry, I can't meet tonight. I have a swim class … for my dog. She is spoiled."
"She" and her owner are exactly the types of travelers Harvest Hosts CEO Joel Holland has on his radar.
Holland, 38, purchased the 13-year-old travel membership network from its original owners in 2018. Aimed at "self-contained" travelers (aka campers and RV-ers,) Harvest Hosts partners with thousands of farms, wineries, breweries, and other unique destinations only too happy to host camping vehicles ranging from your basic fifth-wheel to your tricked-out Airstream, for a night. Occupants, and their pets, pay no camping fees; instead they are sort of on the honor system to purchase products – perhaps a wine club membership or a bottle of homemade bourbon – their gracious hosts are selling.
"We recommend a $30 purchase. But it's not a requirement," Holland said. People are very generous and tend to spend $50. That turns into $50 million that goes back into these small businesses."
Harvest Hosts takes none of those profits; participating properties pay a fee to join the program and get listed on its site.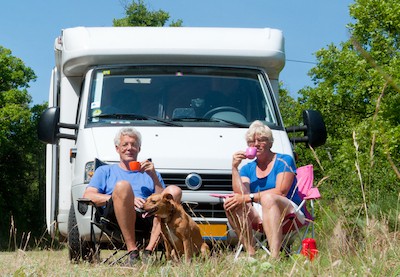 So what about those guests who just can't leave their beloved pooches at home? Harvest Hosts recently found 52% of travelers base their routes, and destinations, on pet-friendly camping locations. If that location contains a body of water for dogs to show off their swimming skills, all the better. Holland estimates a quarter million Harvest Hosts travelers, mostly over 55 and empty nesters who consider a dog their "new kid," take their pets along for adventures.
"We learned early on that we needed to have a filter that said 'pet friendly,'" Holland said. "In the process of recruiting hosts, one of the things we angled for were pet-friendly locations."
Swilled Dog, a distillery of bourbon and cider in Upper Tract, West Virginia, has proven to be the perfect Harvest Hosts partner. Currently slammed with campers taking advantage of fall colors that complement their day hikes to Spruce Knob, Seneca Rocks, and Smoke Hole Canyon, the property hosts up to four RVs per night.
Once parked, dogs have free reign.
"Dogs are allowed to relax alongside their owners in both our cider tasting room and whiskey room or even play a game of cornhole outside," said Lauren Hagman, Swilled Dog's operations manager.
Upon hearing this, I texted my friend and asked if her dog was currently enrolled in cornhole lessons. I have yet to hear back.
Most guests abide by the aforementioned honor system, purchasing bourbon or cider for family and friends, Hagman said. The distillery also donates a portion of its profits to various dog rescue and adoption programs.
Holland, a seasoned traveler who believes "there is something fun to do in every state," is only too happy to share his unique adventures, which include getting a massage from an 84-year-old nun, a proprietor of Heartland Farm, an Alpaca ranch in Pawnee Rock, Kansas. Although not listed on the property's website, massages are a legitimately offered service.
"I learned it's OK to be naked in front of nuns in the right context," he chuckled.
With post-pandemic travel restrictions easing, Harvest Hosts business is booming as travelers opt for wide open spaces so they, and their pets, can roam freely. Holland says he'll continue running the business, and seeking new dog-loving sites, "as long as it's fun."
What could be more fun for a dog than to belly up to a bar and join their owner in a glass of locally produced wine?
Particularly if the dog has completed Wine Appreciation school.
---
Greg Schwem is a corporate stand-up comedian and author of two books: Text Me If You're Breathing: Observations, Frustrations and Life Lessons From a Low-Tech Dad and the recently released The Road To Success Goes Through the Salad Bar: A Pile of BS From a Corporate Comedian, available at Amazon.com. Visit Greg on the web at www.gregschwem.com.
© 2023 Greg Schwem. Distributed by Tribune Content Agency, LLC.

---
Like laughing? Check out more Schwem, Boomer articles on laughter or the baby boomer humor of Randy Fitzgerald.
---
As an Amazon Associate, Boomer Magazine earns from qualifying purchases of linked books and other products.