Baby Blue Corn Whisky from Balcones Distilling
| September 23rd, 2019
Your chilly-weather companion
---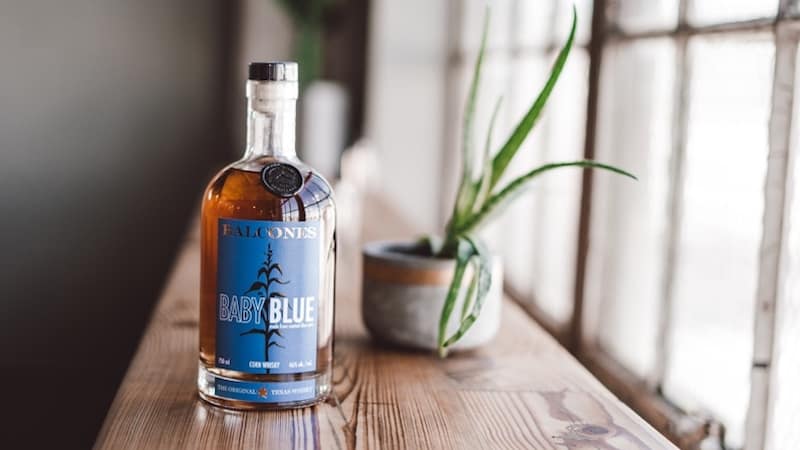 As summer winds down and fall weather begins to infiltrate our days, short sleeves are replaced with flannel, baseball is replaced with football, and refreshing drinks are replaced with heartier beverages.
And no, we're not talking about pumpkin spice lattes.
Let's aim for something a little stronger, shall we?
Balcones Distilling can easily fill up your fall-time tumbler with a finger or two of award-winning libations. Upon opening in 2009, this small-batch distillery (located in Waco, Texas) set out to prove that not all good bourbon comes from Kentucky. In fact, they concocted the first whiskey on the market in Texas since Prohibition.
And Balcones' Baby Blue Corn Whisky would gladly serve as your non-PSL chilly-weather libation of choice. This flagship whiskey is made with New Mexico blue corn, a unique twist that adds an additional layer of refinement compared to the traditional corn component of most other corn-based whiskeys.
The nose, a whirlwind of vanilla, toffee, and cinnamon notes, is rounded out by the taste, a complex-yet-balanced blend of caramel, dried fruit, and just enough spice to remind you that you're awake. Each sip goes down smoothly and warmly, leaving your chest with enough heat to combat the fall weather.
From day one, Balcones has offered fortunate consumers an array of craft whiskeys, bourbons, and rums, many of which have since won medals of all stature.
Balcones' Baby Blue Corn Whisky itself has taken home its fair share of medals for years, earning gold-medaled recognition in competitions such as the 2015 NY World Wine & Spirits Awards, the 2016 San Francisco International Spirits Competition, and the Wizards of Whisky in 2014, 2015, and 2017.
This versatile spirit can be sipped solo, with a couple drops of water, or amongst the fellow ingredients of a Manhattan or other cocktail. Best paired with a fireplace, red plaid flannel, and a bearskin rug.
---
Find at various ABC Stores in the area, including:
3450-3452 Pump Road
Henrico, VA 23233
–
4320-D S. Laburnum Ave.
Richmond, VA 23231
–
10 N. Thompson St.
Richmond, VA 23221
–
10106 Brook Road
Glen Allen, VA 23060