Banana Cream Pie in a Jar
| November 28th, 2022
A creative dessert alternative for individual 'pies' that feel special
---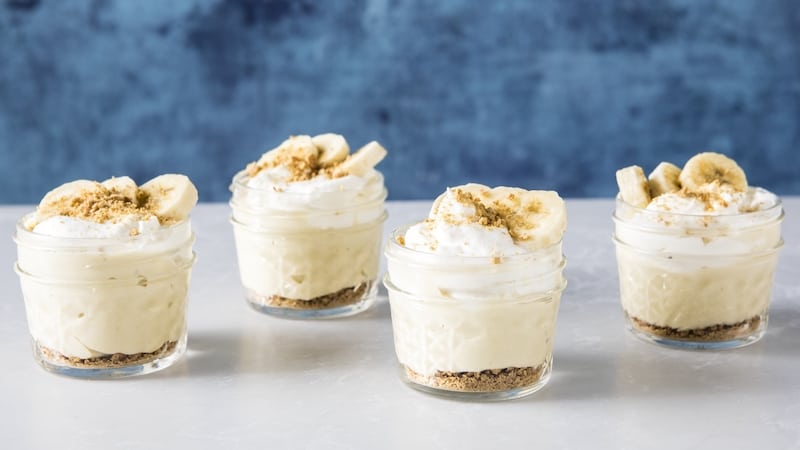 What's better than a slice of pie, you ask? A pie in a jar, of course. America's Test Kitchen shares their kitchen-tested recipe for Banana Cream Pie in a Jar, a fun twist on traditional desserts, for the holidays or any time of year.
---
Who needs a whole pie when everyone can have their own personal pie jar for Thanksgiving? This unique take on banana cream pie should be on your holiday table.
For a rich, smooth, and creamy custard, we turned to three tips.
First, we use a technique called tempering to slowly warm up the egg yolks so that they thicken the custard but don't turn into scrambled eggs.
Then, we constantly stir the custard as it finishes cooking and press it through a strainer to catch any solid bits.
Finally, pressing plastic wrap directly onto the surface of the custard prevents a solid "skin" from forming as it chills.
Banana Cream Pie in a Jar
Serves 4
Ingredients
2 ripe bananas
5 tablespoons sugar
3 large egg yolks
1 tablespoon cornstarch
1/8 teaspoon table salt
1 1/4 cups half-and-half
2 tablespoons unsalted butter
1/2 teaspoon vanilla extract
2 whole graham crackers, broken into pieces (or 1/3 cup store-bought graham cracker crumbs)
Whipped cream
Directions:
Slice one banana into 1/2-inch-thick circles. In a large bowl, whisk sugar, egg yolks, cornstarch and salt until smooth and pale yellow, about 1 minute.
In a medium saucepan, combine half-and-half and sliced banana. Place saucepan over medium heat and cook, stirring occasionally with rubber spatula, until mixture comes to simmer, 5 to 7 minutes (small bubbles should break often across surface of mixture). Turn off heat.
Place bowl with egg yolk mixture on top of a damp dish towel. Use a ladle to measure 1/2 cup hot half-and-half mixture into a liquid measuring cup. Slowly pour into egg yolk mixture, whisking constantly (the towel will keep the bowl steady).
Pour warm egg yolk mixture back into saucepan with half-and-half mixture. Return saucepan to medium heat and cook, using rubber spatula to stir gently but constantly, until mixture begins to bubble and is thickened and pudding-like, about 2 minutes. Remove from heat.
Place a fine-mesh strainer over a medium bowl. Use a rubber spatula to scrape custard into the fine-mesh strainer. Gently stir and press custard through the strainer (do not try to force banana pieces through the strainer). Discard solids in strainer.
Add butter and vanilla to custard and whisk until butter is melted. Press a sheet of plastic wrap directly onto the surface of the custard. Place bowl in refrigerator and chill for at least 1 hour and up to 24 hours.
When custard is chilled, place cracker pieces in a large zipper-lock plastic bag. Press out as much air as possible from bag and seal bag. Use rolling pin to gently crush graham crackers into crumbs. Place 1 tablespoon crumbs in the bottom of each of four jars.
Peel remaining banana. Slice banana into 1/2-inch-thick circles. Use a clean rubber spatula to divide chilled custard evenly among jars. Top each jar with whipped cream, banana slices, and remaining graham cracker crumbs, dividing evenly. Serve.
---
Easy, savory pumpkin recipes from Seniors Guide
---
For 25 years, home cooks have relied on America's Test Kitchen for rigorously tested recipes developed by professional test cooks and vetted by 60,000 at-home recipe testers. The family of brands – which includes Cook's Illustrated, Cook's Country, and America's Test Kitchen Kids – offers reliable recipes for cooks of all ages and skill levels. See more online at www.americastestkitchen.com/TCA.
© 2022 America's Test Kitchen. Distributed by Tribune Content Agency, LLC.