Finding Humor Amid the Chaos
| October 6th, 2017
The "Jon Stewart of Egypt" comes to Richmond with a witty reality check on politics
---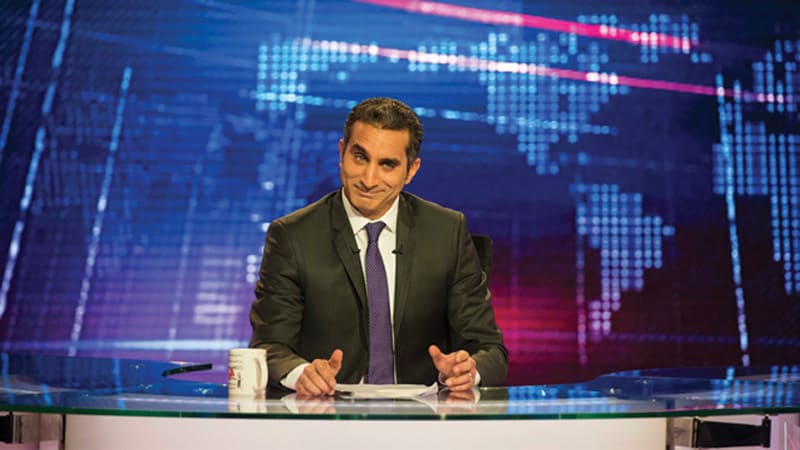 The Middle East is a hotbed right now, with near-constant news stories on terrorism, genocide and stark political disputes. While some have taken action through combat and protests, Bassem Youssef has paved a different route: comedy.
Born in Egypt in 1974, Youssef went on to major in cardiothoracic surgery at Cairo University in 1998. But in 2011, amid the growing crisis in Egypt, he turned to comedy as a way to deal with the country's terror. Inspired by the Egyptian Revolution 2011, he created a series of brief satirical shows on YouTube, which gained popularity almost immediately. Just six months later, an Egyptian channel, ONTV, asked Youssef to host a new program, Al Bernameg ("The Program"), a satirical talk show commonly compared to The Daily Show.
Al Bernameg, much like The Daily Show, brought Egyptian media and political leaders' misdeeds to light in a humorous, satirical and audacious manner. "So I can't criticize [the president] anymore?!" Youssef quips in an episode. "[Then] he's perfect! Wretched are those who differ! By law!"
It was the first program of its kind in the Middle East, but in such an oppressive political climate, controversy and dispute surrounded the show from all sides. Youssef faced multiple lawsuits throughout its three-season run and in 2013 was arrested for allegedly insulting Islam and then-President Mohamed Morsi.
"Tyrants don't like being made fun of," Youssef explains. "They base their legacy on fake respect and on being feared. If you make fun of someone, you're not afraid of them anymore. This is why they get pissed off."
Al Bernameg was ultimately discontinued due to Youssef's concerns about his and his family's safety.
After moving to America, Youssef created a one-man show, The Joke is Mightier Than the Sword. In it, he discusses the rising tensions of the political climate in the Middle East, the events that led to the Arab Spring and how it all compares to current American politics ("It is not a real dictatorship here in America yet," he jests).
As for going back to Egypt, Youssef fears for his own safety. But he hasn't lost his comedic spirit and aims to continue to use humor to deflate oppressors and provide a platform for those otherwise without a voice.
After all, Youssef says, "The joke is mightier than the sword."
Thursday, Nov. 16, at 7:30 p.m. at University of Richmond's Camp Concert Hall, $45. Modlin.Richmond.edu or 804-289-8980.