Beef Vegetable Stew
| March 1st, 2023
Add Guinness to this hearty stew for your St. Patrick's Day celebration
---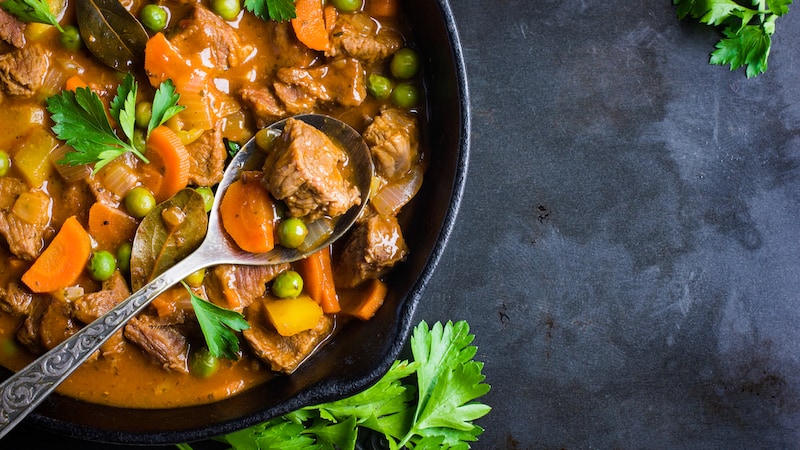 I'm always up for a celebration. So, when St Patrick's Day arrives, I love to have a dish that pays homage to Irish history. Some of my discoveries along the way have included the ease in making soda bread, different preparations of corned beef and, my favorite, how delicious chocolate and stout go together. This year we will be enjoying this warming beef vegetable stew simmered with Guinness and beef broth.
Here's a tip on simplifying the browning process. I place the cut-up, well-marbled chuck on a parchment-lined sheet pan. I season it with salt and pepper and add a sprinkling of Wondra flour (to help thicken the sauce), then put it in a hot oven. That way I avoid the sauteing and extra oil. Everything else is cooked together and the browned beef is added before a long simmer on low heat.
This is when it's good to have a relationship with your butcher. I have found that the pre-cut stewing beef in the meat department can become dry and stringy, which no sauce can rescue. So now I ask my butcher to cut the beef chuck, making sure it has some fat streaked in it. If you do this, you will have a juicy, tender and flavorful stew.
This braised beef takes an Irish turn with the slightly bitter Guinness beer inclusion. It is tempered with a touch of brown sugar. You can decide what veggies you want to include. Make sure the potatoes are very small. In this rendition you'll find sweet orange squash, potatoes, and vibrant green peas.
Serve this in shallow soup bowls and accompany it with a crusty, warm sliced baguette. I like to serve a simple sliced fennel salad to begin. What to drink? Guinness, of course.
Happy St. Patrick's Day!
Tasty tips
Let the stew come to room temperature and then refrigerate it overnight; this will further improve the flavor. It will also solidify any excess fat, making it easy to remove.
If desired, you can add 3/4 pound of sauteed button mushrooms to the stew when you add the defrosted baby onions.
If the sauce is too thin, combine 1/2 cup water with 2 tablespoons flour and whisk so no lumps remain. Add it to the stew at the end of cooking time and mix to combine; cook for a couple of minutes to thicken the sauce.
Beef Vegetable Stew
Serves 6
Ingredients:
3 pounds chuck, cut into 1 1/2-inch cubes
Salt and freshly ground black pepper, to taste
Wondra flour
3/4 pound baby potatoes (1 1/2 inches in diameter)
2 tablespoons olive oil
1 large yellow onion, chopped
1 carrot, peeled and chopped
1 celery stalk, chopped
1/4 cup tomato paste
2 cups beef stock
1 (11.2-ounce) bottle Guinness
4 cloves garlic, minced
2 tablespoons dark brown sugar, or to taste
1 bay leaf
4 sprigs parsley
3/4-pound winter squash, peeled and diced into 1 1/2-inch pieces
1 bag (7 ounces) frozen pearl onions, defrosted
1 cup frozen petit pois, defrosted
2 tablespoons finely chopped fresh parsley
Directions:
Preheat the oven to 425 F. Pat the meat dry. Place the meat on a parchment-lined sheet pan. Season with salt and pepper. Sprinkle Wondra flour lightly on the meat. Roast the meat on the middle upper rack of the oven for 15 to 18 minutes or until the meat is lightly browned. Reserve.
While meat is browning, par-boil the potatoes. Cover potatoes in a medium saucepan and bring to a boil on high heat for about 8 minutes or until potatoes are barely fork tender. Drain and reserve.
Add the oil to a Dutch oven on medium heat and saute the onions, carrots and celery for about 10 minutes, stirring occasionally until nicely softened. Add the tomato paste and cook for a minute to slightly caramelize the mixture. Add the beef stock, Guinness, garlic, brown sugar, bay leaf and parsley. Season with salt and pepper.
Cover the casserole and simmer over low heat, covered, for about 1 3/4 hours to 2 hours, stirring occasionally, or until the meat is almost tender.
Add the reserved potatoes and squash, and simmer for about 15 minutes or until vegetables and meat are fork tender with cover on. Uncover the casserole and add the pearl onions and peas and cook for 3 more minutes or until just cooked through. Remove the bay leaf. Season with salt and pepper. Add 1 tablespoon parsley and mix to combine. Garnish with remaining parsley and serve immediately.
Advance preparation tip
If making the beef vegetable stew ahead, don't add the onions and peas. When reheated add them to just cook through. This can be made up to three days ahead, cooled, covered and refrigerated. Reheat, taste for seasoning and serve.
---
Diane Rossen Worthington is an authority on new American cooking. She is the author of 18 cookbooks, including "Seriously Simple: Easy Recipes for Creative Cooks" and "Seriously Simple Parties," and a James Beard Award-winning radio show host. You can contact her at www.seriouslysimple.com.
© 2023 Diane Rossen Worthington. Distributed by Tribune Content Agency, LLC.
More cookbook recommendations from Diane Rossen Worthington, including 'Jew-ish: Reinvented Recipes from a Modern Mensch'
As an Amazon Associate, Boomer Magazine earns from qualifying purchases of linked books and other products.