'Black Is Beautiful' Makes a Comeback in Virginia
| August 13th, 2020
An alternative message for racial equity
---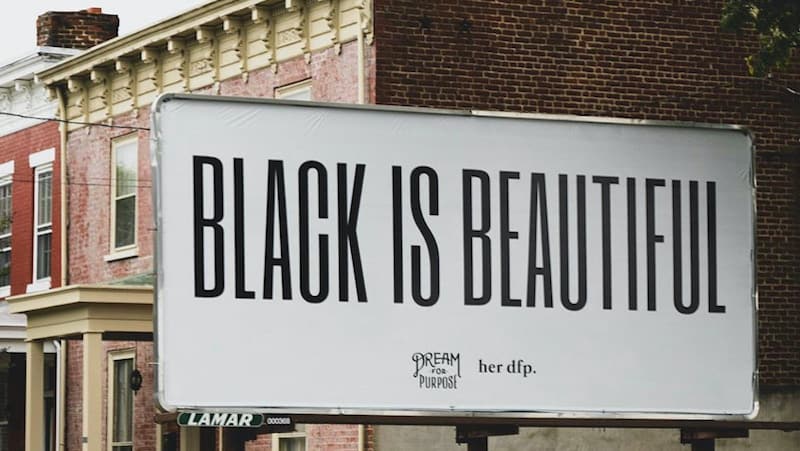 Before "Black Lives Matter" was "Black Is Beautiful," a cultural movement of the 1960s and '70s. The nostalgic phrase has gotten big attention recently in Virginia. How big? Billboard big. Richmonder Ricky Parker, visual artist and creative director of Dream for Purpose creative firm, and his wife, Whitney, have erected Black Is Beautiful billboards in Richmond, Norfolk, and Charlottesville.
Purposeful Design
"We wanted to accomplish two things," said Ricky Parker. "The first is, it serves as a message to empower Black people. Right now in America, there's a lot of police brutality, racism, prejudice, hatred … We wanted to create something that serves as a positive affirmation as well as encourages people.
"The second piece is, we wanted to educate. So with every location we picked, we wanted it to educate people on stories of Black people they may not be as knowledgeable about." Education comes naturally to this African American couple. Ricky is adjunct professor of marketing at Virginia Union University, a historically Black university (HBCU) in Richmond, and at Virginia Commonwealth University; Whitney is an adjunct professor at VUU.
To that purpose, the Richmond billboard was erected at Jackson Ward, on Juneteenth. The thriving African American community was known as the Black Wall Street of America. It was home to influential leaders such as John Mitchell, Jr. of the Richmond Planet and Maggie L. Walker, first African American woman in the U.S. to charter a bank and serve as its president. Jackson Ward was known as the Harlem of the South and hosted renowned performing artists, including Duke Ellington, Ella Fitzgerald, Bojangles Robinson, and Nat King Cole. The neighborhood is also known for its decorative wrought iron detailing, with the second largest collection of original ironwork in the U.S. (after New Orleans).
The Norfolk billboard was erected in July on Azalea Garden Road, near the Norfolk Naval Shipyard. This sign, Parker explained, pays "honor and homage to the Black men and women who served as slaves during the 1800s in the shipyard."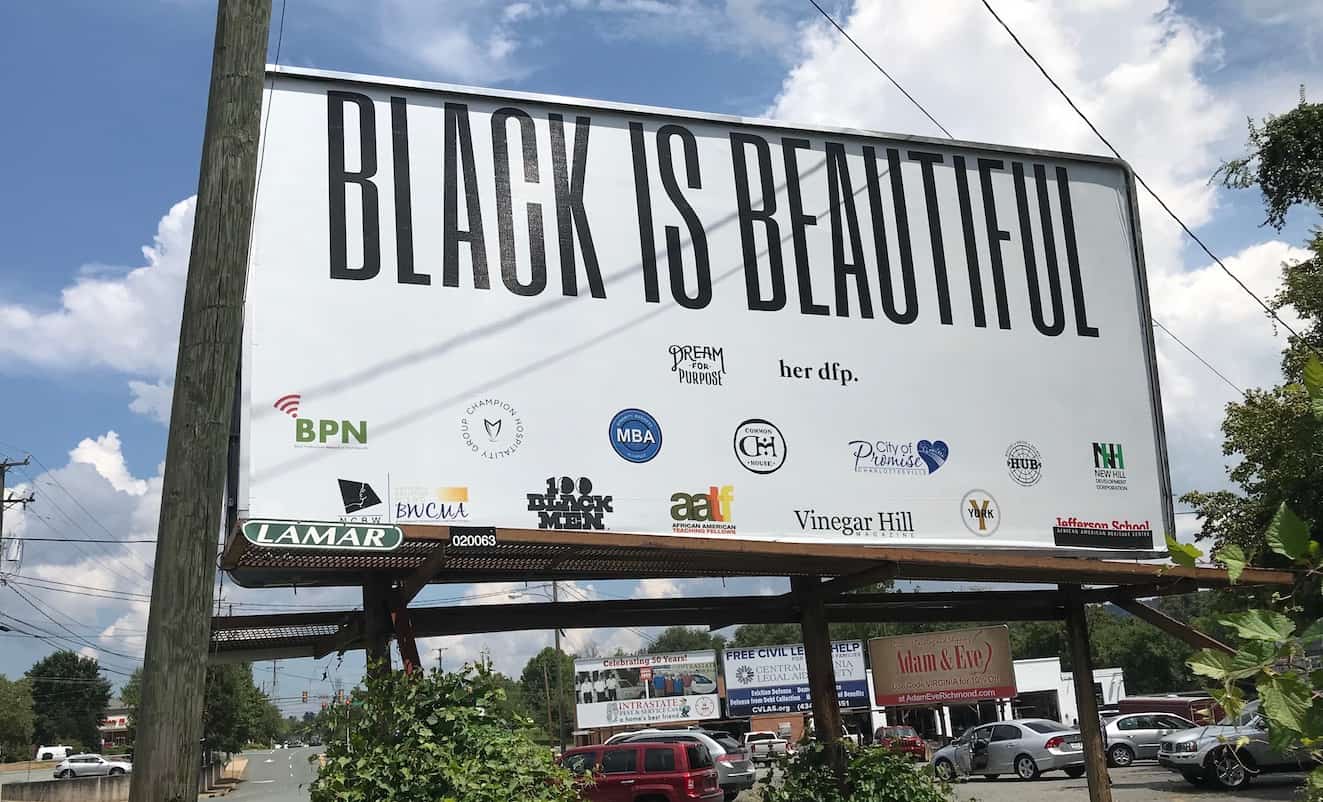 The Charlottesville billboard was erected to mark the third anniversary of the Unite the Right rally. The rally, on Aug. 11-12, 2017, was organized by white supremacists and white nationalists opposing the proposed removal of the statue of Confederate general Robert E. Lee. The right-wing marchers chanted hate slogans and carried symbols in opposition to Blacks, Jews, and Muslims. The march turned violent when the right-wing protestors clashed with mostly local counter-protestors. Nineteen people were injured and one woman, Heather Heyer, was killed when a self-professed white supremacist drove his car into a crowd of counter-protestors.
The Charlottesville sign reflects the logos of 15 organizations that collaborated with Parker on erecting the sign. After the rally and riot, "Charlottesville was looked at as a destination for racism and hate," said Parker. But these organizations, a mix of nonprofits and other organizations, show "that Charlottesville is united behind the message of Black Is Beautiful."
As another part of their message, Parker said, "We see this as a way of reprogramming or putting positivity in the places where people wouldn't expect to see it or creating a conversation that's different."
Why 'Black Is Beautiful' Rather than 'Black Lives Matter'
Having a communications background, the Parkers know the importance of message and tone.
"'Black Lives Matter' is really a conversation where Black people are talking to white people [to] let them know our lives matter. 'Black Is Beautiful' to us is talking to Black people and encouraging them and reaffirming who they are." And, he adds, the statement becomes more inclusive: "It's definitely brought a lot of different people together … For us, it was this whole thing of figuring out, how do we encourage people who look like us? But also it's exposed people to something that they may have never heard of."
In addition, the older phrase reflects a different angle. "The whole idea of beauty in our society, when we place a title of 'beautiful' on it, we treat it differently. We treat it with respect; we admire it, even defend it."
Parker adds, "Black Lives Matter, for some people, it's hard to translate and understand. Black Is Beautiful is not negating that; it's an ongoing conversation. Yeah, we say 'Black Lives Matter,' but, you know, Black is beautiful. This is our way of doing our part. When it comes to the movement, there are a lot of other people doing some incredible things. We're not taking away from that, just adding to the conversation.