Get Your Fix with a Local Mix
| July 20th, 2023
Virginia Bloody Mary mixes to perk up your brunch
---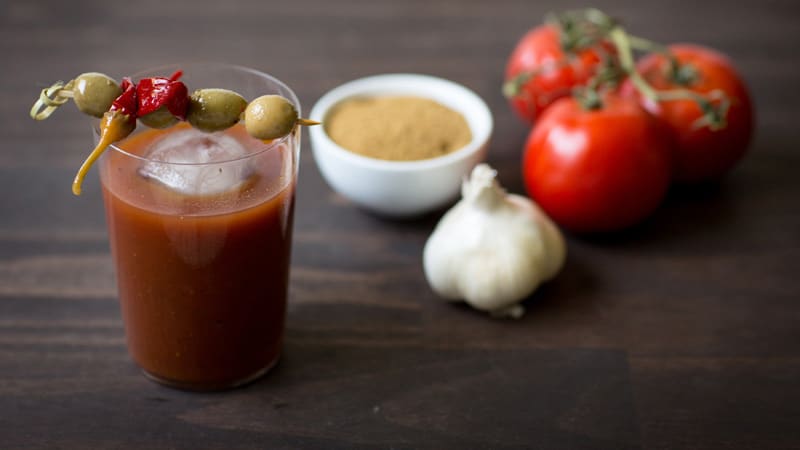 The origin and name of the tomato-juice-and-vodka cocktail remain shrouded in mystery. The earliest creation claim arose in the 1920s from Harry's New York Bar, a Paris hangout for Ernest Hemingway and other American expats. U.S. creation claims begin post Prohibition with New York's 21 Club.
The inspiration for the name could be Queen Mary I of England, who earned that sobriquet from the slew of religious executions she ordered, or other female inspirations. Another tale promotes the name as a mispronunciation of Vladimir, because Vladimir Smirnov (yes, of Smirnoff vodka fame) hung out at the bar that claims the origin story.
Because of its hair-of-the-dog reputation, a Bloody Mary pops up on many a breakfast and brunch menu. (The hearty tomato base and addition of salt supposedly combat a hangover, though nothing helps like temporary abstinence.)
The cocktail's tomato juice foundation allows for a bounty of flavorful modifications. Common additions include salt, black pepper, Worcestershire sauce, Tabasco, lime juice, molasses, beef bouillon, clam juice and horseradish. The cocktail boasts an ever-growing roster of garnishes, including celery sticks, bacon, olives, cheese cubes, dill pickle spears, shrimp and smoked fish.
With so many potential ingredients making the perfect Bloody Mary, a quality mix promises all the enjoyment without all the fuss. Fortunately, Richmonders can pick up Virginia mixes (also tasty in virgin format). For the perfect local concoction, mix with a Richmond spirit, such as Cirrus Vodka, Virago Spirits rum or gin (for a Red Snapper), or Reservoir Distillery whiskey.
---
UPDATED July 12, 2023