Book Review: Boomer Brands
| April 25th, 2019
"Iconic Brands that Shaped Our Childhood" by Barry Silverstein
---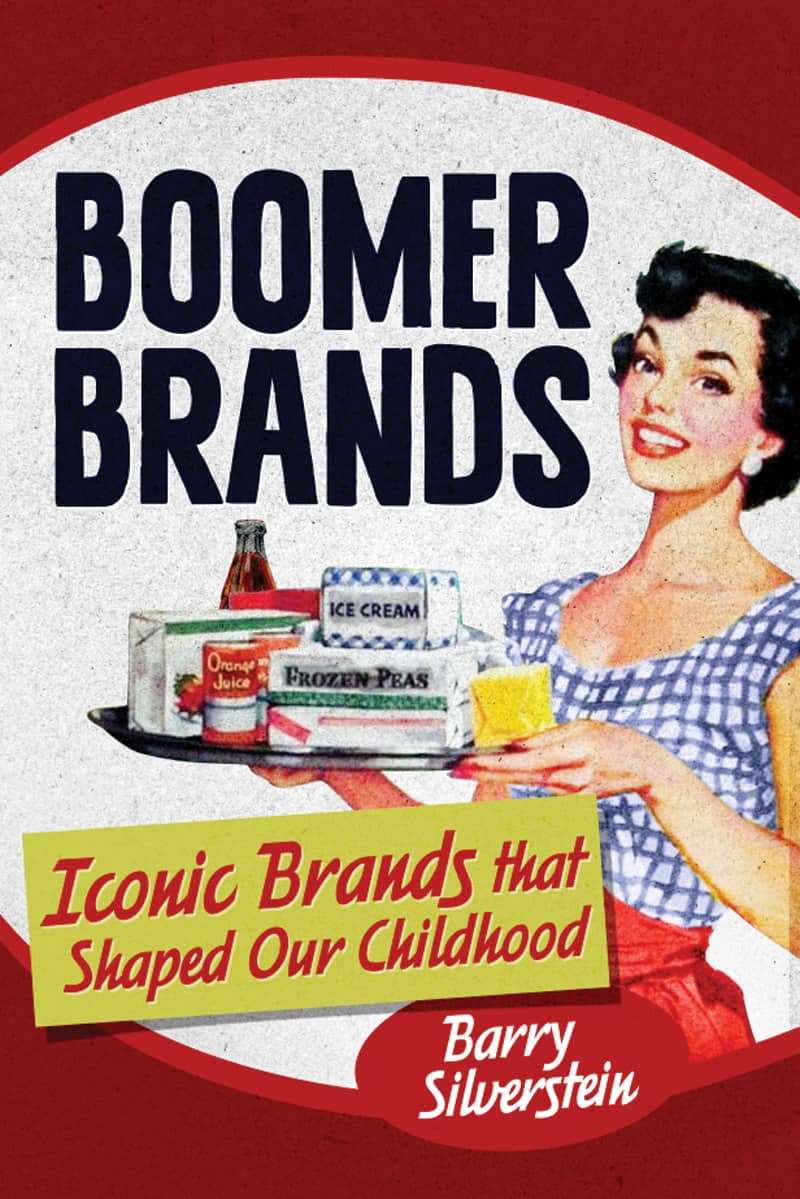 Author Barry Silverstein has combined his 40 years of professional marketing experience with his personal memories as a baby boomer in a book examining brands of the 1950s and '60s. Browsing Boomer Brands is like taking a trip down memory lane with a knowledgeable tour guide at your side.
As a retired marketing professional, Silverstein is able to offer insight into the importance of those decades for businesses and products. More than just a list of memorable products and slogans, the book satisfies the adult reader's thirst for knowledge while appealing to fond childhood memories.
Dividing his book into product-category chapters, Silverstein takes us down youthful byways. He reminisces about TV shows and the marketing power of the "boob tube." He dips into cereals, sodas, snacks, fast foods, games and the wonderful world of Disney. He illuminates the history of the products (did you know that the first cold breakfast cereal, "Granula," was introduced in 1863?) and their presence in the '50s and '60s (the first sugar-laden cereal, Kellogg's Sugar Frosted Flakes, hit grocery store shelves in 1952).
He highlights products that spark a nostalgic yen in baby boomers and examines how they reflected the times. In the "Soda Pop-ular" chapter, for example, he recalls the progression of the early lemon-lime soda:
For those of us who were insecure in our younger years, 7Up reassured us in 1952, "You like it … it likes you!" By 1968, 7Up was picking up on our anti-establishment generational angst, calling itself the "Uncola." In the '70s, the Uncola created a raft of boomer-oriented psychedelic advertising employing the work of pop artist Peter Max. Meanwhile, our more aggressive side found appeal in the '60s slogan of a non-carbonated soft drink: "How about a nice Hawaiian Punch?"
Silverstein travels past the playful products of our childhood into beauty brands, cigarettes and rock 'n' roll. He examines automobiles, road trips, the counterculture VW van and Texaco (after all, "You can trust your car to the man who wears the star"). He ventures into issues that surrounded us in our formative youth and the people, groups, slogans and places that represented the causes of the times: JFK, Stokely Carmichael, Gloria Steinem, Kent State, "I Am Woman," "Make Love, Not War," Silent Spring and many more.
If you're like me, you'll find sections that resonate with bright childhood memories. For me, it was the chapter devoted to Howard Johnson and his franchise concept: the placement of Howard Johnson's restaurants along well-traveled highways, where Simple Simon and his Pieman and the building's vivid orange roof would greet my family as we took a break from long road trips to visit family. I could practically taste Silverstein's description of the buttered "frankfort," split down the middle, grilled and served in a toasted bun, along with the 28 flavors of ice cream. And I understood that the familiarity and family-friendly touches kept me – and, by extension, my parents – happy.
At under 200 pages, the book isn't meant to be an in-depth examination of the topic. Instead, it gives baby boomers a chance to look back at memorable products with the experience of decades. Yet you'll surely find a smorgasbord of memories within Boomer Brands, and a few that tug at the heartstrings.
---
Guideworks Publishing, 2019
Paperback, $12.95; Kindle, $5.95 (194 pages)