Treat Yourself to a Non-Alcoholic Buzz
| May 8th, 2020
Products that provide unadulterated pleasure
---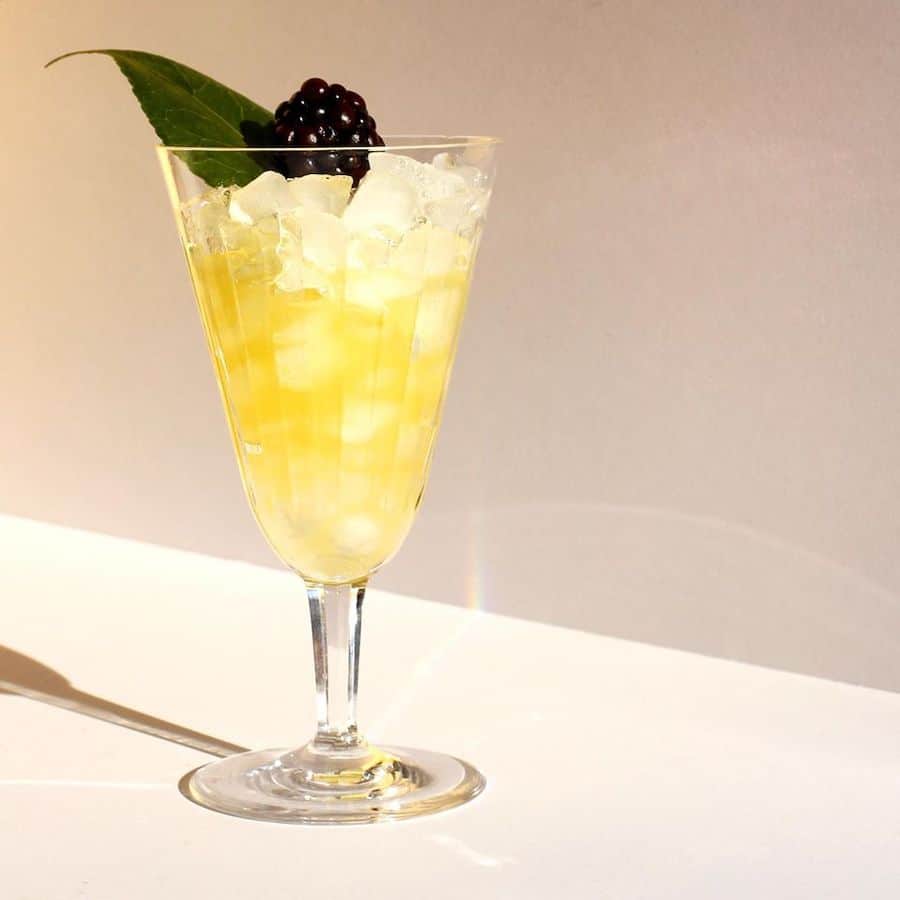 It's not just the buzz that makes alcoholic beverages so popular. It's the experience: celebrating special occasions, sharing memorable moments with friends, pairing with a fine meal, topping off a productive project and enjoying a variety of pleasurable tastes.
Forgoing the alcohol needn't mean forgoing the experiences or settling for soda, juice or just a lime and tonic. Contemporary products targeted for adult palates offer quality alternatives for those seeking a natural "buzz" without sacrificing taste, enjoyment or presentation.
LIKE LIQUOR, FOR THOSE WHO LIKE LIQUOR
Some of these liquor alternatives mimic the flavors of specific spirits, so they can be used in cocktails as direct substitutes. Others follow their own star. Some have ingredients that tout other health benefits, too.
The best offer nuance, complexity and mouthfeel that help satisfy the discriminating palate. The complex "edge" encourages you to sip, not slurp – advantageous whether you're celebrating your own happy hour or drinking with friends.
And with no-sugar and few-to-no-calorie options, you'll be pleasing other on-your-shoulder angels besides just the teetotaling one.
Europe seems to be ahead of the U.S. in producing quality non-alcoholic options, but the products listed here are available in the states, mostly online.
CURIOUS ELIXIRS: FRIENDS WITH BENEFITS
No need to mix these "shaken, not slurred," bottled, single-serving drinks that mirror traditional cocktails. Each one is made with organic juices, herbs and spices. Each also boasts added herbal perks. A Negroni-inspired drink adds rhodiola, for a potential "boost." The pineapple-Margarita-slash-Dark-and-Stormy adds damiana, a touted aphrodisiac. Another adds ashwagandha, while the fourth has green mandarin, turmeric, ginseng and holy basil. No added sugar. CuriousElixirs.com
PROTEAU LUDLOW RED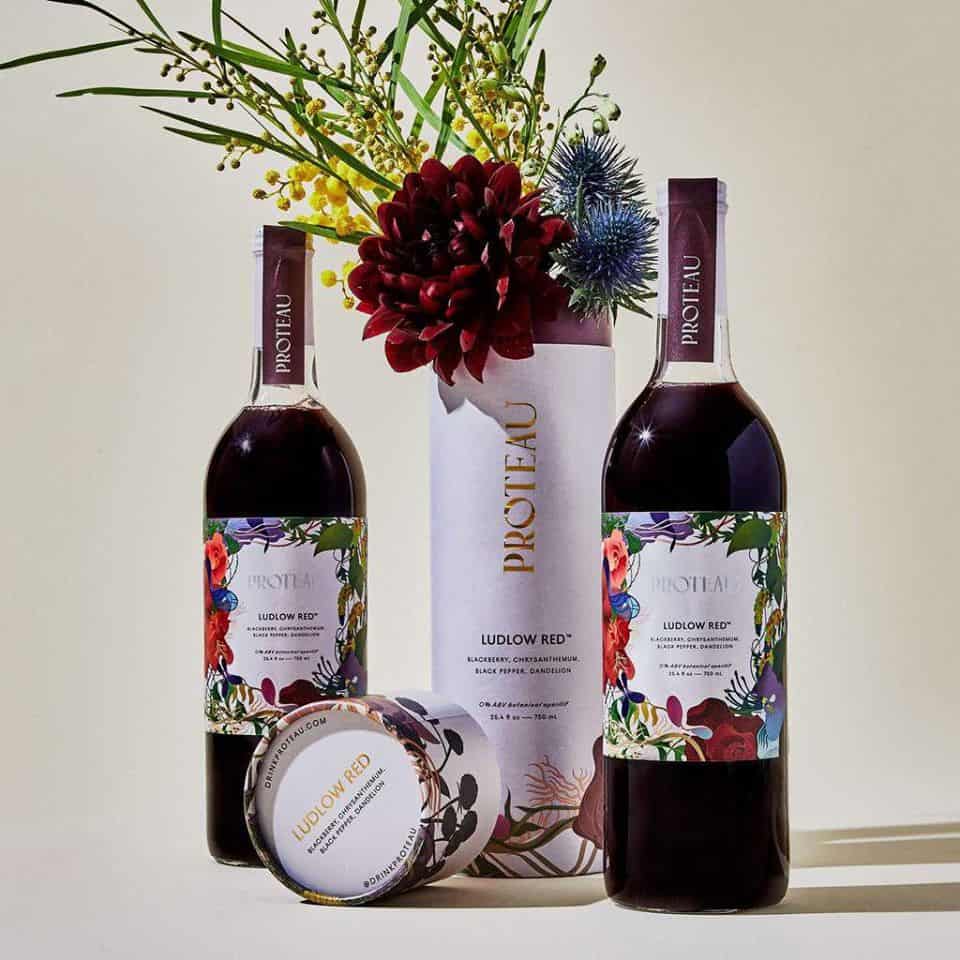 Designed by John deBary, who served as bar director for Momofuku, Proteau is promoted as a botanical aperitif, somewhat like a before-dinner wine or vermouth. It boasts notes of blackberry, violet, dandelion, fig vinegar, black pepper and rose. DrinkProteau.com
---
Check out the Boomer overview of non-alcoholic beers and Vinada sparkling wines, too!
---
SEEDLIP
A craft pioneer in this fledgling industry, this UK-based company was inspired by early alchemists distilling herbal remedies – and by the founder's three-centuries-old family farm. The three options offer earthy allspice-cardamom with a citrus finish, floral garden herbs, and citrus-focused. All work best with tonic water of choice and a garnish or with other mixers. Zero calories; free of sugar and other sweeteners. SeedlipDrinks.com
KIN EUPHORICS
Both Euphoric options use adaptogens, nootropics and botanical supplements to target beneficial effects such as clarity, calmness and relaxation. If your drinking is social, try the High Rhode: herbaceous, earthy, floral and tart. For a nightcap, choose Dream Light: earthy, smoky and spiced. With these added ingredients, however, the drinks are not meant to be combined with alcohol or with certain medications or physical conditions. Fewer than 10 calories per two-ounce serving. KinEuphorics.com
RITUAL
This company makes alcohol-free alternatives to gin and whiskey for those times we choose to avoid alcohol: "whether you're downshifting, making a baby, on call, training for a marathon, or just want to crush tomorrow, you can always enjoy the Ritual." Both tipple replacements are made with all-natural botanical blends that add flavor as well as the viscosity and "heat" of alcohol. Enjoy the faux spirits neat or as a 1-to-1 substitute for gin or whiskey. Zero calories. RitualZeroProof.com
ARKAY BEVERAGES
Around since 2011, Arkay produces about two dozen faux-alcohol flavors that mimic whiskies from around the world, liqueurs, variations on rum, brandy, gin, tequila and several mocktails. Oh, and vodka. Production includes an extract of capsaicin in order to create the burn and kick associated with alcohol. ArkayBeverages.com
GROOVY NEW BEERS & PROSECCO
The Grüvi brewing process uses malted grain, hops and an arrested fermentation process to produce non-alcoholic beers and a "prosecco." Trace amounts of alcohol can be found, typically between 0.1% and 0.3% ABV (NA beer is legally defined as measuring less than 0.5% ABV).
Better yet: Grüvi products are low calorie, too. The Weisse wheat beer, presenting the essence of banana and clove like a traditional weizen, is only 26 calories. The hoppy IPA, with Citra, Galaxy, Ekuanot and Mosaic hops, has 60 calories. The dry, smoky, toasty Stout adds 45 calories to your day. And the prosecco, made with Chardonnay grapes (no added sulfates or sugar), comes with 50 calories. Available for purchase online at GetGruvi.com.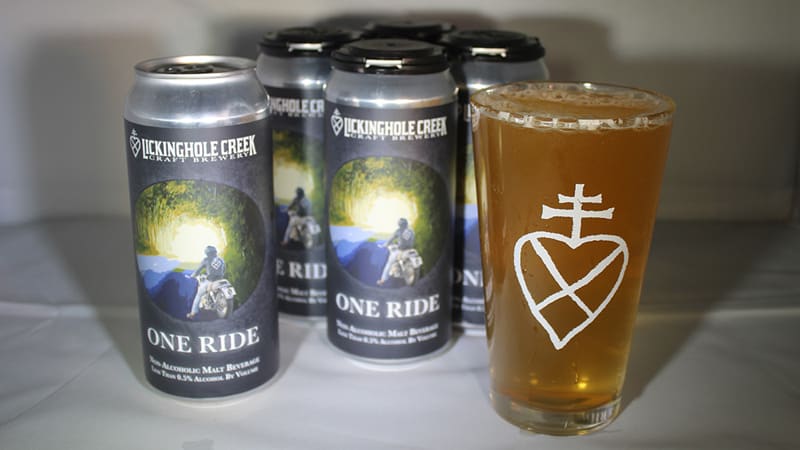 A SOBER DRINK & SOBERING MESSAGE
The community mourned for the family of Lisa Brotherton Pumphrey, co-founder of Lickinghole Creek Craft Brewery in Goochland, after her brother, Hardin Brotherton, committed suicide in 2015. So, it's only natural that Lickinghole Creek partnered with the Pipe Hitters Union, a motorcycle club founded by special operations combat veterans, on a non-alcoholic beer for the 2019 Ride to Stop Suicide fundraiser.
The beer, named One Ride, did extremely well upon its release; as a result, Lickinghole Creek now brews it year-round. A biscuity malt flavor predominates, with just enough hops to tame the sweetness of the mash.
The label features a motorcyclist to symbolize Pumphrey's brother, the slogan "Ride out of darkness" and the number for the National Suicide Prevention Hotline (800-273-8255).
One Ride is available at the brewery, or find it online at LickingholeCreek.com.
---
MINDFUL MIMOSA
From Grüvi and Twospoons.ca
3 cups Grüvi prosecco (about 3 bottles), chilled
1 cup orange juice, freshly squeezed and chilled
1 orange, sliced (optional for garnish)
Pour orange juice into glasses, about 1/3 full. Top the rest with Grüvi Prosecco. (Hold glasses at a slight angle while pouring to stop the sparkling wine from bubbling over.) Garnish with orange wedges. Serve.
Makes 8 small glasses.
NOT-SO-BERRY SMASHED
½ lime
4-5 raspberries
Mint leaves
Grüvi Prosecco
Muddle the mint, lime juice and raspberries at the bottom of an Old Fashioned cup and top with Grüvi Prosecco. Garnish with mint and lime wedge. Sip and enjoy!